Lift Weights To Save Your Sick Days
Tap into the research to build a healthy immune system and keep your fitness strong all winter long.
Heading out the door? Read this article on the new Outside+ app available now on iOS devices for members! Download the app.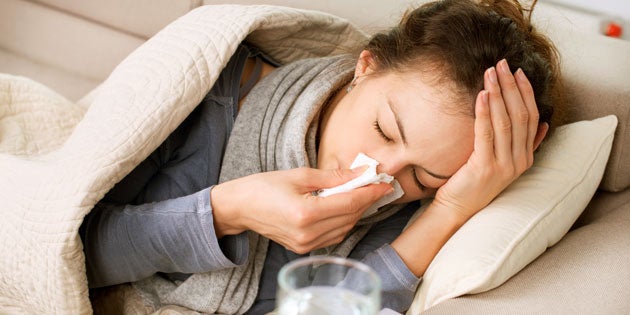 Think you've got an edge over your couch potato girlfriends when it comes to staying healthy this cold and flu season? As a woman who loves to sweat and lift, there's no doubt that your high activity levels are helping to keep you out of the doctor's office and in the gym, and there's no shortage of studies to back up the claim that physically active adults are far less likely to get sick than sedentary ones. In 2012, for example, research published in the British Journal of Sports Medicine found that adults who reported at least five days of exercise per week spent 43 percent fewer days suffering from upper respiratory tract infections than those who were only active one day or less per week. The researchers were not shocked to find that sick individuals who exercised on a regular basis also experienced reduced symptoms. Duh! — right?
But here's the thing about exercise and immunity: a growing body of new research suggests that too much of a good thing can actually backfire on your health. A study conducted by the Society for General Microbiology made headlines by suggesting that while lighter exercise (such as walking) can keep colds at bay, strenuous exercise (think marathons) can actually increase the likelihood of developing an illness — like a cold or flu — due to immune system depression.
So how to make sense of this seemingly dueling research and still keep your health and fitness levels up when the rest of your friends are calling in sick to work? The secret to keeping your body and immune system going strong all winter long is to plan your training in a way that boosts, rather than undermines, immune function. The good news? Your dates with the weights already have you one step ahead of the game.
The Strength Training Factor
The studies that raise the "too much exercise might be bad for you" alarm primarily have to do with aerobic activity. In fact, there is very little research to suggest that lifting weights suppresses the immune system in those who strength train regularly.
The key is to be consistent with your weight-training routine. For first-time strength trainers or those who don't hit the gym regularly, there is always a stress response in the body, says Pete McCall, MS, exercise physiologist for the American Council on Exercise (ACE). "The body is trying to determine the most effective way to produce the energy needed to both support the immune system while fueling exercise and recovery, and it takes a period of adjustment of about four to six weeks for your body to learn how to do this," he explains. So take your time and tackle exercise with a gradual progression of intensity to allow for your body to adapt and your immune system to strengthen.
According to Cedric Bryant, PhD, FACSM, chief science officer and fitness expert for the ACE, making strength training a regular part of your routine is crucial, and can be done by taking a more balanced approach to your workouts. Create a workout schedule that you can stick to, he suggests, but also make sure that you're being flexible about your exercise routine. "Even if you're just doing cardio, incorporate some resistance training," says Bryant. "Don't just keep doing the same thing every time you train."
See Also5 Ways To Boost Your Immunity
The bottom line: Making strength training a regular part of your routine, if you haven't already, is imperative to keeping your immune system in high-functioning form and seasonal bugs at bay. And since strength training only once in a while may be counterproductive, try not to fall off the strength-training wagon at any point this winter — or ever, if you can avoid it!
Everything In Moderation
There's a reason you love exercising so much. It makes you feel great and it makes you look great. But the problem is, anything, when taken too far, can do harm. "We know that low- to moderate-intensity exercise does provide a boost to immune system function," says Bryant, "but research has shown that if we perform repeated bouts of high-intensity exercise, we can actually reduce immune system function."
A study published in the Journal of Applied Physiology compared the effects of light versus strenuous exercise on the immune system explained the body's response to "overdoing it" in the following way: endurance athletes and heavy exercisers can become more susceptible to colds and upper respiratory infections because their immune system cells, called Natural Killers (NK), which are responsible for going after the microbes and viruses that invade our bodies and make us sick, don't react well to stressful endurance activity. NKs love a brisk walk, for example, which causes them to increase in number, but running a marathon can reduce NK numbers in the body, thereby leading to illnesses and potentially serious infections like pneumonia.
"It's the age old issue about avoiding overreaching and overtraining," says Bryant. He recommends avoiding high-intensity workouts on consecutive days. "Incorporate the hard/easy concept in terms of your training regimen. Planning an intense workout? Follow it up with more of a recovery workout — one with a more moderate intensity and duration, going at roughly two-thirds of your maximum ability for about 30 minutes." To help you stick with your new high/low workout plan, Bryant advises using the "talk test." If, during your workout, you find it's reasonably challenging for you to talk, avoid doing that type of workout on two consecutive days. It's just that simple.
Carolyn Moos, an ACE-certified personal trainer and nutrition consultant, is also a recovery-time advocate. "You have to let your body recover with one day off a week," she says. "A balance between strength, endurance and cardiovascular training is key. Don't focus on just one of these areas day to day. Instead, employ a strategic formula with a balance between the weight room, cardio and yoga, along with other forms of activity."
The bottom line: You certainly don't have to give up on intense workouts. Just remember to allow your body to rest afterwards. "Always stressing the body and not allowing for adequate recovery means you will not get the optimum return for your exercise investment," says Bryant. It can also make you sick, which will mean even fewer workouts.
Workout/Life Balance
Allowing your gym time to contribute to stress in other areas of your life could also deplete your immune system. Sustained stress fosters inflammation that can raise your risk for developing colds and more.
This means that if you know the coming week is going to be a crazy one, with many demands coming from all directions make sure to plan your workouts accordingly. Don't, for example, sacrifice a full night's sleep because you've decided it's more important to push yourself to make up for your overindulgence at a night out. "We know that when our sleep is compromised, it has a negative effect on immune system function, as well as our training abilities," explains Bryant. This is also supported by a study reported in the journal SLEEP: the researchers concluded that sleep deprivation can have the same negative effects on the immune system as physical stress.
Aim to get seven to eight hours per night. To get a better sleep, set a regular bedtime and try to stick to it, then try waking up at the same time every day. Try scheduling morning workouts — if you put your sweat sessions off until the late evening, they can boost your energy levels too much and keep you awake.
At bedtime, amp up the production of melatonin, a sleep-encouraging hormone, by keeping televisions and computers out of the bedroom, avoid reading with backlit devices like a tablet or smartphone (the light can trick your mind into thinking it's daytime), and keeping your bedroom as dark as possible (a sleep mask helps).
The bottom line: Being mindful of your stress levels and getting adequate rest can benefit you in many areas of your life, not just in the gym — and not getting floored by the flu is just one added bonus!
Should You Train?
Despite your best efforts, you've ended up with a virus or infection. Here's how to figure out whether you're good to work out or if it's best to just stay home and rest – and what to do if a visit to the gym isn't in the cards.
"Generally, a good rule of thumb is that if your symptoms are above the neck and there are no body aches or pains, then you're probably okay to go to the gym," says Cedric Bryant, PhD, FACSM, chief science officer and fitness expert for the ACE. "If you just have the sniffles or a mild head cold, going to the gym and participating in low- to mild-intensity exercise can actually give you a slight boost and help you feel better. But overall, generalized body aches and pains tend to be more suggestive of the flu, and exercising is not advised in this case."
Still feel like you need to get out there and work off that illness? If it's the flu especially, keep the well-being of your gym buddies in mind and keep your germs to yourself by staying in and performing a light workout at home.