Is Stress Making You Fat?
Stop having those rip-out-your-hair moments that just might be piling on the flab. Here's how to tighten up for good — and all you have to do is relax.
Heading out the door? Read this article on the new Outside+ app available now on iOS devices for members! Download the app.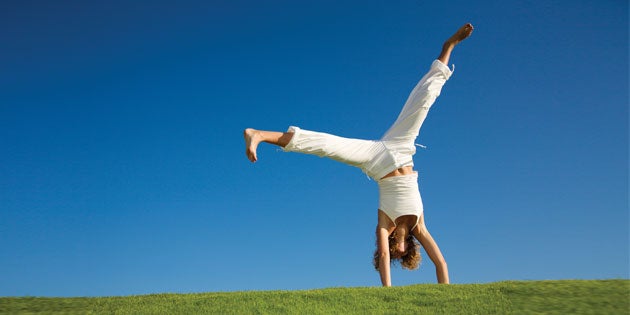 Like many women, you've probably been on a mission to get fit for some time now. But if you're weighed down by stress, the loop on your belt isn't likely to budge. Fortunately, though, new research shows that getting your stress under control could help you to tighten your midsection.
So how does a heated argument with a girlfriend or a bad day at work result in a larger waist? It all comes down to visceral fat, research shows — a dangerous type of fat that surrounds the organs in your abdomen and increases along with your stress levels.
"When you're stressed, your body releases a stress hormone called cortisol, which causes visceral fat to accumulate," says Carol A. Shively, PhD, professor of pathology and comparative medicine at Wake University School of Medicine in Winston-Salem, NC. Her study, published in the journal Obesity, found that animals that had the most social stress developed more fat in the abdominal cavity, and researchers suspect that people respond the same way. So, the more stress you're under, the more likely it is that you're going to accumulate belly fat.
Beyond a pudgier middle, visceral fat is also dangerous to your health, especially if you have a waist measurement over 35 inches. "Increased waist-to-hip ratio is considered part of metabolic syndrome, which puts people at a higher risk for heart attacks and stroke," says Suzanne Koven, MD, primary care physician and internal medicine specialist at Massachusetts General Hospital. Metabolic syndrome involves a cluster of health consequences, including high cholesterol, diabetes and hypertension, all of which increase heart disease risk.
And being at a "healthy weight," as determined by the scale or your Body Mass Index (BMI), doesn't mean you're off the hook, especially if you often experience stress. "You can be thin and have a high ratio of visceral fat," Shively says. In fact, a study published several years ago found that normal-weight women who were more vulnerable to stress had excess visceral fat.
A regular exercise routine that combines strength training and cardio, as well as consistent clean eating, are your best strategies for reducing stress and blasting fat at the same time. But creating your very own stress-less routine can specifically help reduce belly fat. In one study presented at the 2008 American Psychosomatic Society meeting, overweight and obese women who learned mindful meditation and mindful eating techniques (paying attention to hunger and fullness levels) tended to show reduced morning rises in cortisol, which was associated with less abdominal fat by the end of the four-month study. "Although we need larger studies to confirm this, stress reduction may result in less abdominal fat," says Jennifer Daubenmier, PhD, lead study author and assistant professor at the Osher Center for Integrative Medicine at the University of California, San Francisco.
To start, it might be as easy as having a positive mental attitude. In another study, Daubenmier found that having self-compassion and seeing the silver lining in stressful situations may also be associated with lower amounts of abdominal fat.
That's why Daubenmier recommends evaluating your stress levels regularly. Ask yourself what brings about those rip-your-hair-out moments and how stressed you feel on a scale of one to five. Try to avoid the situations (people, places, etc.) that stress you out and find ways to inject positive thinking into your daily routine. Not only can it help control your cortisol levels, but staying positive could also help you fight the belly bulge in another way: by keeping you from reaching for high-fat or sugary foods during stressful moments, which could be further complicating your fat loss. "If this is you, find ways to nurture yourself and reduce stress," Daubenmier says.
Need some ways to get started? Follow these strategies to create your own stress-busting routine that will have you feeling and looking better faster. Stay calm and relaxed, and those flat abs could finally be yours forever.
Your Stress-Less Plan
"Investing as little as five minutes a day to reduce stress can change your life," says Kathleen Hall, PhD, founder and CEO of the Stress Institute. Practice these techniques:
1. Visualize.
You know that imagining yourself running that last mile or completing the final rep during strength training could improve your workouts – and visualization can help you beat stress, too. "Quieting your brain is the opposite of stress," Hall says, so focus your mind on something you find calming, like a serene place. Download nature sounds to your iPod's playlist, close your eyes and visualize places that make you feel relaxed. Or do deep breathing, where you inhale for four counts and hold for four counts, then exhale and repeat.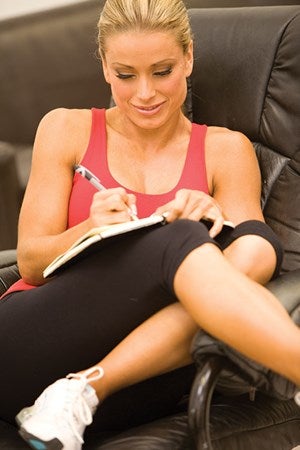 2. Keep a journal.
If you're already logging your meals and exercise, consider keeping a gratitude log as well. "Gratitude serves as a stress buffer," says Robert Emmons, PhD, professor at the University of California-Davis and author of Thanks! How Practicing Gratitude Can Make You Happier. "Grateful people are less likely to experience envy, anger, resentment, regret and other unpleasant states that produce stress and thwart positive emotions." Every day, recall moments of gratitude associated with ordinary events, your personal attributes or people you value. Hint: You'll be one step closer to those abs — that's definitely something to be thankful for!
3. Connect.
Whether you're inviting a friend to join you for a workout, catching up with an old classmate over tea (instead of Twitter) or finally calling back your mom, "connecting with somebody you care about will change your brain chemistry," Hall says.
4. Volunteer.
Reaching out to help others can boost your mental and physical health. According to a study from the Corporation for National and Community Service, volunteering can increase your longevity, lower depression, reduce the risk of disease and buffer stress. For a fun way to get involved while also giving your abs a bonus workout, sign up for a charity walk or run or get involved with an organization.
5. Eat to reduce stress.
Certain foods, such as those containing omega-3 fatty acids (from fatty fish or fish oil supplements), can help regulate your moods. You should also look for foods loaded with vitamin B6, including bananas, sunflower seeds and turkey, all of which produce the feel-good hormone serotonin in your body.