Strong Words to Help You Stay Strong
These five simple steps put motivational self-talk on your side so you can see serious gains.
Heading out the door? Read this article on the new Outside+ app available now on iOS devices for members! Download the app.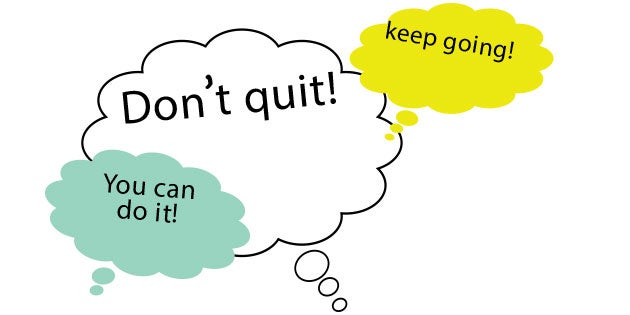 During a tough workout, have you ever heard your brain rattle out a comment like "I want to quit"? Your brain has a powerful influence over your body, and a negative mental message like that can lessen the quality — and intensity — of the most well-intentioned sweat session. While you can't completely quell that meddlesome mental monkey, you can at least steer it in a positive direction. How? Motivational self-talk, essentially pep talks you give yourself.
When people did this during a high-intensity cycling class, they were able to push harder for longer (up to 18 percent more), according to a study from Medicine & Science in Sports & Exercise. "Motivational self-talk, opposed to any kind of self-talk, works well for endurance performance because it reduces perception of effort, most likely through an increase in self-efficacy," says Samuele Marcora, Ph.D., lead study author and professor of sport and exercise sciences at the University of Kent, Medway, in the United Kingdom. He adds that the rate of perceived exertion (RPE) in study subjects was reduced by 12 percent, enough to significantly increase performance.
Push Yourself Higher
Yet don't think motivational self-talk is for endurance workouts alone. It also can be used to increase workload during high-intensity interval training.
It can even benefit you during competition, says Antonis Hatzigeorgiadis, Ph.D., associate professor in the Department of Physical Education & Sport Sciences at the University of Thessaly in Greece. For instance, his research has revealed that an eight-week self-talk training program and the use of self-talk in competition improved swimming times in young swimmers.
Want to reap the rewards of motivational self-talk? Follow these steps:
1) Identify your goals. This may seem obvious, but motivational self-talk won't work unless you know what you want to achieve, Hatzigeorgiadis says.
2) Personalize your phrases. With your goal in hand, create a list of phrases that are meaningful and appealing to you. Keep them short, positive and motivational in nature, Marcora says. For instance, "drive forward" and "you're doing well" worked well for participants in his study. Other research, by the way, has found that addressing yourself as "you" versus "I" is more effective.
3) Say it or think it. Whether you say these phrases out loud or think them isn't important. The one caveat, though? "If you're doing intense exercise, saying them out loud might be difficult and disturb your breathing," Marcora says.
4) Time your talk right. It's not just about what you say but when you say these phrases that matters. In Marcora's study, participants used phrases that gave them confidence they could keep going longer during the middle part of the test effort. Phrases like "hang in there" and "feeling good" worked well. Yet as they approached the end when they were pushing at maximal effort, they used statements like "keep pushing" to help mobilize their effort.
5) Practice it. If you want motivational self-talk to help you during an actual competition, it has to be part of your training regimen. So sprinkle phrases that work well for you into your training sessions and use them consistently, Hatzigeorgiadis says.