Use Your Power Words
Get a better workout, a fitter body and a healthier life by watching your language.
Heading out the door? Read this article on the new Outside+ app available now on iOS devices for members! Download the app.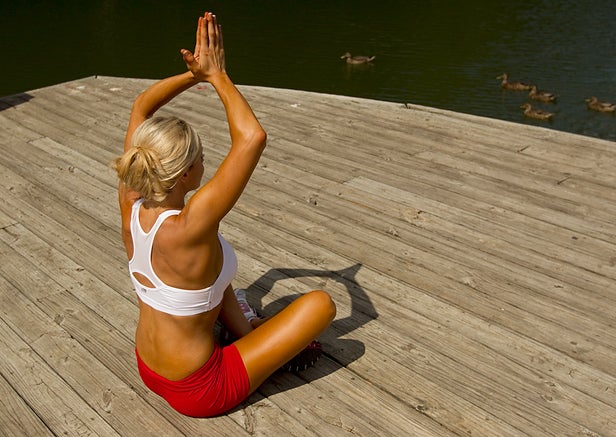 You've got a fit routine, a fit workout buddy and a fit goal for the future, but do you have a fit vocabulary to match? More than just a phrase that your mother yelled when you teased your younger brother as a kid, "Watch your language!" is the one piece of fitness advice that can take your training from blah to ta-dah! Here's how to tap into the power of words — yes, words! — to reach all your goals in the gym.
Create a Mantra
Choose a sentence that motivates and inspires your fitness, such as "I am strong" or "I feel unstoppable." Make sure that your phrase is short, personal and constructive. If you're looking for a mantra that will help you overcome a specific challenge, such as mastering a new move, choose sentences that include action verbs that instruct you to accomplish your task ("Lift strong, breathe smooth.") Repeat your mantra during your workout — either out loud or in your head.
Your Plan: Choose your mantra, then practice repeating it for two minutes before you start your next weights session. Repeat during your workout.
Re-define Yourself
By thinking of yourself as a "runner," "tri-athlete," "fitness competitor" or "Sister in Iron," you can use language to make an active lifestyle a part of your identity. This can be especially helpful if you're just starting out in fitness, or facing a new challenge. By assuming that you're already successful, you'll feel like you belong in the gym, at the running track, in the weight room or on the fitness stage, and will feel less intimidated to tackle your fit tasks. In addition, by making your daily language and interaction with others, reflect your new identity, you're a lot more likely to have confidence in your ability to achieve your desired result.
Your Plan: Start by defining your fitness goals. What do you want to accomplish? Next, research to see what people who have been successful in achieving this goal call themselves, or think of a new term for yourself. Assume the identity.
Cut Negative Words From Your Vocabulary
Research shows that individuals with a positive outlook are more inspired to reach their goals, and are more likely to exercise. Eliminate pessimistic, counter-productive words, such as "can't," "quit" and "fail" from your language. Replace them with positive words such as "can," "succeed" and "win."
Your Plan: On one side of a sheet of paper, write down a list of negative words that you commonly use. Next to each word, write a positive word replacement. Whenever you get the urge to use one of your negative words, steer towards the second column.