Vanda Hadarean's Tips for Six-Pack Abs
Fitness model and former Olympian Vanda Hadarean dishes on her six-pack secrets, from her favorite abs-training circuits to her go-to clean recipes.
Heading out the door? Read this article on the new Outside+ app available now on iOS devices for members! Download the app.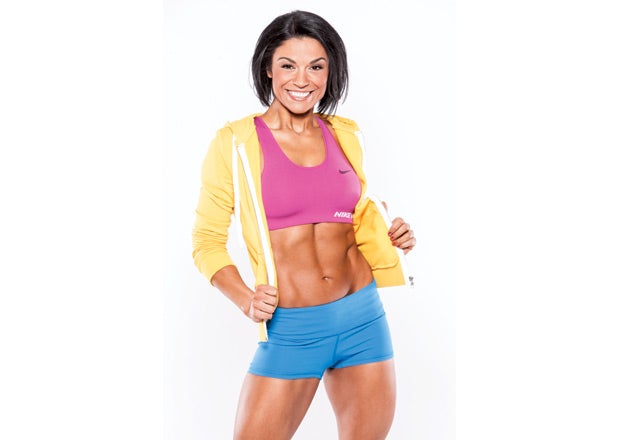 Former Olympian and fitness model Vanda Hadarean sat down with Oxygen to answer our burning question: how did she get those abs? Vanda gives us the scoop!
"I train my abs about three times per week," says Vanda. "Sometimes, I work them at the end of my training session, sometimes I start the training session with abs. And I like to change my exercises as much as possible." She also dedicates one day a week to abs training, tacking it on after a cardio or plyo workout.
Vanda let us look inside her training journal. Here are three of her favorite abs circuits.
1. Stability-Ball Circuit: Try three or four sets of this circuit on a stability ball. We suggest up to 20 reps for the crunches and roll-ins, and hold the planks as long as you can.
Weighted stability-ball crunches (weight plate held against your chest)
Forearm plank on the floor
Forearm plank on the ball
Stability-ball roll-ins (hands on floor, feet on the ball)
Forearm plank with feet on the ball
Standard plank
2. Triset: After a cardio or plyo workout, Vanda runs through a few abs supersets or trisets, performing the following moves back-to-back without rest.
32 crunches
32 reverse crunches
10 V-ups
3. Leg Lifts & V-Ups: This circuit comes from her training during her time as an Olympic gymnast. Even if you're not a gymnast, you can benefit.
20 standing legs lifts (each side) at a wall bar
20 V-ups
V-sit, for as long as you can hold it.
Model Behavior
But it's not just about hitting the gym. Vanda says that clean foods, cardio and a good weights program are all vital parts of her six-pack regimen. "Taking care of the whole body will help you get the abs you desire," she says.
Breakfast: Vanda loves what she calls her "green drink." She blends spinach, broccoli, cucumber and chia seeds with fruit, BCAAs and kefir.
Snack: 2 or 3 hard-boiled eggs
Lunch: Chicken breast and salad
Snack: Crackers or a rice cake with almond butter and fruit
Dinner: Fish (Vanda likes salmon) with veggies or a salad. If she's still hungry after dinner, she'll nosh on salad, some eggs or a protein drink.
Words of Wisdom
"Fitness is a lifestyle of health, and a lifestyle of loving yourself," says Vanda. "Remember that sometimes, some days, you can't do it all perfectly – and that's ok. We are not made to be perfect, we are made to just be better every day."