2022 Arnold Classic Winner Lauralie Chapados on Contest Prep and Leg-Day Musts
Ms. Bikini International shares her take on training, prepping and competing.
Heading out the door? Read this article on the new Outside+ app available now on iOS devices for members! Download the app.
Lauralie Chapados was in shock after winning  The Arnold Classic 2022 Bikini International competition. In fact, it didn't exactly hit her until days later during media interviews when people addressed her as Ms. Bikini International.
"I was like, 'Who?'" Chapados says, laughing. "In the moment I won, it was relief and redemption."
Chapados is an elite bikini athlete who has competed in more than 20 competitions and holds nine titles. In 2021, she was Ms. Olympia runner-up and was also third at the 2021 Bikini International. The list of accomplishments seems endless, but her success didn't come easy. It began at the young, ripe age of 17.
Cold Tilapia and Tupperwares 
Originally from Canada, Chapados grew up as an athletic kid, but never quite caught the 'competitive bug' in soccer, Jiu Jitsu or skiing. At 17, however, she bought her first ever gym membership and fell in love with weight lifting. Even with two jobs and a packed school schedule, Chapados went twice a day to learn, grow and put in tons of training time. 
Not everyone was impressed, though.
"Where I'm from, bodybuilding wasn't super well-known," she says. "Plus, I was tall and skinny, so showing up to class and eating chicken breast out of Tupperware at 10 a.m. — you get a lot of comments."
Chapados didn't let the scrutiny get in the way of her goals. Her first big win was at the 2016 IFBB World Qualifier in Canada, where she won first place in Overall and the Bikini Division and earned her IFBB Pro Card.
From there, no one could stop her. 
Pushing and Prepping 
Bodybuilding prep requires unwavering discipline, the capability to tune into your body and work for long, hard hours. But Chapados does it all for the journey.
"Not that it hasn't been difficult, but I've always been so grateful for what I do," she says. "Everything you put into this sport is what you get out of it. That, to me, is powerful enough to get me through the days where I don't feel like going to the gym or have to say no to my mom's favorite dessert."
Prep not only includes a specific workout schedule, but includes eating every three hours, getting a strict amount of sleep and recovery properly. 
"I chose this lifestyle," Chapados says. "I'm never going to be the one to complain."
She says there's no prep before a competition that's going to be the same.
"Life happens, your body happens," Chapados. "It's not just about eating chicken and going to the gym — it's everything else. Knowing how your body works as a female, when its tired and when it needs to be pushed."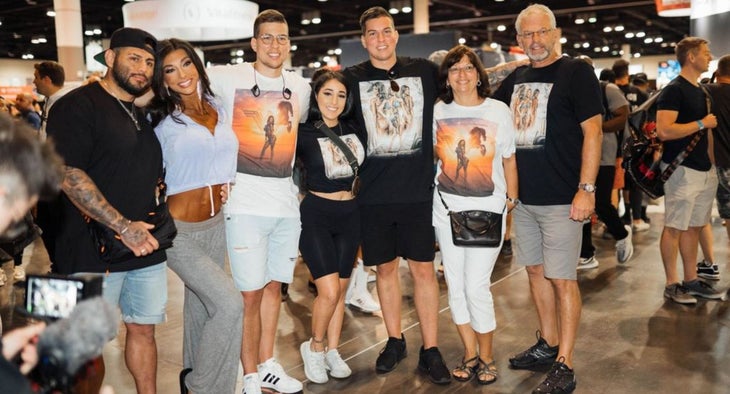 Having a third eye is essential, as well. Her boyfriend and personal trainer Aldo Paredes is one of her biggest supporters. Her coach Kim Oddo is also there for every win and every loss, not only building her muscles but building her mentality. 
"It's about being critical about yourself, but you're not getting in your own way, because that's self-destructive," Chapados says. "It's not 'The more suffering, the better you're going to place.' It's about being smart, being tuned into your body."
Ms. Bikini International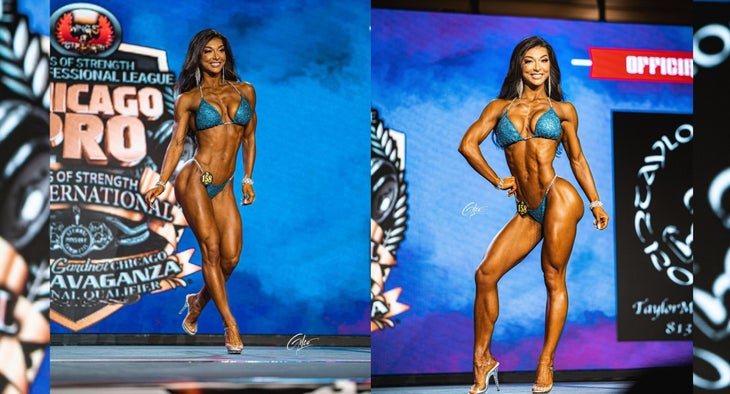 It's all smiles onstage of The Arnold Classic, but what's it like behind the scenes?
"It's amazing. When you're able to mingle with people who are doing this sport and waking up everyday to be grateful — it's great," Chapados says. "You have to find people who enjoy the journey, who aren't just waiting for the title."
She says that while everyone wants to win, athletes have to 'win' everyday they're in the gym. That's where the game face comes into play. On show day, Chapados says it's actually pretty relaxed. 
"I'm extremely friendly backstage and have created great friendships," Chapados says. "On the day of, we're all like 'Yay, no cardio!' and 'Woohoo, no meal prepping!' You just enjoy it." 
Chapados has always dreamed of winning The Arnold Classic, but she knew even that win wouldn't be the end of her athletic career. Currently, she's four weeks out from the Pittsburg Pro, a top tier bikini competition. 
"I'm going to compete for at least 10 more years!" She says. "As long as it brings me joy, I'm going to keep doing it."
Lauralie's Leg-Day Staples
Exercise
Reps
Sets
Abduction Machine
25
2
Dumbbell Plie Squats
15
3
Barbell Hip Thrusts
12-15
4
Stiff-Leg Deadlift
12-15
4
Bulgarian Split Squats
— superset with —
Single-Leg Cable Kickbacks
15-20
—
15-20
3
—
3