5 Up-and-Coming Women in Fitness
These five women deserve the spotlight. Gather inspiration and motivation from their unique stories of triumph.
Heading out the door? Read this article on the new Outside+ app available now on iOS devices for members! Download the app.
If you're familiar with Oxygen, you know that five inspiring women are selected to be featured in the print magazine's Future of Fitness column. Think you have what it takes? Send us your story.

Cara Poalillo
Maywood, New Jersey
Stats: 31 • 124 lb • 5'6"
Gig: Mindset/nutrition coach, personal trainer, CEO of Ninjababes, American Ninja Warrior competitor, American Sign Language interpreter
Natural Ninja
For Cara Poalillo, sports have always been a constant. Growing up, she played soccer and volleyball and ran track and field. But never in her wildest dreams did she imagine that her natural athleticism would lead her to become a competitor on NBC's American Ninja Warrior. Poalillo has competed on two seasons of ANW. She currently ranks among the top women in the country, and she cites Oxygen coach and ANW veteran Angela Gargano as one of her biggest inspirations. "She really goes after her goals, and that pushes me to do the same," Poalillo says.
Home Work
Poalillo is currently training for the next season of ANW and has a killer in-home setup with cliffhangers, ropes, peg graspers and a variety of hanging holds. Outside in her yard, she has constructed a balance tank, wobble walk and several PVC tubes for agility training. She also heads to the gym twice a week to lift, and she is especially fond of pull-up work.
Inspiring Others
When not Ninja-ing, Poalillo works as an American Sign Language interpreter and shares her at-home workouts with the deaf community on her YouTube channel. She also founded Ninjababes, a community of female ninja warriors that helps women and girls build competitive athletic skills and confidence through online and in-person training. "I tell them just to hang on a little longer," she says when asked how she motivates her clients. "You're going to hit that buzzer and complete the course."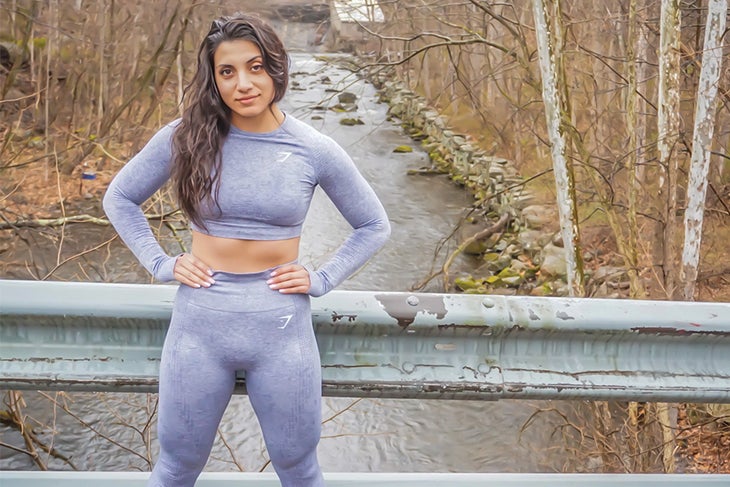 Kayla DeMarco
Lincolndale, New York
Stats: 26 • 141 lb • 5'4"
Gig: Personal trainer and nutrition coach
Crash and Burn
In high school, Kayla DeMarco was an avid volleyball player, but a car accident left her with a severe ankle injury and chronic pain that squashed her ability and desire to be physically active. Her sedentary lifestyle coupled with poor nutrition meant inevitable weight gain, and by college graduation, DeMarco had topped out at 206 pounds. Around the same time, she was diagnosed with multiple autoimmune diseases, including Hashimoto's, mixed connective tissue disease and Raynaud's.
Lifestyle Overhaul
DeMarco knew she needed to flip her health script, and with the help of a trainer, she lost 60 pounds in a year through hybrid and functional strength training. She also did a 180 with her nutrition by transitioning from processed junk to clean, whole foods — while still eating her favorites in moderation — and monitoring her daily water intake. These days, DeMarco favors lifting over cardio, and she employs a wide range of training methods in her routine, including barbell and kettlebell work, jump rope and Tabatas. "I like to keep my workout plan fresh to maximize results," she says.
Insta-Fit
Today, healthy living is simply part of her life, and DeMarco has become a certified personal trainer and nutrition coach to help others similarly transform their future. She uses Instagram to keep herself accountable and regularly shares her workouts and fitness goals with her followers to model hard work and consistency. "Know that this journey is a lifestyle — there is no finish line," she says. "If I want my clients and followers to give me their best, I have to practice what I preach."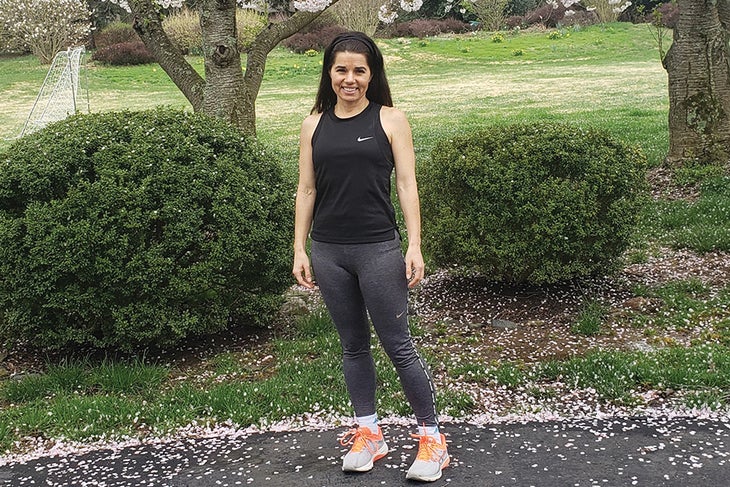 Renee Akin
Potomac, Maryland
Stats: 43 • 108 lb • 5'1"
Gig: Sales associate and property manager
Always on Track
Exercise doesn't have to be complicated to be effective, a fact that Renee Akin knows very well. Akin ran track and cross-country growing up, and she still runs 5 miles a day, seven days per week. "I only need a pair of good shoes and I have a workout that makes me feel good," she says. Free from the confines of a gym and the need for equipment, running allows Akin to explore the world and improve her health on her own terms.
All in the Family
Akin's biggest source of inspiration is her family, especially her three sons — ages 12, 11 and 9 — who are her biggest champions. They also keep her on her toes and regularly engage her to play basketball, soccer, tennis, pingpong and football. She also credits her late mother as her role model because even through stage IV lung cancer, she continued to swim, golf and exercise — "all with a big, warm smile," Akin says.
Holistic Living
For Akin, wellness extends beyond exercise, and she focuses intently on everything from nutrition and hydration to stretching and relaxation. She also nourishes her spirit through writing on her website and blog where she explores topics such as self-actualization, literature, culture, spirituality, motherhood and health.
Right on Pace
Akin sees herself running well into her future and hopes to enter several more 5K and 10K races in the coming year. "I would [also] like to add more tone to my abdominals and arms!" she admits.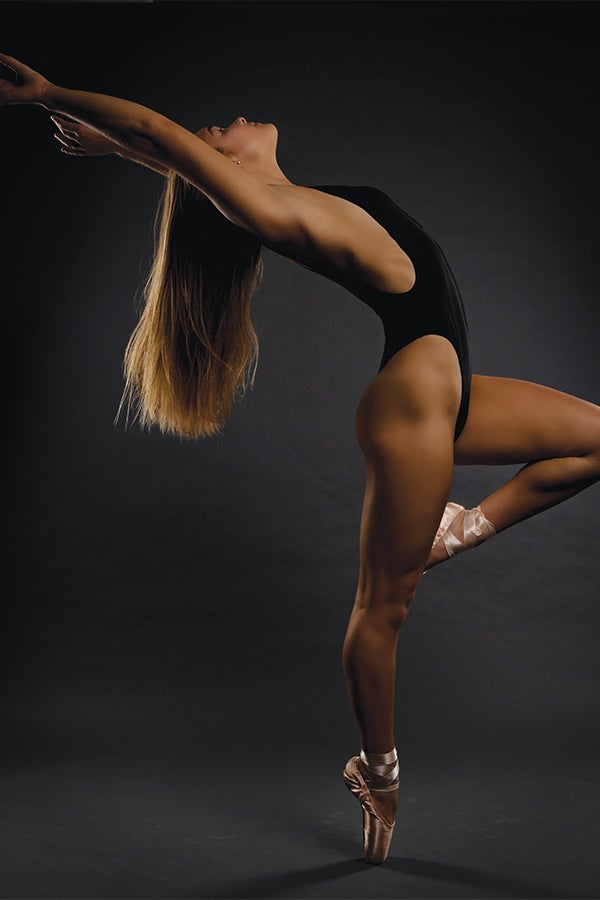 Sarah Dorough
Suffolk, Virginia
Stats: 19 • 117 lb • 5'4"
Gig: Gymnastics coach
Gym-thusiast
Sarah Dorough always loved the challenge and versatility of gymnastics, and growing up, she regularly competed in regional and national championships. "It's so satisfying to be able to balance on your hands!" she says, laughing. Dorough stopped competing because of a back injury but was inspired to follow in her mother's footsteps and go into coaching. Today, she leads her own roster of gymnastics classes and passes her wealth of knowledge on to children ages 3 and older.
Mind Over Matter
Dorough's enduring commitment to health and fitness is paired with an equal dedication to the development of mental fortitude. "Fine-tuning your perspective is the first step, and you have to keep a positive mindset and learn to stay strong in order to push yourself," she says. Dorough admits that she herself is continually working on this aspect of wellness, noting that when she gets overwhelmed, her solution is to focus on her goals, reflect on how far she's come and to reach out to her supportive group of friends.
Facing the Future
Dorough enjoys pushing her physical limits and incorporates all kinds of movement into her workouts, including calisthenics, cardio, weight training, dancing, kickboxing, Zumba and high-intensity interval training. "I love fun and creative exercises that keep my heart rate up but which don't get boring," Dorough says. Her ultimate dream is to become a personal trainer and online coach who does everything from fitness modeling to hosting handstand workshops.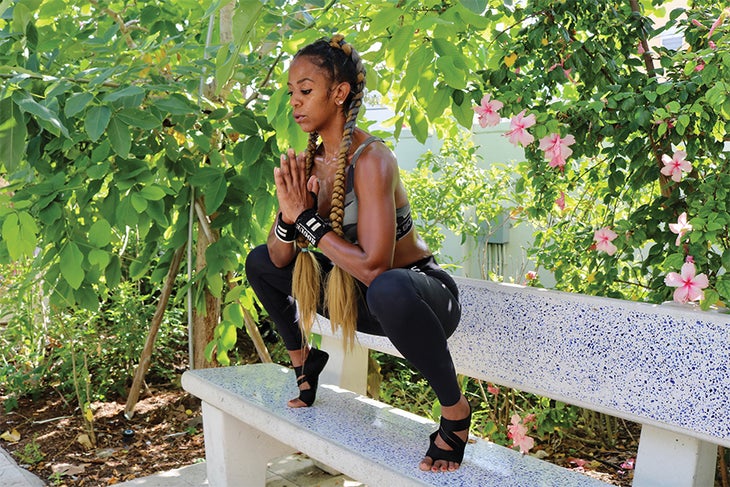 Michelle Lores
Miami, Florida
Stats: 36 • 115 lb • 5'5"
Gig: Personal trainer
Stunt Double
Michelle Lores can tick innumerable sports off her bucket list, including basketball, gymnastics, swimming and martial arts. She has done stunt work in commercials and films such as Catwoman and iRobot and as a Cirque du Soleil performer in Vancouver, Canada. But Lores was not always so prosperous and had to overcome many obstacles to arrive at her current state of success.
Survival of the Fittest
Lores and her family migrated to Canada from the Dominican Republic, but as a child, she faced abuse at home and bullying at school. As an adult, she suffered years of emotional and physical abuse in a toxic relationship before finding the courage to leave with her two young daughters. "I've competed every day of my life against statistics, opposing forces, mediocrity and oppression," she says.
The Method for Her Madness
Lores sees fitness as a way to strengthen the body but also as artistic expression. Her training — which she calls "the method" — is an amalgamation of traditional strength and aerobic training, mind-body practices, energy disbursement, dance and bodyweight flow. Her regular routine also includes meditation, music, hydra-therapy, aromatherapy and writing.
Happy Camper
Lores regularly participates in wilderness survival camps, and over the years, she has learned to white-water raft, hunt and start a fire. The camps also have taught Lores how to become more resilient and have empowered her to take charge of her life, despite any and all hardships. "The only difference between being buried and being planted is rising up," she says.