10 Low-Sugar Pumpkin Products to Try This Season
With what feels like a million pumpkin spice products on the market this time of year, what are the better-for-you options that don't pack a day's worth of sugar in them? Find out in this piece!
Heading out the door? Read this article on the new Outside+ app available now on iOS devices for members! Download the app.
Open any media platform and you're bound to be bombarded with pumpkin products this time of year. If you find yourself digging through the comment threads, people's opinions of "when to jump on the pumpkin train" can be very polarizing! Some go pro-pumpkin the second September hits, others wait until it's technically fall (somewhere around the last week of September), and then there's the crew who demand there be October in the date before pumpkin anything is uttered.
Regardless of where you stand, everyone on team pumpkin reaps the benefits this time of year as the market becomes saturated with everything pumpkin spice and pumpkin pie. From pumpkin spice protein powder to pumpkin pancakes to pumpkin pie cream cheese, there's something for everyone out there!
But, before you toss that pumpkin product into your cart, turn that label around and take a closer look. Pumpkin-flavored products often come with some added sugar (or a lot in some trendy coffee drinks). Disguised as coconut sugar, maple syrup, or brown rice syrup, even health-focused companies may add more sugar than necessary in the spirit of the season.
Don't worry though, we've done the hard work for you and rounded up 10 dietitian-approved pumpkin products this season you'll want to pick up for yourself. 
10 Low-Sugar Pumpkin Products to Try This Season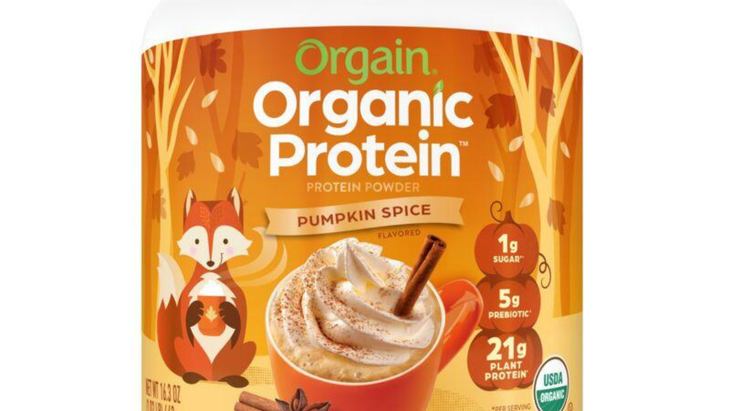 Want to add a little of that seasonal spirit to your protein shake? Then pick up Orgain's seasonal Pumpkin Spice flavor! Orgain's Pumpkin Spice Protein Poweder is packed with 21 grams of vegan protein (they use a pea, brown rice, and chia seed protein blend) for just 170 calories. Plus, its sweetened with 5 grams of erythitol, a sugar alcohol that does not have the same effect as sugar on blood glucose. Note, if you are sensitive to sugar alcohols though, you may want to mix half a serving initially of the pumpkin spice flavor with a vanilla protein powder your body is used to before using the full two scoops!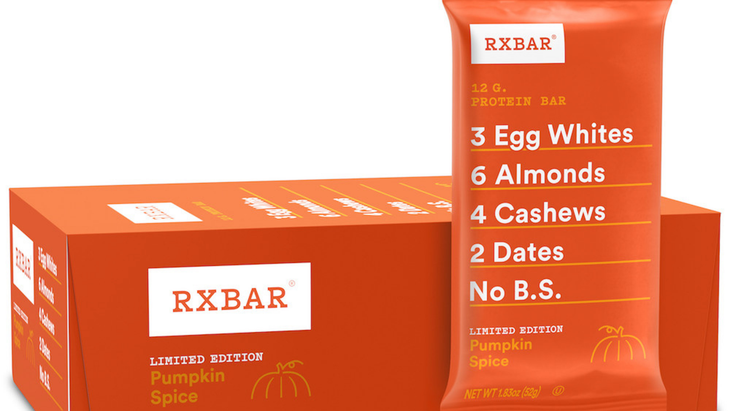 I've found that there are two types of people when it comes to date sweetened energy bars like the RX brand: you either love the unique texture (that sometimes sticks to your teeth) or hate it; there really is no inbetween. I happen to be in favor of these sorts of bars and cannot wait to get my hands on the seasonal RX Pumpkin Spice flavor. Packed with 12 grams of protein, 3 grams of fiber, and 0 grams of sugar, this no added sugar delight is a great snack to keep in your bag when hunger strikes.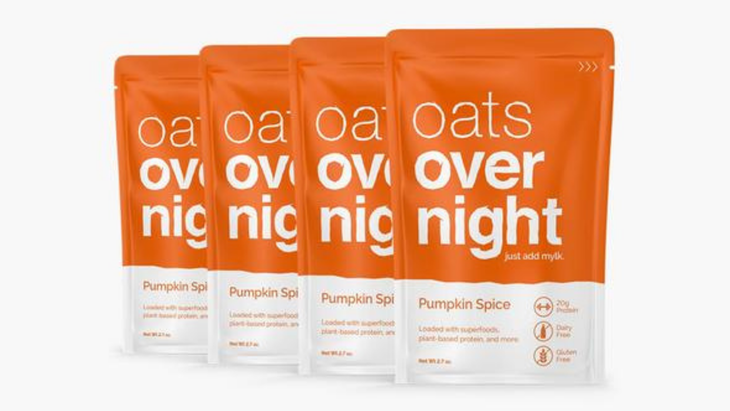 If breakfast has become a struggle with the change yet again to the new normal this fall, then giving the Oats Overnight Pumpkin Spice seasonal flavor a try might be just up your alley. Filled with 21 grams of fava bean protein and just 7 grams of sugar, it's a heartier breakfast option that you can drink! Plus, it's easily assembled the night before so you can grab it on your way out the door.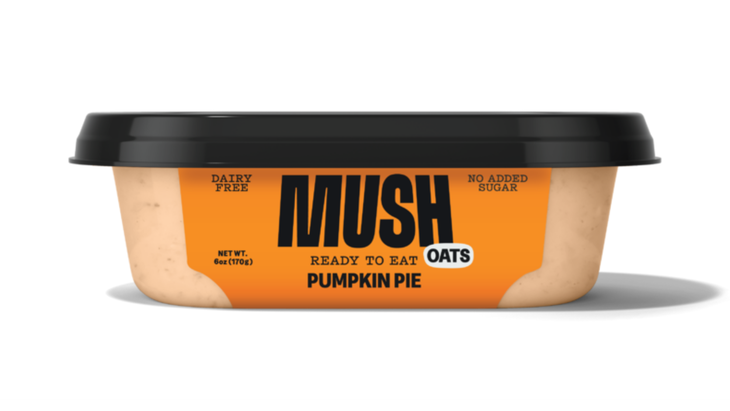 In the same arena of overnight oats is the new MUSH Pumpkin Pie Oats! Unlike Oats Overnight, this is more of your traditional Pinterest overnight oat recipe that keeps the oats in their whole food form. While the seasonal flavor is soon to hit shelves, all MUSH products are made without added sugar, dairy, and gluten, making them a safe find for those who struggle with food allergies. Plus, they pack on average 7 grams of plant-based protein and fiber!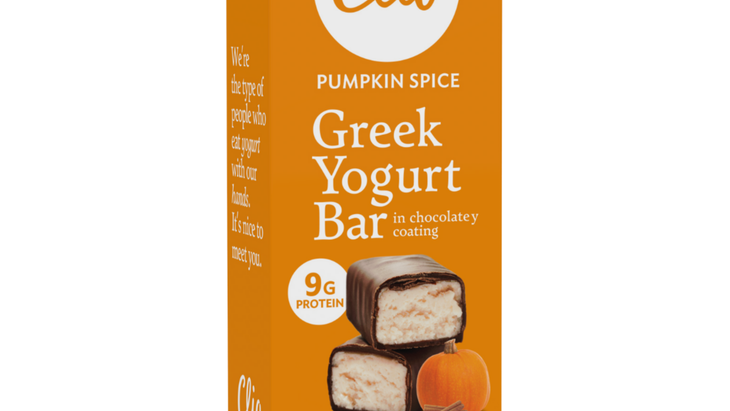 Clio's Pumpkin Spice Greek Yogurt Bar
If you like a sweet treat but aren't interested in the 30 plus grams of added sugar that come with a mere ⅔-cup of pumpkin pie ice cream, then the Clio's Pumpkin Spice Greek Yogurt Bar may be your newest obsession! With only 9 grams of added sugar accompanying 9 grams of protein, it's a wonderful sweet snack that won't leave you in a sugar coma. Plus, they're portable so you can enjoy it running between meetings too this fall!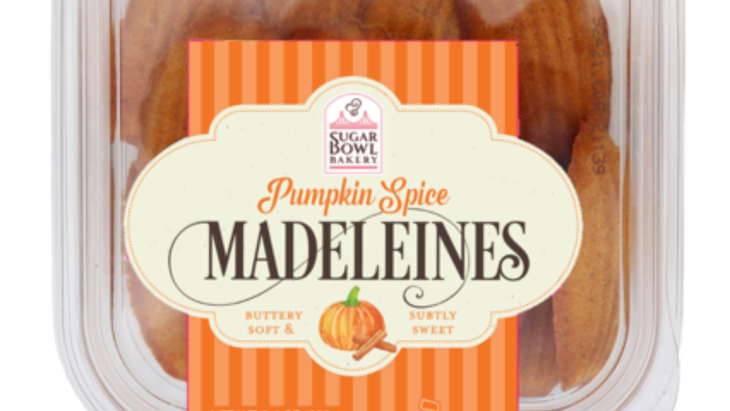 Sugar Bowl Bakery Pumpkin Spice Madeleines
I love a business that is family and minority owned, don't you? Sugar Bowl Bakery is a local California company that makes the most adorable (and delicious) Pumpkin Spice Madeleines you'll want to get your hands on this season. Grab your cup of tea and enjoy one of these seasonal madeleines made with traditional butter, flour, sugar, and egg for just 130 calories and 9 grams of sugar.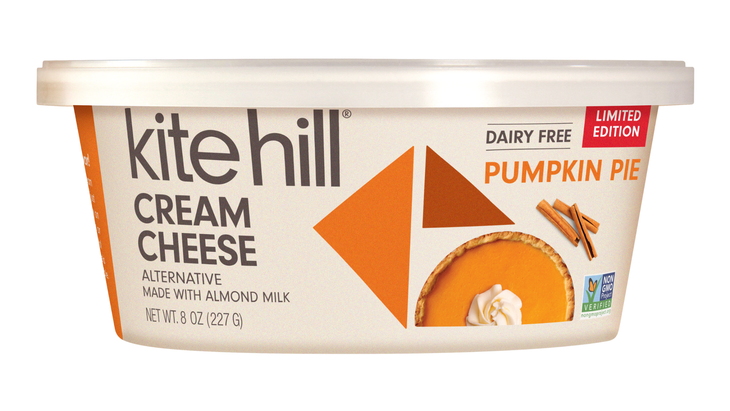 Kite Hill Pumpkin Pie Cream Cheese (Dairy-Free)
I never knew the plethora of dairy-free options out there on the market until I recently had to dive into this for my son and let me just say, I'm so glad brands like Kite Hill exist so all people can enjoy seasonal pumpkin pie cream cheese this season! Two tablespoons of the dairy-free delight has just 5 grams of added sugar for 60 calories, making it the perfect addition to your bagels, toast, or even homemade dairy-free pumpkin pie cheesecake this season.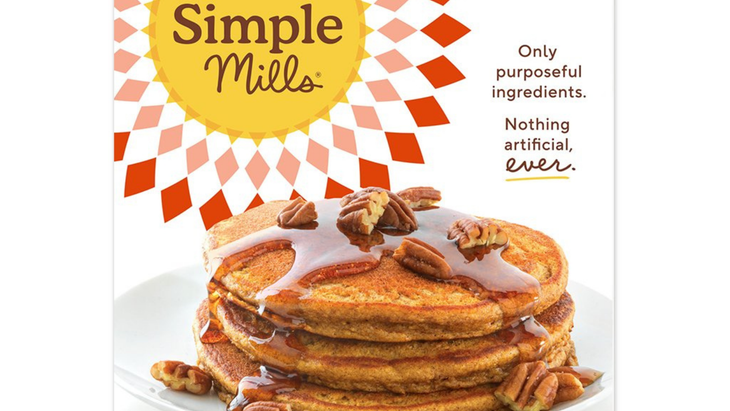 Simple Mills Pumpkin Pancake & Waffle Mix 
Believe me when I say finding a breakfast pumpkin mix that doesn't have a tablespoon of added sugar in every serving is hard to find! But, thankfully the trusted Simple Mills brand has a Pumpkin Pancake & Waffle Mix that delivers on nutrition and taste, packing only 3 grams of added sugar per serving. I recommend batch cooking a few extra waffles to have on hand to pull out of your freezer. It'll make your weekday mornings that much easier.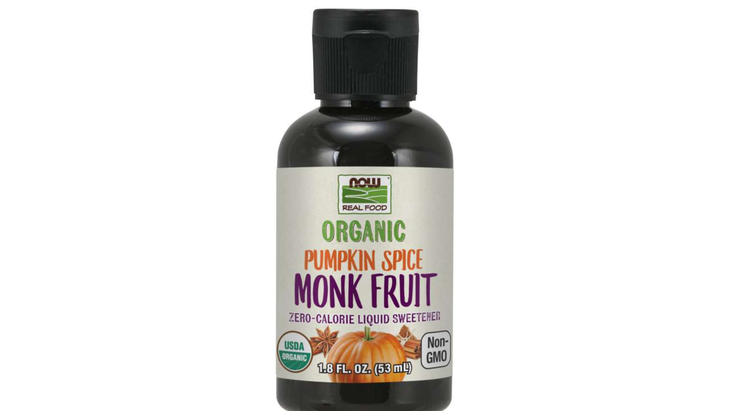 NOW Foods Organic Pumpkin Spice Monk Fruit Zero-Calorie Liquid Sweetener 
The average bakery slice of pumpkin bread clocks in at over 30 grams of added sugar!  While it's fine for an occasional treat to enjoy the real deal, I've found you can easily get creative (and save a lot of money) in your own kitchen by experimenting with this seasonal find from NOW Foods! The Pumpkin Spice Monk Fruit Zero-Calorie Liquid Sweetener is a no added sugar alternative that requires just a small drop to impart that perfect sweet taste to your homemade pumpkin baked goods this season to help reduce the added sugar needed in the recipe. If you're new to monk fruit, don't worry. It's approved by the Food and Drug Administration (FDA) as a safe high-intensity sweetener that's 200 times sweeter than sugar (i.e. really, when we say you don't need a lot to sweeten your recipe, you really do not!)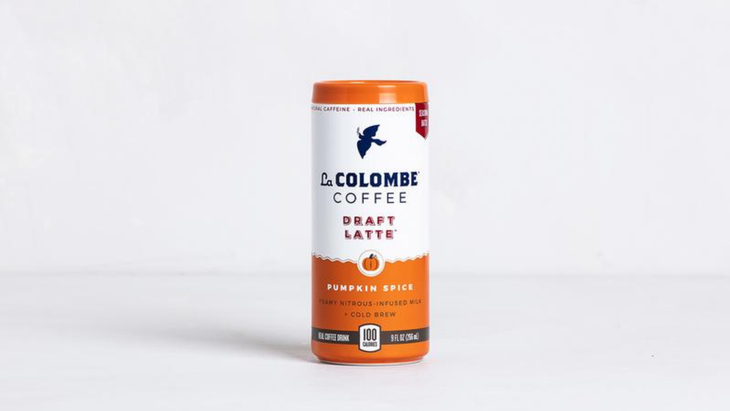 La Colombe Pumpkin Spice Draft Latte
While you can certainly create your own do-it-yourself latte at home, I'll be the first to admit sometimes I like having the convenience of it just prepared for me. La Colombe has done this for us in their seasonal Pumpkin Spice Draft Latte! With just 100 calories, 4 grams of added sugar, and 5 grams of protein, it's a great addition to a balanced breakfast. Pick it up at your local Trader Joe's or order a case online, either way you won't regret having this treat on hand!