10 Seasonal Fall Fruits and Vegetables to Add to Your Plate
Trying to eat more fall fruits and veggies but find yourself in a rut? Consider adding these 10 foods to your grocery list to get your seasonal produce fix.
Heading out the door? Read this article on the new Outside+ app available now on iOS devices for members! Download the app.
Believe it or not, there's some truth to the statement, "An apple a day keeps the doctor away." Eating fruits and vegetables, like apples, has lasting benefits that extend just beyond adding more nutrition to your daily diet. So that notion can actually apply to most seasonal produce, including fall fruits and vegetables.
For instance, research has found that eating seven or more servings of fruits and vegetables daily reduces one's risk of premature death by 42 percent. If that's not enough to encourage you to pick up an apple, further research estimates that if even half of Americans increased their produce consumption by just one serving a day, nearly 20,000 cancer cases could be prevented each year.
With that said, a majority of Americans still fall short when it comes to getting those daily fruits and veggies in. According to the 2020 State of the Plate Executive Summary by the Produce for Better Health Foundation, America's produce consumption has decreased by 10 percent since 2004. On average, adults consume only 1.6 of the recommended 2 to 4 cups of vegetables per day and just under 1 of the recommended 1.5 to 2.5 cups of fruit per day.
Do yourself a favor and bolster your diet with these 10 fall fruits and vegetables that should make it to your shopping cart this season. We promise your body will thank you!
10 Seasonal Fall Fruits and Vegetables to Eat This Season
1. Apples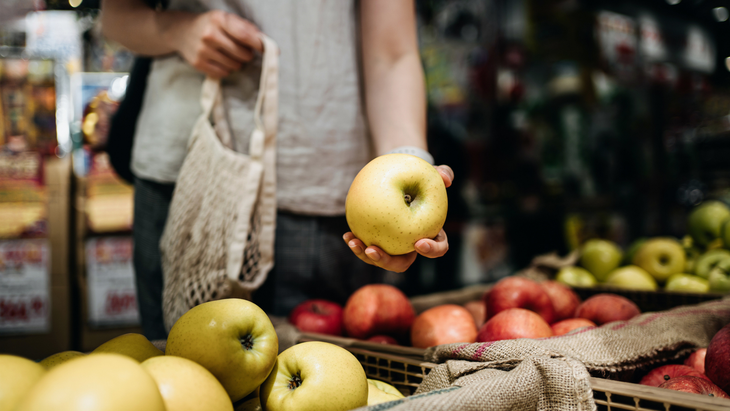 You may be able to pick up a variety of apples year round at the market, but peak apple picking season is undoubtedly autumn. From the classic Gala and Golden Delicious to the seasonal Granny Smith for pies, apples come in all shapes, sizes and flavors to meet your particular preference.
While the nutrition will vary slightly depending on which variety you choose, a standard, unpeeled medium apple (about 100 grams) has about 60 calories, 14 grams of carbohydrates and 2.5 grams of dietary fiber. The fiber alone is one of the big reasons most health professionals recommend apples as a stellar addition to your daily diet. If you haven't heard this before, take note: Fiber keeps you fuller for longer!
Adding fiber-rich foods like apples in conjunction with protein and healthy fat, like in this curried tuna and apple pita, is a trifecta of nutrition that will keep your hunger at bay for hours.
2. Brussels Sprouts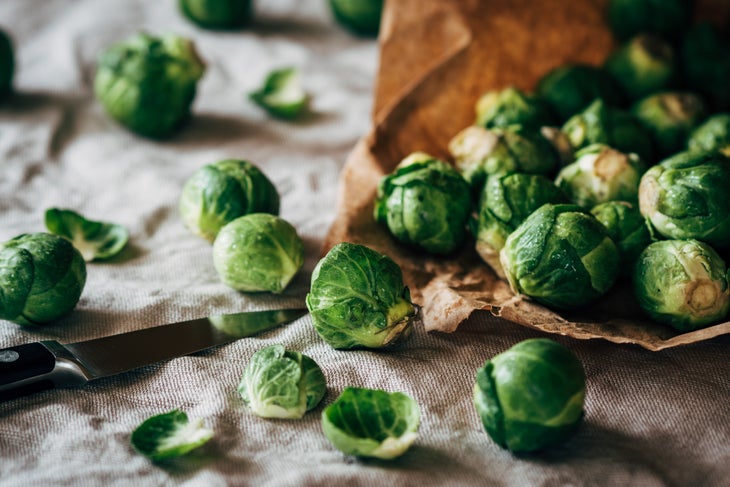 Brussels sprouts are back in season, and this doesn't have to look like the veggie that your grandmother once cooked. Prep it with some pizazz, and it can be a delicious update to your regular fall veggie roster.
Just a ½ cup of cooked Brussels sprouts is only 30 calories while packing 2 grams of dietary fiber, more than 100 percent of your Recommended Daily Intake of vitamin K and 48 of the 75 milligrams of vitamin C recommended per day.
Increase your omega-3s, too, by making this delicious recipe for scallops and Brussels sprouts tonight.
3. Butternut Squash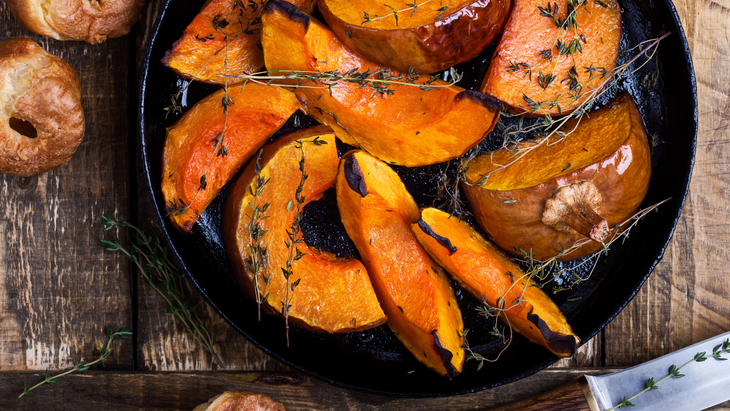 From soups to fries to macaroni and cheese, there's something everyone will like when you add butternut squash to your menu. While there are many varieties of winter squash you can include in your meal plan, butternut squash has a smooth, nutty flavor that works well as a swap in many recipes in which you want to add a creamy texture without a lot of saturated fat from an ingredient like heavy cream.
One cup of cooked and cubed butternut squash has about 80 calories and delivers 6.5 grams of dietary fiber. Plus, it's packed with beta carotene (hello, gorgeous orange hue) that helps with keeping your eyesight strong and your immune system functioning at its best.
Break out of your traditional roasted butternut squash and try this curry and ginger butternut squash soup on a cold fall night this season.
4. Cranberries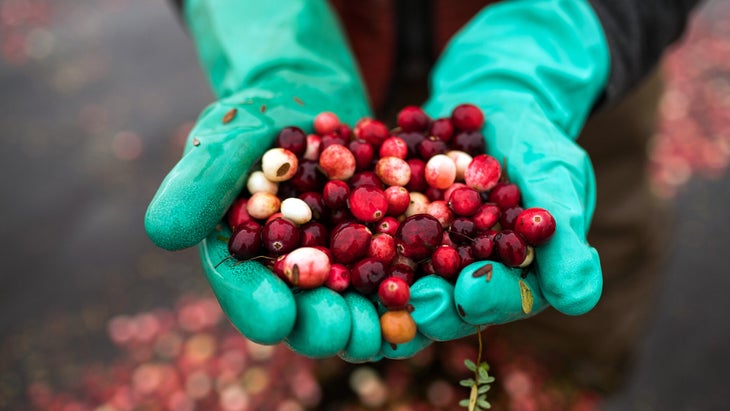 While you may think cranberries are solely reserved to make a delicious sauce to top your holiday turkey, that is certainly not the case. Fresh, frozen, canned, juiced and dried, there's a form of cranberry that suits every cooking occasion.
One cup of chopped fresh cranberries has just 50 calories and packs 4 grams of dietary fiber. Plus, cranberries contain polyphenol antioxidants that help rid your body of the "bad guys," or foreign invaders that can disrupt your body. A recent study found that drinking cranberry juice twice a day helped support gut health while serving as a dietary management strategy to help treat patients infected with Helicobacter pylori — bacteria that may cause chronic inflammation.
While more research is needed, it certainly won't hurt adding in this nutritious and delicious chai spiced cranberry shake to your morning routine.
5. Pears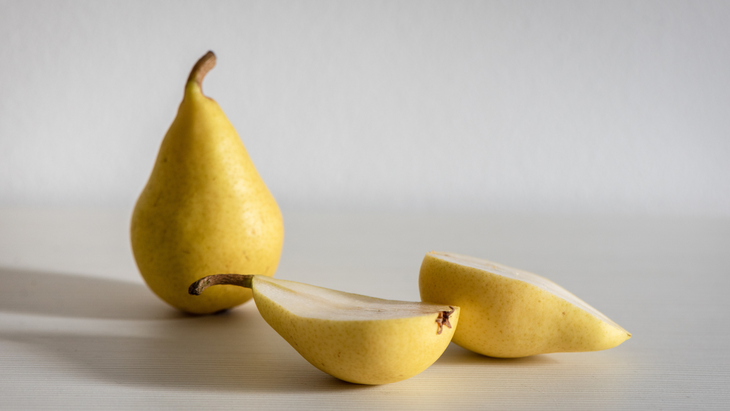 From red to green to brown, pears come in a variety of beautiful colors that really shine this time of year. Plus, pears pack a nutrient punch being one of the highest fiber fruits on the shelf. A medium pear contains nearly 6 grams of it for just 100 calories.
Emerging research has explored the connection between pears and cognitive function. A 2020 study showed that eating more flavonols, a type of antioxidant and beneficial compound found in foods like pears, may be associated with a lower risk of Alzheimer's disease. While there's also an opportunity for more research, you certainly won't regret adding these maple roasted pears to your holiday menu (or as a topping on a Greek yogurt parfait).
6. Pomegranate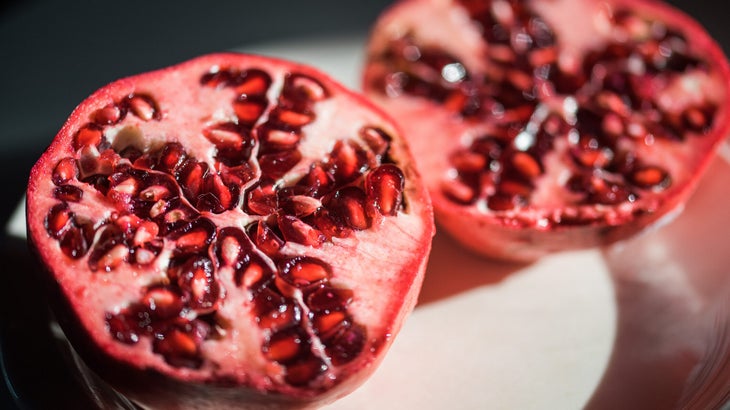 In addition to the eye candy its beautiful red hue provides, pomegranate packs a solid nutrient punch that you'll want to get in on ASAP. From 100 percent pomegranate juice to the juicy arils that contain the pomegranate seeds, there's a form of pomegranate that will please every palate.
One-half cup of pomegranate arils contains just 70 calories but packs nearly 3.5 grams of dietary fiber. On the other hand, an 8-ounce serving of 100 percent pomegranate juice has about 130 calories but packs 533 milligrams of potassium (about 11 percent of the Recommended Daily Intake).
Similar to cranberries, pomegranate contains polyphenols that help fight inflammation. Plus, research shows that consumption of 100 percent pomegranate juice also may improve memory.  Give your body a double dose of power by whipping up this cranberry pomegranate sparkling smoothie for breakfast today. 
7. Pumpkin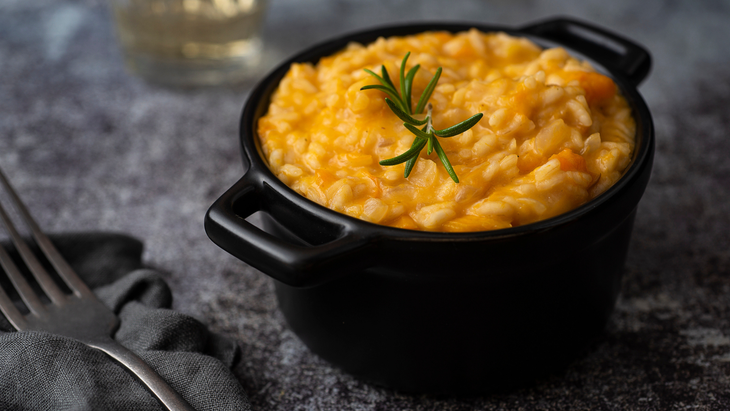 Think beyond the latte, bread, cookies and sweets when it comes to this popular seasonal favorite. Pumpkin is packed with fiber, with 1 cup cooked containing 7 grams of fiber for just 80 calories.
While there's nothing wrong with picking up a can of pumpkin (I do this, too!), you'll want to be sure you're grabbing the 100 percent pumpkin puree and not the pumpkin pie filling. The latter can clock in at 20-plus grams of added sugar.
Get creative in the kitchen by trying out this super-simple but oh so delicious easy pumpkin soup this fall.
8. Spaghetti Squash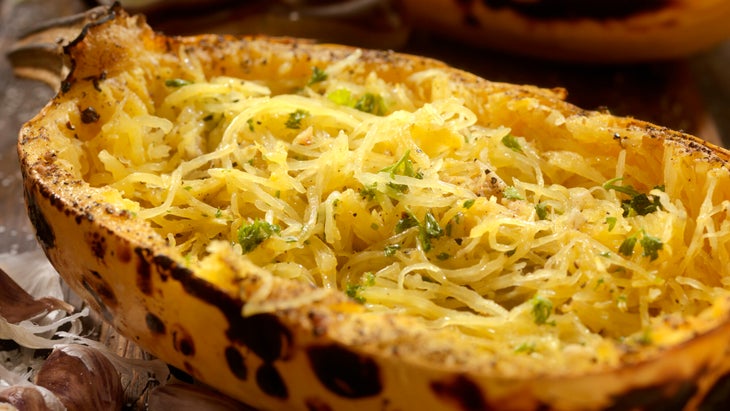 Step aside summer zucchini zoodles, it's time for this winter squash variety to shine. Spaghetti squash is a wonderful addition to your fall menu that serves as a low-carb replacement for some of your favorite pasta and noodle dishes
One cup of cooked spaghetti squash has just 40 calories and 10 grams of carbohydrates, whereas 1 cup of cooked pasta has about 200 calories and 35 to 40 grams of carbohydrates. Note, there's nothing wrong with carbohydrates. (You need them to fuel any successful fitness routine) But, you may want to save this if you are one of the many individuals looking for carb swaps if you find yourself noshing on more carbs from other holiday goodies this time of year.
For dinner tonight, venture outside of your traditional marinara and try this spaghetti squash with tempeh Bolognese.
9. Sweet Potatoes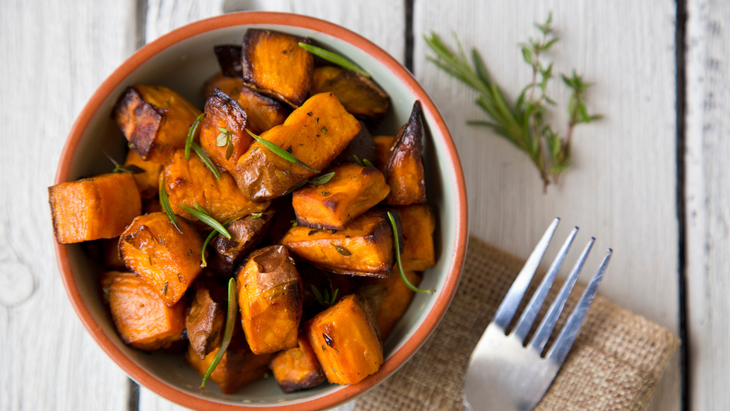 Vibrant and versatile, sweet potatoes pack a wonderful nutrient profile that should have a seat at every holiday table. From sweet to savory, sweet potatoes can shine as the star of the show in appetizers, main courses, and even desserts.
One medium sweet potato, cooked with the skin on, has about 100 calories, 4 grams of fiber and almost 15 milligrams of choline (an important nutrient for growth and development in kids and muscle function and memory as we age).
Similar to pumpkin, you often can find this vegetable in canned form, although it's harder to find pure (i.e., canned without syrup and added sugars). I recommend taking out your Instant Pot (or pressure cooker) and batch-cook so you can easily freeze portions to swap in place of pumpkin puree for a fun, flavorful twist.
Or slice and roast them in your air fryer so you can prepare this caramelized fennel, sweet potato and pine-nut cheese pizza for a quick and easy dinner.
10. Swiss Chard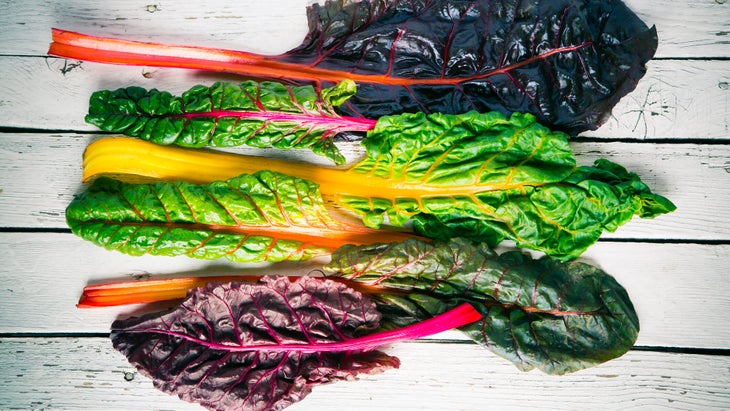 The gorgeous color alone is one reason to add Swiss chard to your grocery cart this season. Tossed in salads or soups or served as a stand-alone side boiled or sauteed with your favorite seasonings, Swiss chard can be used similar to kale.
It's a relatively low-calorie vegetable, with 1 cup of boiled and drained Swiss chard containing just 35 calories. And while it may be low in caloric density, it makes up for it in fiber. That same 1-cup portion yields almost 4 grams of dietary fiber.
Serve up a steak and pair it with this delicious Swiss chard with harissa for a healthy meal this season.
Looking for more fall menu inspiration? Be sure to check out these five delicious healthy fall smoothies!