2-Week High-Protein Collagen Meal Plan
Even if you're meticulous about your protein intake, you could still be falling short on one of the most important sources around.
Heading out the door? Read this article on the new Outside+ app available now on iOS devices for members! Download the app.
Collagen is everywhere these days, and it's being infused into everything from makeup to peanut butter to hair products and shakes. Why is it so popular among the athletic crowd, and could it really make a difference in your performance and/or physique? Turns out the hype is grounded, and getting your fair share of this important source of protein could mean the difference between fab and fabulous.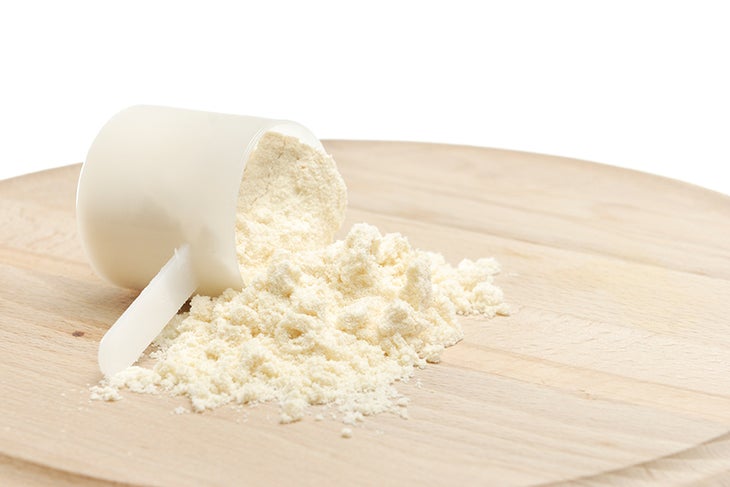 Collagen 101
Collagen is a complex protein composed of numerous amino acids, and about 30 percent of all the protein in your body is collagen. At its most basic, collagen functions to give strength and structure to the tissues of your body — sort of like a protein "glue" that supports and holds you together, inside and out. It is the main component of connective tissues such as tendons and ligaments and is also found in smooth muscle tissue (e.g., blood vessels, heart, digestive tract and kidneys) as well as in your skin, hair and nails.
Generally speaking, athletes get plenty of muscle-building protein from things like eggs, poultry, fish, beef, beans and tofu, and yes, your body can construct some collagen from the amino acids derived from these sources. But if you're athletic, you probably need more, and about 20 to 30 percent of your daily protein intake should come from collagen-rich sources.
Here's why: Your tendons and ligaments are composed primarily of collagen, and when you lift weights, you essentially break down your muscle cells, stimulating your body to build your muscles and make them stronger. Your tendons and ligaments also need to get stronger or else the increased force and tension generated by your newly built muscle mass could result in an injury such as an ACL tear, tendonitis, runner's knee, tennis elbow and neck or lower-back pain. But if you supply your body with plenty of circulating collagen, it will allow your ligaments and tendons to grow and strengthen alongside your muscles.
Performance Issues
There are dozens of types of collagen, but for athletes who need to perform at high intensities, type II (chicken-based) collagen is most important. This kind is sourced specifically from the ligaments, tendons and cartilage of chickens or is derived from eggshell membranes, and it works to create the majority of your cartilage, fascia, ligaments and tendons.
Other kinds of collagen include type I for healthy skin, hair and nails and type III for optimal organ health. So when it comes to overall health and well-being, using a multi-collagen protein powder or supplement is the easiest way to ensure you're getting everything you need.
How to Use This Meal Plan
Most people don't realize that they are collagen-bankrupt and might not be consuming enough collagen as it relates to their muscle-building protein intake. The recipes in this plan are designed to boost your collagen intake across a wide spectrum of sources, and the meal plan incorporates collagen-rich foods as well as foods that support your own natural collagen production, such as mushrooms, matcha, red bell peppers and açai. Because collagen is a protein, there is no best time of day — or way — to consume it, and the more you can add it into your diet throughout the day, the greater the benefits will be.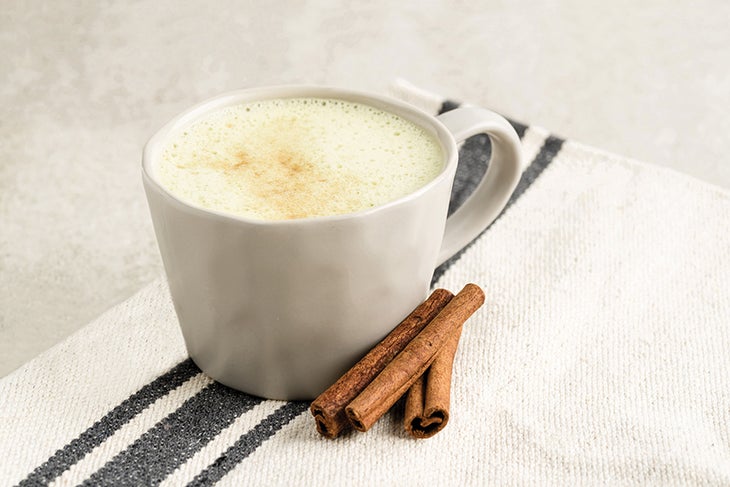 Matcha Green Tea Latte
Makes: 1 serving
Matcha green tea aids in the production of stem cells, which leads to new tissue creation and, in turn, increased collagen production. Adding the multi-collagen protein powder means you are provided with several kinds of collagen to support your overall health and physique goals.
INGREDIENTS
1½ cups unsweetened almond milk
1 tsp ceremonial-grade matcha
1 scoop multi-collagen protein powder
1 tsp coconut oil
2 tsp coconut butter
stevia, to taste
dash cinnamon
DIRECTIONS
Warm milk in a teakettle or small pot, then pour into a blender cup. Add remaining ingredients, except cinnamon, and blend on high. Serve topped with cinnamon.
Nutrition Facts: 290 calories, protein 7 g, fat 12 g, carbs 0 g
Avocado Deviled Eggs
Makes: 6 servings
Turmeric helps reduce inflammation and supports the production of stem cells, which have the capacity to create any kind of tissue needed in the body, including collagen. Garlic and cilantro also contain beneficial sulfur-containing compounds to support optimal collagen production.
INGREDIENTS
6 eggs, hard-boiled and peeled
1 avocado, peeled, pitted and diced
¼ tsp sea salt
¼ tsp pepper
1 tsp turmeric
¼ tsp garlic powder
¼ tsp chili powder
¼ tsp cumin
2 tbsp lime juice
2 tbsp fresh cilantro, chopped
DIRECTIONS
Cut eggs in half and remove yolks. Add yolks, avocado, salt, pepper, turmeric, garlic, chili powder and cumin to a bowl. Mix until well-combined. Spoon mixture into egg-white halves. Drizzle with lime juice and top with cilantro.
Nutrition Facts (per serving): 133 calories, protein 6 g, fat 11 g, carbs 3.5 g
Tropical Açai Bowl
Makes: 4 servings
Adding a multi-collagen protein powder to a favorite breakfast bowl adds a powerful protein punch, which the vitamin C and antioxidants in the açai help support and protect the collagen already present in your body.
Berries such as açai and goji contain a host of antioxidants and vitamins, which help facilitate collagen production and uptake.
INGREDIENTS
Bowl
1 fresh mango, cubed
3 frozen bananas, sliced
½ cup frozen blueberries
1 cup açai concentrate
4 scoops vanilla multicollagen protein powder
Toppings
2 tbsp hempseeds
2 tbsp chia seeds
2 tbsp dried unsweetened coconut
1 kiwi, sliced
½ cup fresh blueberries
DIRECTIONS
Add all bowl ingredients to a blender cup and blend on medium-high until thick and creamy. Divide among bowls. Evenly distribute toppings.
Nutrition Facts (per serving): 368 calories, protein 14 g, fat 14 g, carbs 50 g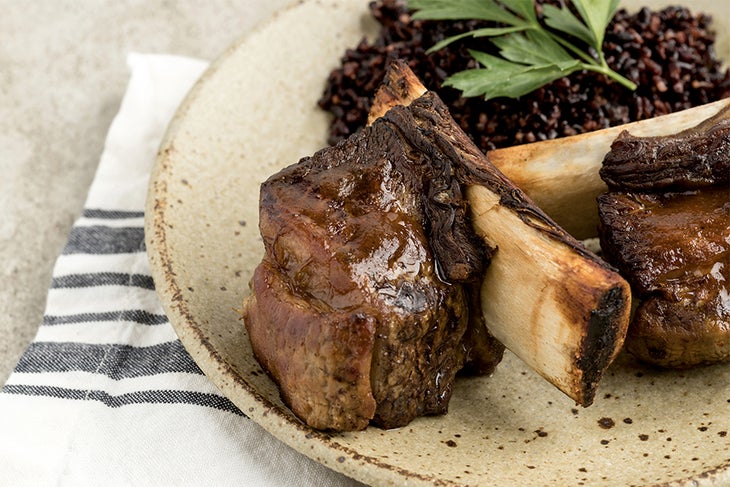 Slow-Cooker Bone-Broth-Braised Beef with Garlic and Thyme
Makes: 6 servings
Bovine bone broth contains high amounts of collagen as well as glucosamine, chondroitin and hyaluronic acid, all of which help promote joint health and aid your body with its natural healing processes.
INGREDIENTS
2 tbsp avocado oil
1 lb beef round roast, fat trimmed
½ tsp sea salt
½ tsp pepper
4 cloves garlic, minced
2½ cups beef bone broth
1 (15 oz) can tomato sauce
3 tbsp Worcestershire sauce
¼ cup maple syrup
5 sprigs thyme
DIRECTIONS
Add avocado oil to a large pan and place over medium heat. Add meat to pan and sprinkle with salt and pepper. Cook 4 to 5 minutes, or until lightly browned. Remove and set aside. In a medium bowl, combine remaining ingredients and add to a slow cooker. Then add meat and cook on low 8 hours.
Nutrition Facts (per serving): calories 270, protein 31 g, fat 9 g, carbs 13 g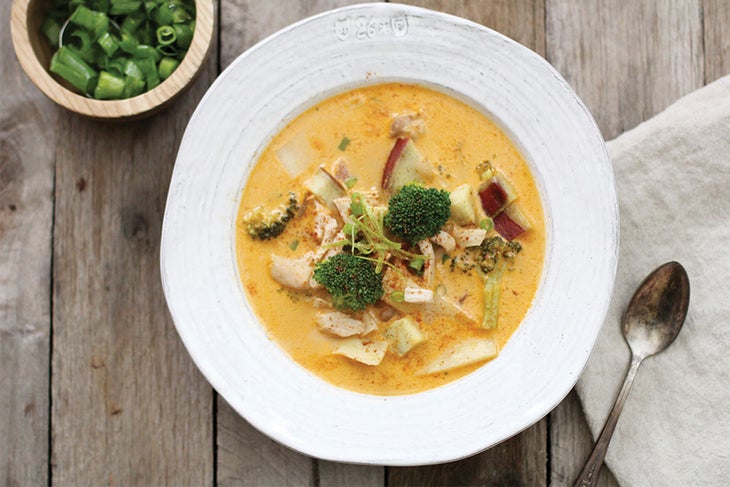 Thai Coconut Chicken Soup
Makes: 4 servings
Chicken broth, which contains the highest amount of type II collagen available, is the base for this healthy soup. It also contains elements such as glucosamine and hyaluronic acid, which support healthy connective tissue, and mushrooms to give a boost to your adrenals and immune system while supporting collagen production.
INGREDIENTS
3 lemon-grass stalks
8 cups chicken bone broth
1-inch fresh ginger, peeled and chopped
3 boneless, skinless chicken breasts, diced
½ shallot, sliced into rounds
1 red bell pepper, sliced
1½ cups mushrooms, chopped
1 tbsp red chili paste
1 (16 oz) can full-fat coconut milk
juice of ½ small lime
1 cup fresh cilantro, chopped
DIRECTIONS
In a large bowl, crush lemongrass stalks. Place a large pot over medium-low heat and add broth, lemon grass and ginger. Steep 25 minutes. Use a spoon to remove ginger and lemon-grass bits. Add chicken, shallots, peppers, mushrooms and chili paste to pot and bring to a boil. Reduce heat to low and simmer 20 minutes until chicken is cooked and veggies are soft. Remove from heat and add coconut milk, lime juice and cilantro. Stir to combine.
Nutrition Facts (per serving): 356 calories, protein 28 g, fat 23 g, carbs 10 g
Slow-Cooker Shredded Salsa Chicken Salad
Makes: 4 servings
Garlic is high in sulfur, which helps prevent the breakdown of collagen already present in the body, and red bell peppers and tomatoes — such as are found in salsa — contain high levels of vitamin C, which directly supports collagen production.
INGREDIENTS
2 cans sugar-free salsa
4 boneless, skinless chicken breasts
1 red bell pepper, chopped
5 garlic cloves, minced
1 cup black beans
8 cups mixed greens
DIRECTIONS
Add the first four ingredients to a slow cooker and cook on high 4 hours, or until chicken is cooked through and tender. Shred chicken with 2 forks. Divide beans and greens between 4 plates and top with equal amounts of chicken.
Nutrition Facts (per serving): calories 284, protein 30 g, fat 4 g, carbs 27 g
Collagen Meal Plan