3 Power-Packed Recipes for the Athletic Woman
Consuming the right foods at the right time can make or break your workout. Here are three recipes that can help you fuel your training.
Heading out the door? Read this article on the new Outside+ app available now on iOS devices for members! Download the app.
As any serious athlete can attest to, what you eat before, during and after your intense workouts can have a profound effect on your performance in the gym and after your workout. The right fuel before you hit the iron can give you much-needed energy, and what you eat after you train can start you on the road to recovery.
To reach optimal results, your nutrition needs to be top-notch. Whole-food-based meals give you sustained energy (unlike that crash you get from some prepackaged foods). "There's a broad movement in sports nutrition toward once again embracing real food," says Matthew Kadey, RD, author of Rocket Fuel(VeloPress, 2016). "Athletes are becoming cognizant that healthy eating does not just apply to mealtime but also to the fuel they pump into their bodies before, during and after workouts."
Here are three healthy recipes from Kadey's book that are easy to make, taste delicious and will help you fuel up to reach your goals.
Before Your Workout
Apple Sweet Potato Mash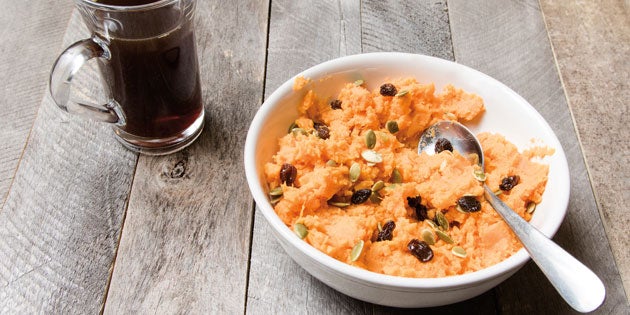 High in complex carbohydrates, the sweet spud can provide some long-lasting energy for your impending exercise pursuit. But there's no need to put your workout on hold while you roast or boil one up when this nifty microwave mash gets the job done quickly. Some add-ins, such as maple syrup, applesauce and crunchy pumpkin seeds provide more motivation to work out. As a bonus for the diet-minded and those afflicted with food sensitivities, it's also dairy-free, gluten-free, Paleo-friendly and vegan.
Servings: 1 | Active Time: 10 minutes
*Although digestion rates vary, you'll likely perform better if you give yourself 30 minutes or more for digestion.
Ingredients
1 medium-size sweet potato, peeled and cubed
1/3 cup plain applesauce
2 teaspoons pure maple syrup
¼ teaspoon ground allspice
¼ teaspoon ground ginger (optional)
1 tablespoon raisins
1 tablespoon raw shelled pumpkin seeds (pepitas)
Directions
Place sweet potato cubes and 1 tablespoon water in microwave-safe bowl. Cover with plastic wrap and poke a few holes in plastic to allow for venting. Microwave on high for six minutes, or until potato is fork-tender. The bowl will be very hot, so use oven mitts or a dish towel to remove from microwave.
Add applesauce, maple syrup, allspice and ground ginger (if using) to bowl and mash together. Top with raisins and pumpkin seeds.
Game Changers
Replace applesauce with pear sauce.
Mash in cinnamon instead of allspice.
Use dried cranberries instead of raisins.
Swap out pumpkin seeds for sunflower seeds.
Nutritional Info: calories 257, protein 5 grams, carbs 53 grams, fat 4 grams, fiber 5 grams, sodium 46 milligrams
During Your Workout
Mediterranean Mini-Muffins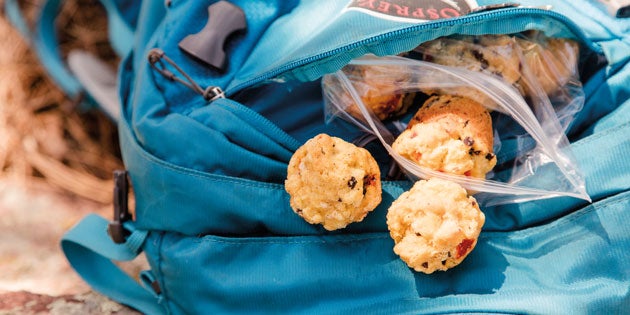 Inhale one of these bite-size muffins, close your eyes and imagine you're cycling in the Italian countryside, running on a white sand Mediterranean beach or hiking in the towering French Alps. OK, so your workout or race might be more pedestrian, but these mini-muffins offer a welcome respite from sweet, sugary calories. They also deliver a shot of salt for those times when you need to replace some lost sodium.
Dairy-free, Freezer-friendly, Gluten-free, Vegan or Vegetarian
Servings: 12 | Active Time: 20 minutes
You also can make these in standard-size muffin cups for an anytime snack or even as a dinner side dish served warm with a slick of butter. You'll need to increase the cooking time by about five minutes. You also can up the nutritional ante by using whole-grain flour such as whole-wheat pastry flour or spelt flour if ease of digestion during exercise is not a concern.
Ingredients
1¾ cups all-purpose flour
¼ cup finely ground cornmeal
3 tablespoons sugar
1½ teaspoons baking powder
1 teaspoon dried thyme
½ teaspoon salt
2 large eggs
¾ cup + 2 tablespoons low-fat milk
1/3 cup olive oil
zest of 1 lemon (optional)
2 ounces finely chopped feta cheese (about ½ cup)
½ cup drained and finely chopped roasted red bell peppers
1/3 cup pitted, finely chopped Kalamata olives
Directions
Preheat oven to 350 degrees. In large bowl, mix together flour, cornmeal, sugar, baking powder, thyme and salt. In separate bowl, whisk together eggs, milk, oil and lemon zest, if using. Add wet ingredients to dry ingredients and mix gently until flour is incorporated. Fold in feta, red peppers and olives.
Divide among 24 greased or paper-lined mini-muffin cups and bake for 15 minutes, or until a toothpick inserted into the center of a muffin comes out mostly clean. Let cool for a few minutes before unmolding and cooling completely on metal racks. Keep chilled for up to five days and transport in small zip-top bags.
Game Changers
Use 1-to-1 gluten-free flour blend instead of all-purpose flour.
Make these dairy-free with nondairy milk and no feta.
Try grapeseed oil or canola oil instead of olive oil.
Use chopped sun-dried tomatoes instead of roasted peppers.
Nutritional Info (per serving):calories 121, protein 4.5 grams, fat 9 grams, carbs 21 grams, fiber 1 gram, sodium 222 milligrams
After Your Workout
Beast Bars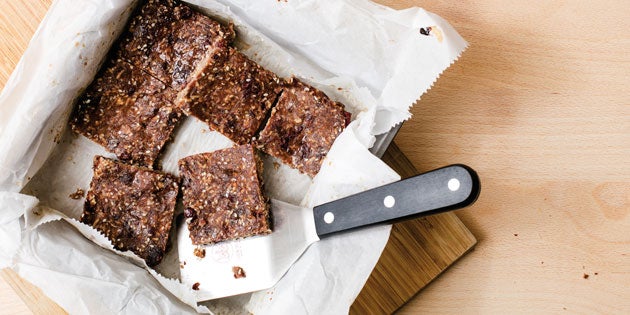 Time to unleash your inner Arrr! Jerky energy-bar hybrids are at the forefront of the energy-bar revolution. Consider this tender and protein-packed DIY version your tribute to the mammoth-hunting cave man of yesteryear. Each bar also supplies a shot of energy-boosting iron, particularly important for active women.
There are two important ingredients that keep these bars from tasting like leftover meatloaf. First, the cranberries offer up some of the sweetness that you would expect in a bar. And round steak, one of the leanest cuts available, is used to keep the fat levels low and help the mixture dry out in the oven. Too much fat will encourage the bars to go rancid more quickly. A longer cooking time at a low temp helps with the drying process.
Dairy-free, Gluten-free, Paleo-friendly
Servings: 9 | Active Time: 20 minutes
Consider opting for grass-fed or organic beef. Studies suggest that steaks from grass-fed cattle are more nutrient dense than those from their grain-fed brethren, while organic beef is not administered hormones or antibiotics.
Ingredients
10 ounces round steak (eye, top or bottom cut)
1 cup dried cranberries
¼ cup soy sauce
¼ cup unsweetened shredded coconut
3 tablespoons sesame seeds
2 teaspoons orange zest
½ teaspoon salt
Directions
Trim any excess fat from meat and cut into 1-inch cubes. Place on a parchment paper¬¬–lined baking sheet and freeze until edges are stiff but not frozen all the way through, about 20 minutes. This will help the meat grind more uniformly.
Preheat oven to 225 degrees. Place partially frozen meat and cranberries in food processor and pulse until meat is coarsely ground. Pulse in remaining ingredients.
Line an 8-by-8–inch square baking pan with a piece of parchment paper large enough so there is a 1-inch overhang. Place meat mixture in pan and spread out into an even layer. Bake for 30 minutes, pour off any accumulated juices and then bake for another 50 minutes. Let cool completely in pan before lifting out with parchment overhang and cutting into nine bars. Keep chilled for up to one week.
Game Changers
Try dried cherries instead of cranberries.
Use liquid aminos or gluten-free soy sauce instead of regular soy sauce.
Replace sesame seeds with hemp seeds.
Swap out the orange zest for lemon zest.
Nutritional Info (per serving): calories 149, protein 10 grams, fat 7 grams, carbs 13 grams, fiber 2 grams, sodium 380 milligrams
Republished with permission of VeloPress from Rocket Fuel: Power-Packed Food for Sports + Adventure by Matt Kadey, RD. See more recipes at Rocketfuelfoods.net.