4 Cool Summertime Snacks
These summertime snacks are all gluten- and dairy-free, can be made in less than 15 minutes, and can be stored in your freezer.
Heading out the door? Read this article on the new Outside+ app available now on iOS devices for members! Download the app.
There are few things more satisfying during the dog days of summer than a refreshing treat — but ice cream, ice pops and frozen fruit bars can be loaded with sugar, artificial coloring and preservatives. Surprisingly, they also can make you feel hotter.
"I recommend nutrient-rich, cooling snacks that aid the body in digestion, which helps decrease heat created during the digestive process," says Alexandra Catalano, a holistic nutritionist and creator of the popular lifestyle brand Eat Cute. "For relief from that summer heat, it's important to choose healthy snacks without refined sugar that also have a high water content."
Catalano shares four of her favorite tasty summer treats below. Bonus: They are all gluten- and dairy-free, can be made in less than 15 minutes, and can be stored in your freezer so you can have them on hand for those extra hot days.
"I always encourage my clients to keep snacks like these ready to alleviate the temptation of sugary poolside snacks," Catalano says. "Stacking the odds in your favor by keeping healthy snacks handy will leave you feeling radiant, keep you on track with accomplishing your health goals and give you energy."
Photo Credit: Rebecca Buenik
Dreamy Coconut Chocolate Collagen Pops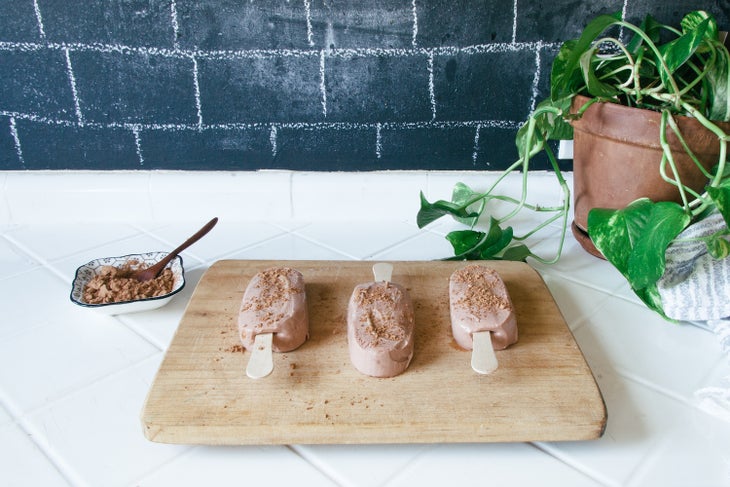 Unlike traditional chocolate pops, these frozen pops contain no refined sugar or dairy. Raw cacao has four times the antioxidant power of regular dark chocolate and is rich in protein, calcium, carotene, thiamin, riboflavin, magnesium and sulfur. Coconut milk contains a healthy fat called lauric acid, a medium-chain fatty acid that's easily absorbed and used by the body for energy. The healthy fat will keep you full for longer so you can avoid overeating. Lastly, the collagen powder helps reduce cellulite and stretch marks so you can feel confident indulging in this tasty treat while strutting your stuff in your swimsuit.
Ingredients:
1 can organic full-fat coconut milk, unsweetened
⅓ cup raw cacao powder
1 tbsp collagen powder
2 dates
Directions: Put all ingredients in blender and blend until smooth. Place mixture into ice-pop molds and freeze. Serves 10.
R&R: Raspberry and Rose Petal Smoothie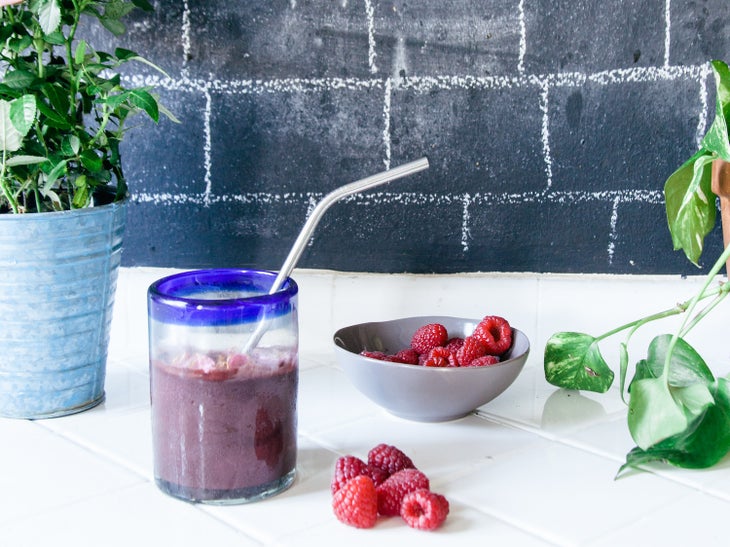 Raspberries are packed with cancer-fighting antioxidants, help boost mood and memory, have anti-inflammatory properties, and aid in weight loss. Adding collagen to your smoothie will help plump your skin, reduce joint pain, heal and repair your gut, and boost metabolism. Looks like everything's coming up roses!
Ingredients:
¼ cup frozen organic raspberries
1 cup light coconut milk
¼ avocado
4-6 ice cubes
1 tbsp golden milled flax meal
1 scoop collagen powder
½ cup dried edible rose petals
Directions: Place raspberries, coconut milk, avocado, flax and collagen powder in blender and blend until smooth. Add ice and blend. Garnish with edible rose petals and other toppings, such as unsweetened coconut flakes or goji berries. Serves one.
Matcha Avocado Soft Serve With Bee Pollen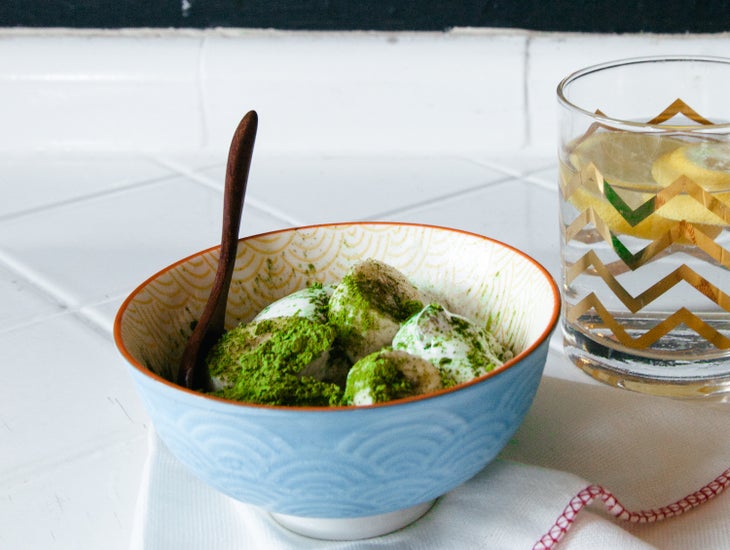 The healing benefits of matcha are endless: It helps prevent cancer by inhibiting tumor growth, boosts energy, fights belly fat, improves the immune system and helps reduce damage from UVB radiation. Bee pollen contains more protein than any animal source, and it also helps with allergies, inflammation, stress and hormone regulation. This treat will truly leave your taste buds buzzing.
Ingredients:
2 frozen bananas
1 large frozen avocado
2 dates
2 tsp matcha powder
1½ cups full-fat coconut milk, unsweetened
1 tbsp local bee pollen*
Directions: Mix first four ingredients in blender. Add coconut milk in small increments to get an ice cream consistency (instead of a smoothie). When at the desired texture, garnish with bee-pollen granules. Serves four.
*If you have a bee allergy, avoid adding bee pollen.
Frozen Banana Bites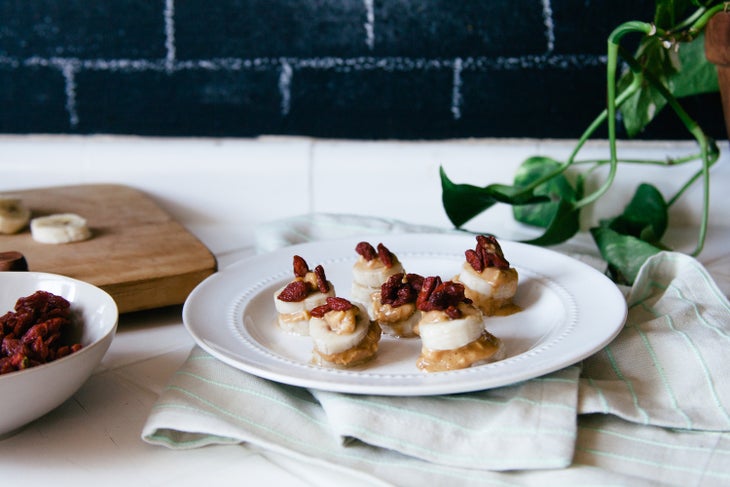 Move over peanut butter, sunflower butter is having a moment. Sunflower butter is rich in vitamin E, which helps balance cholesterol and fight free-radical damage. It is also rich in magnesium, which helps promote quality sleep, ease muscle pain and spasms, and improve digestion. Unlike peanut butter, sunflower butter is not processed and does not typically contain sugar or hydrogenated oils. Goji berries are a superfood that has been used in Chinese medicine for more than 2,000 years — they are fat-free, low in calories, and high in fiber and antioxidants. They also promote longevity. The sun really is shining down on this recipe.
Ingredients:
1 sliced organic banana
1 cup organic sunflower seed butter
1 cup goji berries
Directions: Cover banana slices with thin layer of sunflower butter. Then combine slices to make a sandwich. Add small scoop of sunflower butter on top of banana sandwich and garnish with goji berries. Place in freezer for 20 minutes. Serves two.