4 Delicious Cook-Free Recipes
These quick, refreshing, cook-free recipes will keep your body well-fed from morning to night.
Heading out the door? Read this article on the new Outside+ app available now on iOS devices for members! Download the app.
There's a lot to love about summer — flip-flops, yoga in the park and lazy days at the beach. What's not fun is hovering over a hot stove to get a nutritious meal on the table. It's hard to muster an appetite for roasted chicken and vegetables when it's roasting outside and your patience for complicated recipes is wearing extra thin.
Well, don't sweat it (literally): It's possible to keep your cool and eat great at the same time by combining healthy supermarket convenience foods with in-season fruits and vegetables. These quick, refreshing, cook-free recipes will keep your body well-fed from morning to night, and they will give your stove — and your patience — the day off.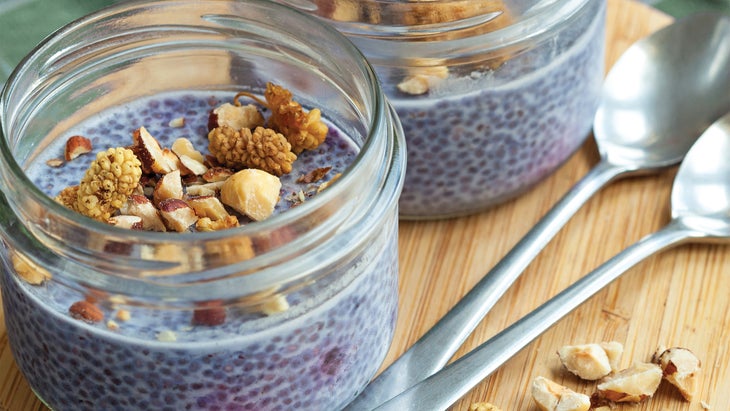 Blueberry Chia Granola Pudding
Makes: 2 servings
Serving size: 1 pudding
Hands-on time: 15 minutes
This deliciously thick make-ahead berry pudding promises a lightning-fast meal without sacrificing sound nutrition. The blueberries are brimming with brain-benefiting antioxidants, the yogurt delivers a wallop of muscle-building protein, and the chia seeds provide heart-healthy omega-3 fats and fiber to keep you satisfied for hours.
INGREDIENTS
½ cup milk or unsweetened nondairy milk
1 cup plain Greek or Skyr yogurt
2 scoops plain or vanilla protein powder
1 cup fresh or frozen (thawed) blueberries, plus more for topping
1 tbsp maple syrup or honey (optional)
1 tsp vanilla extract
½ tsp cinnamon
6 tbsp chia seeds
2/3 cup low-sugar granola or muesli
2 tbsp chopped almonds
2 tbsp coconut flakes
pinch of salt
DIRECTIONS
Place milk, yogurt, protein powder, blueberries, maple syrup or honey, vanilla, cinnamon and a pinch of salt in a blender container and blend until smooth.
Divide mixture between two wide-mouth jars. Add chia seeds and stir to combine. Top with granola, coconut flakes, almonds and fresh blueberries. Seal shut and chill overnight.
Nutrition Facts (per serving): calories 476, total fat 15 g, carbs 55 g, fiber 13 g, sugar 24 g, protein 35 g, sodium 94 mg
No blueberries at the market? Swap for other seasonal fruit like peaches, cherries or raspberries.
Gazpacho with Tuna Salad
Makes: 4 servings
Serving size: 1 cup soup and ¼ tuna salad mixture
Hands-on time: 25 minutes
Gazpacho offers a refreshing break from stale lunch sandwiches and puts your farmers market haul to good use. The canned tuna adds a ready-to-eat and satiating protein element, the olive oil is full of anti-inflammatory compounds, while the tomatoes and cucumbers keep you refreshed and hydrated.
INGREDIENTS
Soup
3 medium tomatoes, quartered
1 red bell pepper, roughly chopped
4 red radishes, roughly chopped
½ English cucumber, peeled and chopped
2 scallions (green onions), white parts only, chopped
2 garlic cloves, chopped
1/3 cup fresh basil
2 tbsp red wine vinegar
1 tsp paprika
½ tsp salt
¼ tsp black pepper
2 tbsp extra-virgin olive oil
Tuna Salad
2 cans albacore (white) tuna in water, drained
¾ cup canned navy beans, drained and rinsed
1/3 cup sliced Kalamata olives
1/3 cup chopped parsley
2 tbsp red wine vinegar
DIRECTIONS
Place ½ cup water, tomatoes, red bell peppers, radishes, cucumbers, scallions, garlic, basil, red wine vinegar, paprika, salt and black pepper in a blender or food processor container and blend until nearly smooth. With the machine running on low speed, slowly drizzle olive oil in through the feed tube. Place soup in container and chill at least 2 hours.
In a bowl, gently break up tuna and stir in beans, olives, parsley and vinegar.
Place soup in serving bowls and top with tuna salad and a drizzle of olive oil.
Nutrition Facts (per serving): calories 258, total fat 12 g, carbs 15 g, fiber 5 g, sugar 5 g, protein 24 g, sodium 519 mg
No-Cook Salmon Ceviche Nachos
Makes: 2 servings*
Serving size: ½ nachos
Hands-on time: 30 minutes
This fusion of ceviche and nachos is fun and sophisticated at the same time, and it is the perfect chilled dish to eat with your hands outside. The beans are loaded with hunger-quelling fiber, the salmon contains a boatload of heart-friendly omega-3 fats, and the sweet cherry tomatoes infuse your diet with vitamin C.
INGREDIENTS
¼ cup fresh lemon juice
¼ cup fresh lime juice
½ lb sushi-grade skinless salmon
½ cup canned black beans, drained and rinsed
1 cup cherry tomatoes, quartered
¾ cup chopped pineapple
1 small avocado, chopped
½ English cucumber, chopped
2 green onions (whites and greens), thinly sliced
1 serrano or jalapeño chili pepper, seeded and minced
1 clove garlic, minced
¼ tsp salt
3 cups baked tortilla chips
1/3 cup sour cream
¼ cup chopped cilantro
DIRECTIONS
In a bowl, stir together lemon and lime juices. Slice salmon into ¼-inch pieces and add to bowl. Cover and refrigerate, stirring once or twice, for at least 2 hours and up to 8 hours.
In a separate large bowl, toss together black beans, tomatoes, pineapples, avocado, cucumbers, green onions, chili peppers, garlic and salt. Drain salmon and toss gently with tomato mixture.
Line a serving platter with half the tortilla chips and top with half the ceviche. Layer on remaining tortilla chips and top with remaining ceviche. Add dollops of sour cream and garnish with cilantro. Squeeze on fresh lime juice.
* Double the recipe if serving a crowd.
Nutrition Facts (per serving): calories 549, total fat 27 g, carbs 47 g, fiber 9 g, sugar 11 g, protein 32 g, sodium 523 mg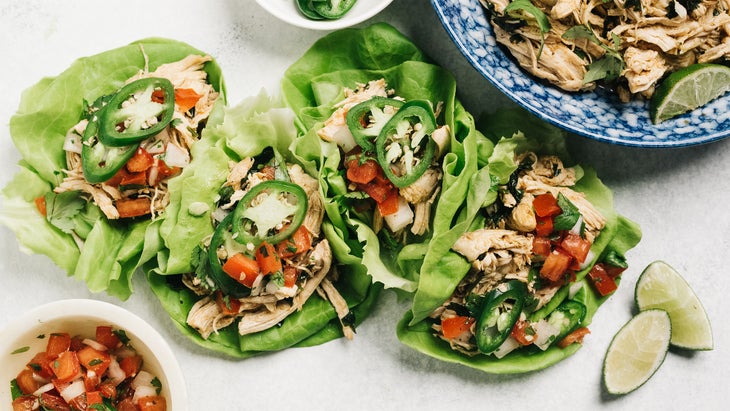 Thai-Style Chicken Lettuce Tacos
Makes: 4 servings
Serving size: 2 tacos
Hands-on time: 30 minutes
A cross between a taco and Asian street food satay, this bundle of cook-free nutrition will stoke your palate with a winning mix of great textures and fresh flavors. Make this with a ready-to-go supermarket rotisserie chicken for high-quality protein, mango and red bell peppers for immune-boosting vitamin C, and peanut butter for a dose of heart-healthy unsaturated fats.
INGREDIENTS
6 oz thin brown rice vermicelli noodles
¼ cup peanut butter
2 tbsp low-sodium soy sauce
2 tbsp rice vinegar
2 tsp sesame oil
2 tsp grated or minced fresh ginger
1 tsp chili hot sauce, such as Sriracha
8 large lettuce leaves
2 cups sliced rotisserie chicken
1 red bell pepper, thinly sliced
1 large carrot, cut into matchsticks
1 mango, sliced
2 scallions (green onions), chopped
1/3 cup cilantro
1/3 cup unsalted roasted peanuts (optional)
DIRECTIONS
Bring a teakettle of water to a boil. Place noodles in large heatproof bowl, cover with boiling water and let soak until tender, about 5 minutes. Drain well. Slice noodles into thirds.
In a bowl, whisk together peanut butter, soy sauce, rice vinegar, sesame oil, ginger and chili sauce. Then whisk in warm water, 1 tablespoon at a time, until a thin consistency is reached.
To assemble a taco, place half the rice noodles on a lettuce leaf and top with chicken, red peppers, carrots, mango and scallions. Drizzle on sauce and top with cilantro and peanuts (if using).
Nutrition Facts (per serving): calories 451, total fat 14 g, carbs 54 g, fiber 5 g, sugar 12 g, protein 29 g, sodium 440 mg
DESSERT
Cook-Free Pecan Cups With Banana "Ice Cream" 
Makes: 10 servings
Serving size: 1 cup
Hands-on time: 30 minutes
This whole-food, nutty, no-bake dessert hits the spot on those hot summer nights. The dates and bananas offer up some potassium, the pecans are full of healthy fats, and the flax is a rich source of belly-shrinking dietary fiber.
INGREDIENTS
1 cup pitted dates
1½ cups pecans
1/3 cup ground flaxseed
¼ cup honey or agave syrup
1/8 tsp salt
4 frozen chopped bananas
¼ cup almond milk or coconut milk
2 tsp vanilla extract
¼ cup cacao nibs
DIRECTIONS
Place dates in a bowl, cover with warm water and let soak 15 minutes. Place pecans in a food processor container and grind into small bits. Drain dates and pat dry with paper towel. Add dates, flax, honey and salt to the container. Process until mixture sticks together when pinched between your fingers.
Divide pecan mixture between 10 standard-size silicone or greased metal muffin cups. Using damp fingers, press mixture down and up the sides of muffin cups to form a mini-bowl. Freeze an hour. Run a knife around edges of pecan cups to remove from pan and keep chilled until ready to use.
Place bananas in food processor container. Turn machine on and let it run until bananas are the size of small pebbles. Scrape down sides of container, add milk and vanilla, and blend until creamy. (Do not over-blend where bananas begin to melt.) Add a splash or two more of milk to help with blending, if needed.
Serve immediately, dividing banana "ice cream" among pecan cups and topping with cacao nibs. If not using right away, freeze for later use. When ready to serve, allow to sit at room temperature for several minutes to soften or process again until it becomes creamy.
Nutrition Facts (per serving): calories 235, total fat 13 g, carbs 32 g, fiber 5 g, sugar 22 g, protein 3 g, sodium 36 mg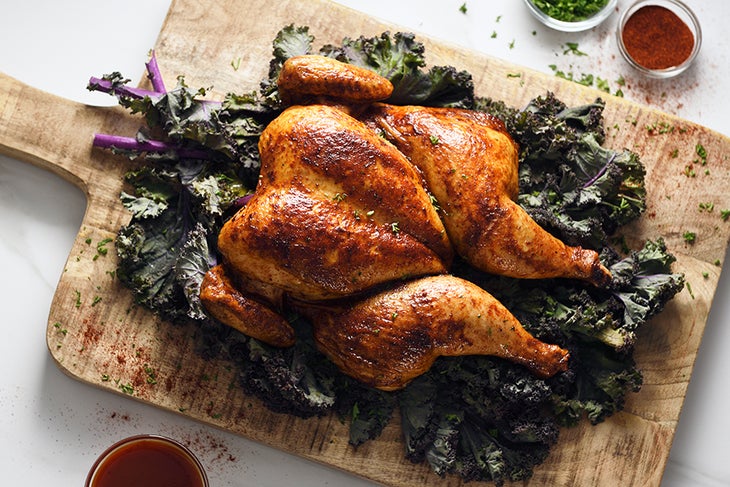 Chill Out!
These healthy supermarket convenience foods can help you keep your cool — getting you in and out of the kitchen — fast.
Baby Kale: These little leaves are plush with nutrients and antioxidants, require no chopping and have a less-bitter taste than full-grown kale. Add to sandwiches, salads and green smoothies.
Rotisserie Chicken: An already-cooked bird lets you add instant protein to any meal. Ditch the skin to eliminate a ton of sodium and fatty calories.
Peppadew Peppers: Often sold jarred in brine, these sweet-spicy peppers can enliven all forms of no-cook dishes. Try stuffing them with goat cheese or hummus for a no-fuss backyard appetizer.
Frozen Cooked Shrimp: Thaw as many as you need and reap the rewards of this low-calorie protein powerhouse. Serve with low-sodium cocktail sauce, or chop and add to a salad.
Canned Beans: Embrace budget-friendly canned beans as a way to enrich salads, dips and tacos with nutrient-dense protein and fiber.
Frozen Cherries: Conveniently pitted, these sweet nibbles are the perfect addition to cereal, desserts and even savory dishes like tuna salad.
Smoked Salmon: No need to fire up the grill for your fish fix. Add this precooked, velvety delight to whole-grain crackers, wraps, salads and summer picnic charcuterie spreads.
Quinoa Flakes: Made by rolling whole quinoa seeds to flatten, these flakes are a great addition to smoothies for a boost of protein and fiber or as a high-pro sub for oatmeal.