5 Grains, 5 Meals
Add more whole grains to your plate and you'll not only boost your chances of staying healthy longer, but you'll also perform better in the gym.
Heading out the door? Read this article on the new Outside+ app available now on iOS devices for members! Download the app.
Photography By Robert Reiff | Food Stylist: Sandra Cordero
There is good news on the nutrition front: Studies show that the overriding health messages sent your way are slowly sinking in. You are turning over packages to read about the ingredients and nutrition values, you are making more meals at home, and you are taking in fewer saturated and trans fats. But there is one health message that still seems to evade most Americans: Eat more whole grains. In January 2014, the journal Nutrition Research noted results of the largest national nutrition and food intake survey that show only 8 percent of adults (and only 3 percent of children) are eating at least the recommended three daily servings of whole grains. That troubling statistic becomes cause for concern when research continues to attest that higher whole-grain consumption is linked to lower body mass index, lower body and belly fat, lower blood pressure, and reduced risk of heart disease, stroke, Type 2 diabetes and certain cancers.
But the body benefits of eating more whole grains don't just stop at disease prevention. For active women like you, whole grains deliver a package of nutrition, so to speak, that helps you feel full for longer and gives you more energy and better blood flow.
So if whole grains are so beneficial for us, why are we still not getting the recommended amount? It can't be blamed on lack of availability because there are 20 times more whole-grain products on the market today than there were a decade ago, according to the Mintel Global New Products Database. But, Cynthia Harriman, director of food and nutrition strategies for Oldways and the Whole Grains Council points out, it's not a matter of adding whole grains to what we're already eating but rather a matter of switching to whole grains. "In general, people eat more grains than they need," Harriman says. Most of that comes in the form of refined wheat (white flour) in bread, pasta, cereal, crackers, and packaged and baked goods.
The best strategy is to always purchase and make whole-grain versions of those foods and to eat a variety of whole grains. Also, if there are kids in your home, it would be beneficial to include them in your efforts to eat more whole-grain foods. Simply working in more oatmeal breakfasts, popcorn or granola snacks and dinners that include whole-grain pasta or whole-grain bread is a great way to bump up the entire family's intake of whole grains.
"Think of grains as vegetables," Harriman says. Eating a variety of whole grains works the same way. Don't just stop at whole-wheat bread and crackers, but try many whole grains, such as barley, quinoa, millet, farro and colored rices.
We have five recipes that will help you add more grains into your diet.
And for whole grain myths and truths, read Whole-Grain Myths.
Brown Basmati Rice
Brown basmati rice is an excellent source of manganese, a mineral that helps us digest fats and get the most out of the proteins and carbohydrates we eat.
Seared Tuna Over Asian Brown Basmati Rice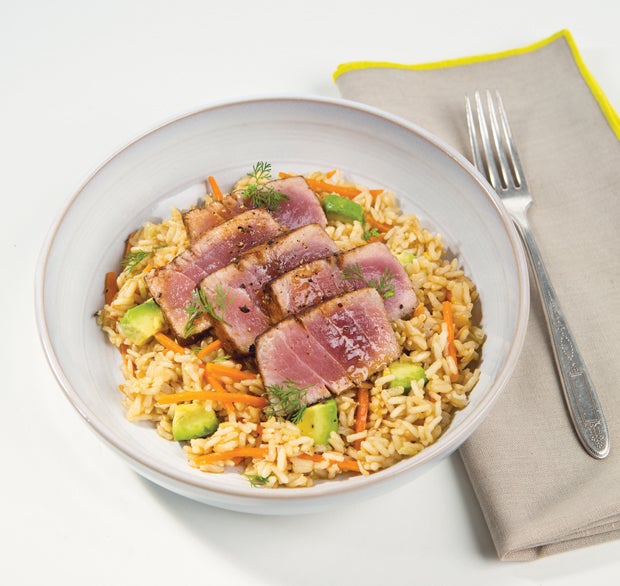 Makes 4 servings
Serving Size: 3 ounces tuna, 1 cup rice mixture and 1 tablespoon sauce
Total Prep Time: 50 minutes | Hands-On Time: 20 minutes
1 cup uncooked brown basmati rice
2 cups water
¼ teaspoon salt
6 tablespoons orange juice
2 tablespoons low-sodium soy sauce
1 tablespoon sesame oil
1 tablespoon minced ginger
12 ounce tuna steak
salt and black pepper
1 cup shredded carrots (2 large or use pre-shredded)
1 avocado, diced
Directions
In a medium saucepan, combine rice, water and ¼ teaspoon salt; bring to a boil. Cover pan with lid and reduce heat to low. Simmer 40 to 45 minutes, or until rice is tender and water is absorbed.
In a small bowl, whisk together orange juice, soy sauce, sesame oil and ginger. Set aside 4 tablespoons of the mixture.
Cut tuna steak in four pieces. Season both sides of tuna pieces with salt and pepper. About 10 minutes before the rice is done, place a large skillet over medium-high heat. When the skillet is hot, add tuna and sear it for 20 to 60 seconds per side, depending on your preferred doneness. Remove tuna pieces to a cutting board and cut each piece into thin slices.
When the rice is cooked and the water has been absorbed, remove it from the heat. Stir carrot and avocado into the rice. Add orange-juice mixture (not the reserved 4 tablespoons) to the rice; toss gently until evenly coated. Divide rice mixture among four plates. Top each with one serving of sliced tuna. Drizzle 1 tablespoon of the reserved orange-juice mixture over each serving. Serve immediately.
Nutrition Facts (per serving): calories 411, total fat 17 g (saturated fat 3 g, trans fat 0 g), sodium 635 mg, carbohydrates 44 g (fiber 6 g, sugar 5 g), protein 26 g
Teff
Teff contains far more calcium than any other grain, and it's also an excellent source of vitamin C, a nutrient not commonly found in grains.
Savory Teff Crepes With Asparagus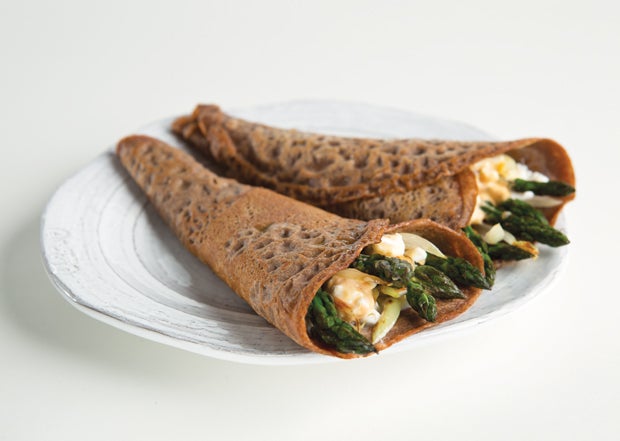 Makes 4 servings
Serving Size: 2 filled crepes
Total Time: 45 minutes | Hands-On Time: 40 minutes
1 cup teff flour
¼ teaspoon salt
1 cup nonfat, 1% or 2% milk
2 eggs
1 tablespoon butter, melted vegetable or olive oil
1½ cups nonfat or 1% fat cottage cheese
1 tablespoon chipotle light mayonnaise
1 medium onion, sliced
1 pound asparagus, trimmed and cut into 3-inch pieces
Directions
Preheat oven to 250 degrees. In a medium bowl, combine teff flour and salt. Add milk, eggs and melted butter; whisk into a thin batter.
To cook crepes, heat a 9-inch skillet. Dip edge of a paper towel in vegetable or olive oil and rub it quickly in the skillet to lightly coat the bottom. Pour ¼ cup of crepe batter in skillet and immediately lift, tilt and swirl skillet to coat the bottom of the skillet with a thin layer of batter. Place skillet back over the burner and heat until small bubbles start to form on the surface of the batter. Very carefully slide a thin rubber spatula around edge of crepe and gently lift it and flip it onto its other side. Cook crepe on the other side for about 30 seconds. Slide cooked crepe onto a baking sheet and cover crepe with a small piece of waxed paper.
Repeat to make eight crepes total, wiping the skillet with a little more oil after every few crepes. Layer cooked crepes on the plate with a piece of waxed paper between each crepe. Place baking sheet in the oven to keep crepes warm while you prepare the filling. 
In a large skillet, heat 1 tablespoon oil. Sauté onion and asparagus until onion is lightly browned and asparagus is tender.
Meanwhile, in a medium bowl, combine cottage cheese and chipotle mayonnaise.
To serve crepes, place two crepes on each plate. Top each crepe with 3 tablespoons of the cottage cheese mixture and 1/8 of the warm sautéed onions and asparagus. If desired, roll crepes to enclose the filling. Serve immediately.
Tip: The crepes can be prepared up to two days ahead of serving. Cool, cover and refrigerate cooked crepes, then reheat crepes in a 250-degree oven before serving.
Nutrition Facts (per serving): calories 323, total fat 11 g (saturated fat 4 g, trans fat 0 g), sodium 616 mg, carbohydrates 36 g (fiber 7 g, sugar 9 g), protein 23 g
Red Quinoa

Quinoa is one of the only plant foods that is a complete protein, offering all the essential amino acids in a healthy balance.
Teriyaki Lettuce Cups With Red Quinoa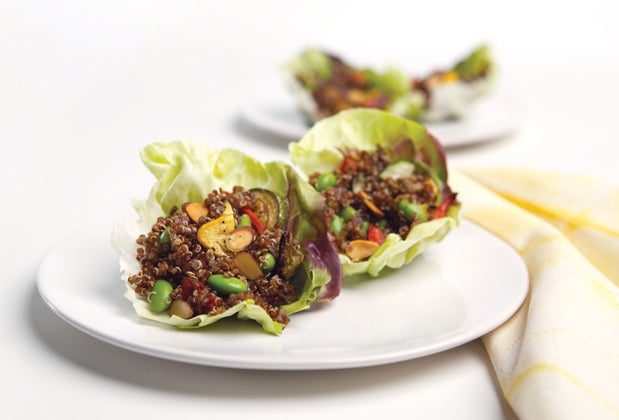 Makes 6 servings
Serving Size: 3 lettuce cups with 1/3 cup filling in each
Total Time: 35 minutes | Hands-On Time: 20 minutes
1 zucchini, quartered and sliced
1 yellow squash, quartered and sliced
1 red bell pepper, seeded and cut into 1-inch pieces
1 cup frozen, shelled edamame, thawed
2 tablespoons vegetable or olive oil
1 tablespoon dried cilantro
salt and black pepper
1 cup red quinoa
2 cups water
¼ teaspoon salt
¼ cup teriyaki sauce
¼ cup sliced almonds, toasted
18 Bibb or Boston lettuce leaves (3–4 heads), rinsed and patted dry
Directions
Preheat oven to 400 degrees.
In a large bowl, combine zucchini, yellow squash pieces, red bell pepper pieces and edamame. Drizzle oil over vegetables and sprinkle with cilantro, salt and black pepper; toss until evenly coated. Spread vegetables in an even layer on a rimmed baking dish.
Roast vegetables in oven for 25 minutes or until tender and lightly browned, stirring after 15 minutes.
In a medium saucepan, combine quinoa, water and ¼ teaspoon salt; bring to a boil. Cover pan with lid and reduce heat to low. Simmer 20 to 25 minutes, or until quinoa is tender and water is absorbed.
Meanwhile, toast the almonds in a small skillet and prepare the lettuce leaves.
When quinoa has absorbed all the water and the vegetables are cooked, combine roasted vegetables and quinoa in a large bowl. Drizzle with teriyaki sauce and toss to coat.
To serve, scoop 1/3 of the quinoa mixture into each lettuce leaf. Sprinkle with toasted almonds and serve.
Tip: Enjoy the quinoa mixture hot or cold — makes great leftovers!
Nutrition Facts (per serving): calories 274, total fat 11 g (saturated fat 1 g, trans fat 0 g), sodium 319 mg, carbohydrates 34 g (fiber 7 g, sugar 9g), protein 12 g
Millet
This grain is a high-magnesium, muscle-boosting addition to these tasty biscuits.
Chicken Casserole With Millet Biscuits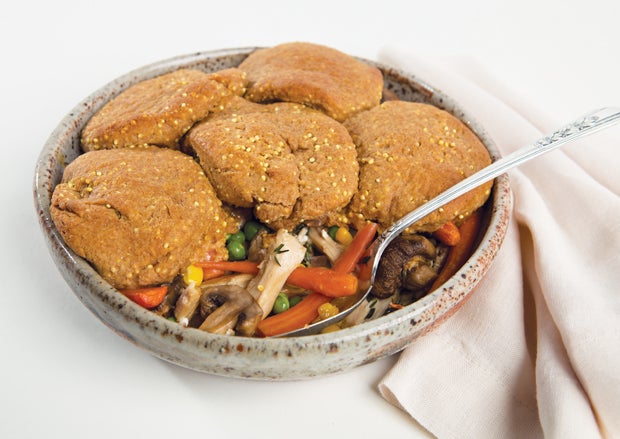 Makes 6 servings
Serving Size: 1 cup chicken-veggie casserole and 1 biscuit
Total Time: 60 minutes | Hands-On Time: 15 minutes
1 tablespoon olive oil
1 tablespoon minced garlic
1 cup 1/8-inch-thick sliced carrots (2 large)
1 cup sliced onion (1 small)
1 8-ounce package sliced mushrooms
1 cup frozen corn kernels, thawed
1 cup frozen peas, thawed
3 cups shredded, cooked chicken thigh meat
1 16-ounce carton light sour cream
2 teaspoons dried thyme
¼ teaspoon black pepper
1 cup whole-wheat flour
½ cup uncooked millet
1 tablespoon sugar
1½ teaspoons baking powder
1 teaspoon salt
1/3 cup nonfat, 1% or 2% milk
3 tablespoons olive oil
1 egg
Directions
Preheat oven to 350 degrees.
Heat 1 tablespoon oil in a large skillet over medium-high heat. Add garlic, carrots, onion and mushrooms; sauté until carrots and onion are tender and mushrooms shrink and soften, about 10 minutes. When vegetables are tender, stir in corn and peas until heated, about three minutes.
Remove skillet from heat and fold in the shredded chicken, sour cream, thyme and black pepper until well mixed. Transfer mixture to a 2½-quart baking dish.
Meanwhile, in a medium bowl, combine whole-wheat flour, millet, sugar, baking powder and salt; mix with a fork. Add milk, 3 tablespoons olive oil and egg; stir until a thick batter forms. Drop batter in six mounds on top of the chicken and vegetable mixture, using about 3 to 4 tablespoons per mound.
Bake casserole in oven for 35 minutes or until a toothpick inserted in biscuits comes out clean. Serve immediately.
Tip: Grill or sauté chicken ahead of time. It takes about 1.4 pounds or about 10 boneless, skinless chicken thighs (trimmed of fat) to make 3 cups shredded meat.
Nutrition Facts (per serving): calories 540, total fat 24 g (saturated fat 8 g, trans fat 0 g), sodium 678 mg, carbohydrates 51 g (fiber 8 g, sugar 8 g), protein 33 g
Farro (touted as the next quinoa!)
The fiber in faro is of the cholesterol-lowering type that helps remove LDL molecules from the bloodstream.
Farrotto With Basil, Tomatoes and Feta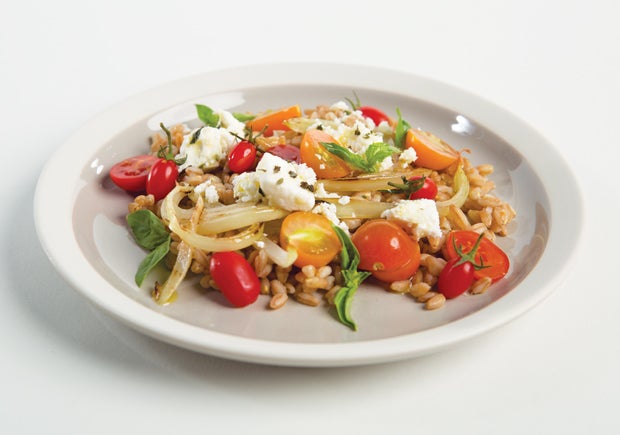 Makes 4 servings
Serving Size: about 1¼ cups
Total Time: 35 minutes plus soaking | Hands-On Time: 30 minutes
1 cup uncooked farro, soaked 10–12 hours
3 cups low-sodium chicken or vegetable broth, warmed
2 teaspoons olive oil
1 large onion, thinly sliced
2 tablespoons minced garlic
2 teaspoons Italian seasoning
1 pint cherry tomatoes, halved
1 cup packed torn basil leaves
½ cup crumbled feta
Directions
Rinse farro in water. Place farro in a bowl and cover with water. Soak 10 to 12 hours. After soaking, drain farro and set aside.
Heat broth in medium saucepan over low heat.
Heat oil in a large nonstick skillet over medium-high heat. Add onion and garlic; sauté until tender, about eight minutes. Add farro and Italian seasoning; stir to coat.
Add ½ cup warm broth to skillet. Cook and stir, spreading farro and onion around skillet, until the liquid is almost all absorbed. Add another ½ cup broth and continue cooking and stirring until broth is almost all absorbed again. Continue with the remaining 2 cups of warm broth, adding ½ cup at a time and cooking until liquid is almost completely absorbed before adding the next ½ cup broth. Continue cooking and gently stirring the mixture after each addition until the liquid is almost all absorbed.
Remove skillet from heat and stir in tomatoes, basil leaves and ¼ cup feta. Divide farrotto among four plates. Crumble the remaining ¼ cup feta over servings. Serve immediately.
Tip: Cover farro with water when you first wake in the morning, and it will be fully soaked and ready to cook by dinnertime.
Nutrition Facts (per serving): calories 289, total fat 6 g (saturated fat 3 g, trans fat 0 g), sodium 580 mg, carbohydrates 44 g (fiber 5 g, sugar 2 g), protein 11 g