5 Root Vegetables for Winter Meal Planning
Get to the root of solid nutrition with this high-performing produce.
Heading out the door? Read this article on the new Outside+ app available now on iOS devices for members! Download the app.
The colder months mean a hankering for hoodies and hot food. It's also the time of year that root vegetables come out of their dark, dank hiding places to take center stage in some of your favorite cold-weather recipes.
Though unassuming, these veggies and tubers are actually chockfull of nutrients and are wrapped up in a low-cal package, making them a great addition to any warm winter dish.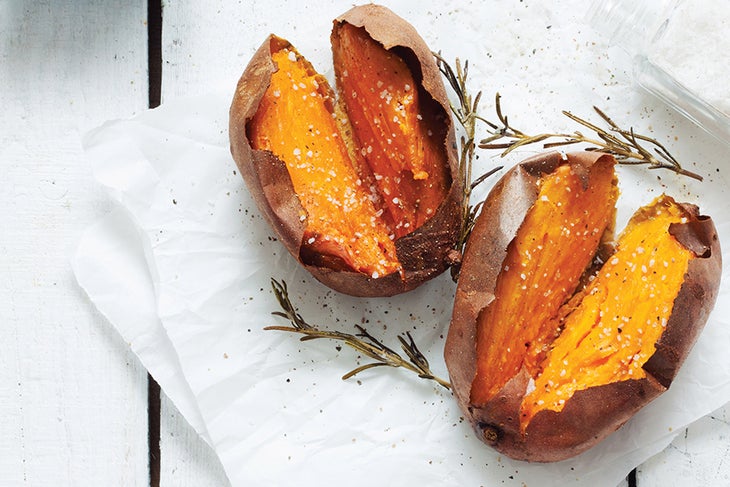 Sweet Potatoes
All potatoes contain a host of nutrients, but sweet potatoes in particular are nutritional superstars. One serving contains more than four times the Recommended Daily Allowance for vitamin A, more magnesium than a comparable serving of nuts and a ton of potassium. In fact, ounce for ounce, they beat out bananas for their potassium punch. Sweet potatoes also contain a ton of antioxidants, which fight free radicals, protecting DNA from damage and mitigating inflammation.
Save the Skin
Just 1 cup (200 grams) of skin-on baked sweet potatoes provides more than seven times the amount of beta carotene needed by the average adult in one day! Beta carotene can be converted to vitamin A in your body, helping decrease inflammation in your gut, support eye health and boost immunity.
Health Hack
Cook your potatoes in bulk and cool them in the refrigerator. This cook/cool process creates something called resistant starch within the potatoes, which acts like a soluble fiber in the body, resisting digestion (hence the name) and feeding the good gut bacteria in your colon. It also creates a good amount of butyrate, a short-chain fatty acid used as fuel.
Bonus: Reheating cooked potatoes further increases the amount of resistant starch, improving your gut biome even more!
Sweet Potato Hash
Makes: 1 serving
INGREDIENTS
3 oz (90% lean or leaner) ground beef
1 tbsp ghee or butter
⅛ cup onions, chopped
¼ cup bell peppers, diced
1 cup sweet potatoes, cooked and diced
1 oz shredded cheese of choice
2 eggs
DIRECTIONS
Add ground beef and butter or ghee to a skillet and cook over medium-high until browned. Add onions and peppers and saute until lightly browned, then add potatoes and heat through. Mix well, then spoon onto a plate and sprinkle with cheese. Add eggs to skillet and cook as desired over medium heat. Slide eggs on top of potato mixture and enjoy.
Nutrition Facts: calories 579, protein 31 g, carbs 34 g, fat 16 g
Carrots
When mom promised that eating your carrots would help you see at night, she was likely playing on your desire to have superhuman powers, but she was also not completely inaccurate. While carrots won't give you night vision, their healthy dose of vitamin A supports eye health, and according to the National Institutes of Health, lack of vitamin A is one of the main preventable causes of blindness in children. Though the bright orange variety is most well-known, carrots also come in other colors, including purple, yellow, red and even white, and each hue contains a unique antioxidant profile. For example, purple carrots contain anthocyanin and red carrots are rich in lycopene.
Beta carotene is the main antioxidant in carrots and is responsible for their orange color — but research indicates it also may be a cancer killer: Studies have shown that carrot juice can stop the progression of certain cancer cells, and it can even specifically seek out and kill leukemia and lung cancer cells.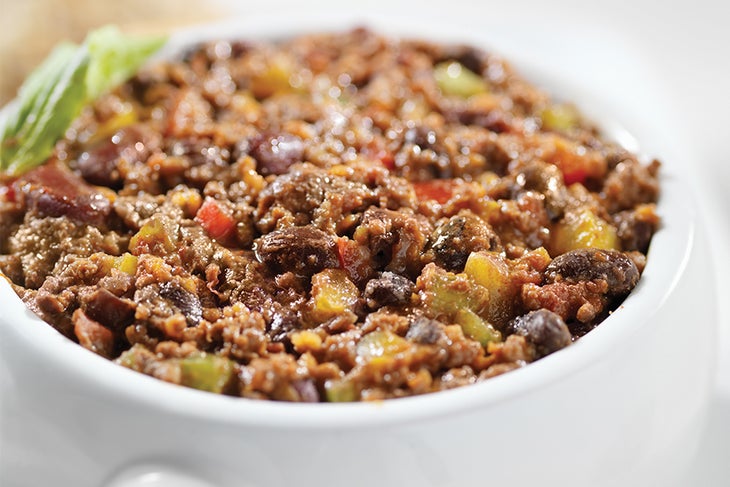 Turkey and Carrot Chili
Makes: 6 servings
INGREDIENTS
1 lb extra-lean ground turkey
2 tbsp olive oil, divided
½ cup onions, diced
8 whole carrots, chopped
2 garlic cloves, minced
1¼ cups chicken broth
2 cups black beans, rinsed and drained
2 cups tomatoes, chopped
4 tbsp chili powder
1 tsp oregano
1 tsp cayenne pepper
2 tsp cumin
1 tsp salt
DIRECTIONS
Add turkey to a skillet with 1 tablespoon oil and cook over medium heat until lightly browned and just cooked through. Set aside. To a large soup pot, add remaining oil, onions, carrots and garlic and saute 2 to 3 minutes. Add broth, beans, tomatoes and spices and bring to a boil. Reduce heat to a simmer and add turkey. Simmer on low 30 to 45 minutes, stirring regularly.
Nutrition Facts (per serving): calories 381, protein 28 g, carbs 31 g, fat 8 g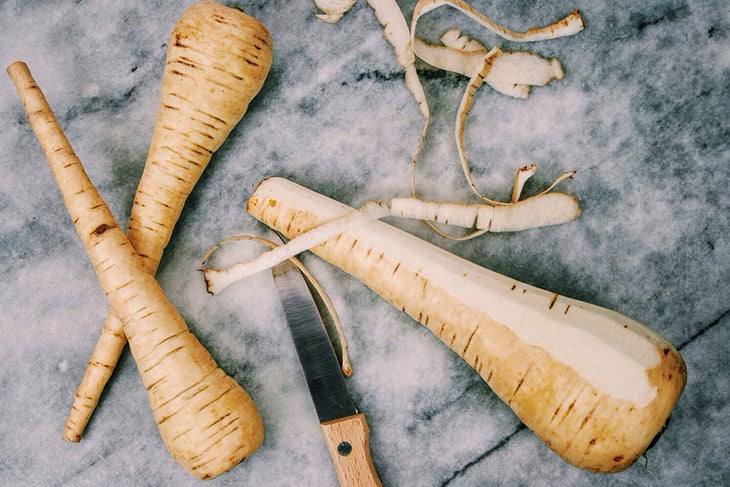 Parsnips
Parsnips aren't the most popular root around, but it's not their fault — they've just been lost in in the shuffle of the overstuffed produce aisle. However, they're worth unearthing: A serving of parsnips contains almost half your daily dose of vitamin C to support immune function — super important during cold and flu season — as well as antioxidants such as quercetin, which is also reputed to enhance immunity and protect against cancer, diabetes and heart disease. What's more, 1 cup of parsnips provides more than 6 grams of fiber — about 26 percent of your daily needs — helping control blood sugar, reduce cholesterol, lower blood pressure and decrease inflammation.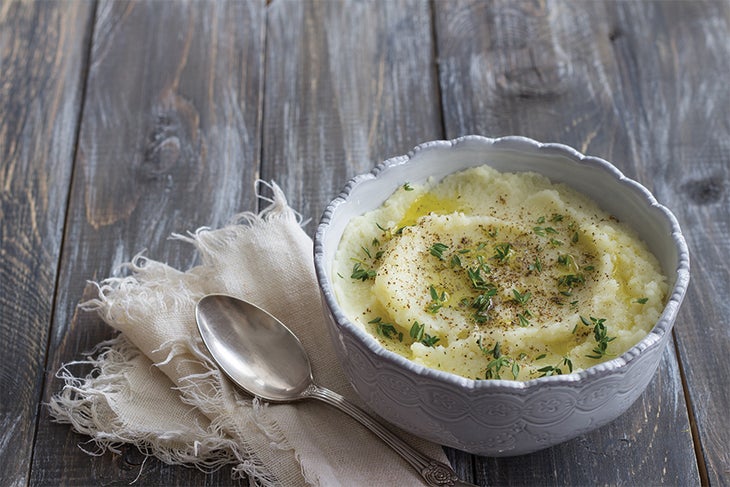 Parsnip and Cauliflower Mash
Makes: 4 servings
INGREDIENTS
1 head cauliflower, riced
1 lb parsnips, peeled, trimmed and grated or riced
1 tsp salt
2 oz coconut milk
2 tbsp grass-fed butter
4 sprigs fresh thyme
DIRECTIONS
Add cauliflower and parsnips to a large soup pot and add enough water to just cover the veggies. Cover and bring to a boil until fork-tender. Drain and add salt, milk, butter and thyme. Mash with a fork or blend with an immersion blender. Use as a side to accompany any dish.
Nutrition Facts (per serving): calories 156, protein 3 g, carbs 24 g, fat 6 g
Beets
Beets are super popular with athletes these days, due in no small part to their nitrate content: Nitrates convert to nitric oxide in your system, which works as a vasodilator, improving performance and boosting energy by improving the efficiency of mitochondria, the energy-producing powerhouses in your cells. Nitrates also work to reduce blood pressure and improve mental and cognitive function, and in a recent study from New York University, nitric oxide was shown to extend life expectancy when taken on a regular basis. Beets also contain betalains, which help reduce inflammation and which have been used in clinical trials to assist with the pain and discomfort of arthritis.
In clinical studies, consuming 17 ounces of beet juice daily for six days improved endurance by up to 25 percent and led to an overall increase in performance, endurance and speed.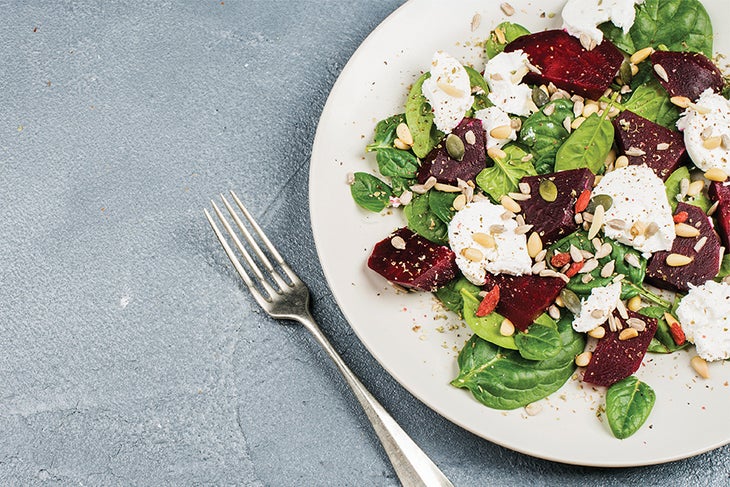 Beet and Goat Cheese Salad
Makes: 1 serving
INGREDIENTS
2 cups mixed greens
1 cup beets, cubed
10 whole pecans
2 oz goat cheese
1 tbsp olive oil
1 tbsp balsamic vinegar
pinch salt
DIRECTIONS
Add greens, beets and pecans to a large bowl and toss well. Add goat cheese and toss lightly to combine. In a small bowl, whisk together oil, balsamic vinegar and salt and pour onto salad. Toss and enjoy.
Nutrition Facts: calories 390, protein 8 g, carbs 23 g, fat 20 g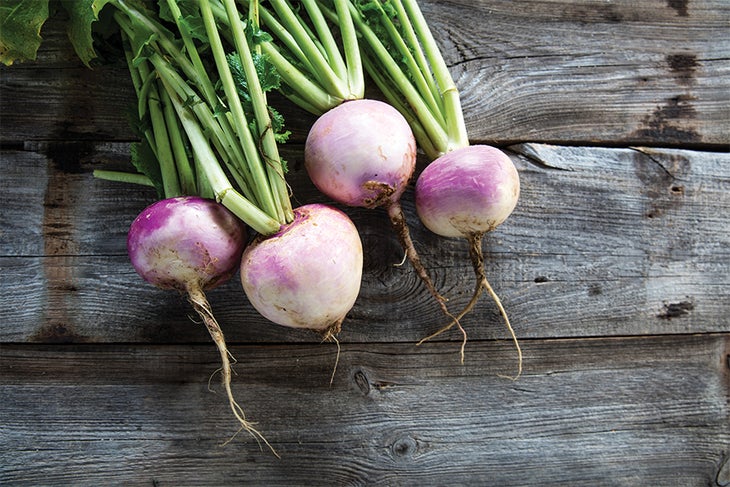 Turnips
While not at all flashy in appearance, turnips are a stealth source of a ton of vitamins, minerals and antioxidants, including potassium, which acts as a vasodilator, helping reduce strain on vessels and arteries to prevent strokes, heart attacks and atherosclerosis. They also contain plenty of iron and calcium as well as a healthy dose of B vitamins, which help balance hormones and regulate enzymes. And don't toss out the turnip greens, which are packed with omega-3 fatty acids and vitamin K, helping reduce inflammation, control cholesterol and promote healthy cellular function.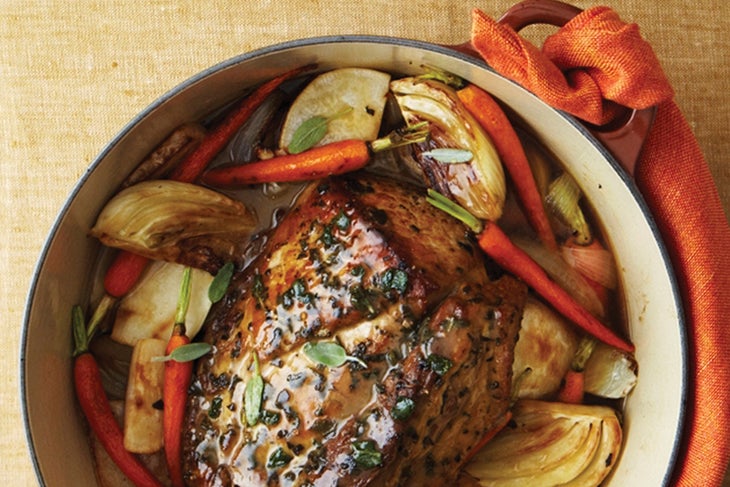 Roasted Pork with Turnips, Cabbage and Apples
Makes: 4 servings
INGREDIENTS
1 lb boneless pork loin roast
½ cup onions, chopped
3 slices applewood smoked bacon, chopped
1 tsp black pepper
1 tsp cider vinegar
¼ cup dry white wine
1 cup green cabbage, chopped
1 tbsp maple syrup
1 tsp salt
½ cup tart apples, chopped
2 cups turnips, peeled, trimmed and chopped
DIRECTIONS
Preheat oven to 375 F. Place a large Dutch oven over medium-high heat and coat with cooking spray. Add pork and cook 15 minutes, browning on all sides. Remove from pan and set aside. Add onions and bacon and saute 5 minutes, or until onions are tender. Return pork to pan. Add remaining ingredients and bring to a simmer. Then remove from stovetop and place pan in oven. Bake, uncovered, 1 hour and 15 minutes — turning pork halfway through — or until a thermometer registers 155 F.
Nutrition Facts (per serving): calories 279, protein 32 g, carbs 19 g, fat 6 g