5 Unique Ways to Use Avocado
Once considered an exotic oddity, avocados — aka "alligator pears" — are now a nutritional staple. Learn how to use this superstar superfood and go way beyond guac.
Heading out the door? Read this article on the new Outside+ app available now on iOS devices for members! Download the app.
Avocados are having a culinary moment, and with good reason. They contain a host of healthy nutrients, including unsaturated fat, fiber, vitamin E, potassium and magnesium, and research indicates that including a little avo in your meals can put the brakes on overeating. Avocados also have been shown to help reduce LDL (bad) cholesterol up to 22 percent, and a study published in Nutrition Journal found that those who regularly include avocados in their eating plan have better overall diet quality and lower risk of metabolic syndrome.
Think outside the avocado-toast box and with these ways to trade and upgrade using this jolly green (mini)-giant:
Avocado Options
1. Sub for mayo in green goddess dressing
To boost your intake of eye-protective antioxidants such as lutein, which also may reduce your risk of breast cancer.
To a blender cup, add ¼ cup olive oil, juice of 1 lime, flesh of 1 small avocado, ½ cup basil, ½ cup parsley, 1 scallion, 2 minced garlic cloves, ½ teaspoon salt and ¼ teaspoon cayenne. Blend until smooth.
2. Trade with spuds for oven-baked fries
To reduce starchy calories and boost soluble fiber for weight loss.
Slice 2 avocados. Dredge slices first in ¼ cup flour, then in 1 beaten egg and finally in 1 cup whole-wheat panko breadcrumbs. Spread on a baking sheet lined with parchment paper, drizzle with 1 tablespoon olive oil and bake 15 minutes, or until crispy.
3. Switch for cream in pasta sauce
To make this dish dairy-free, and replace saturated fat with anti-inflammatory monounsaturated fat (oleic acid).
Puree together the flesh of 1 avocado, ¼ cup reserved pasta water, juice of ½ lemon, ½ teaspoon chili powder and a couple of pinches salt. (Add extra water, if needed, for a creamy consistency.) Stir into cooked pasta.
4. Replace tomatoes in gazpacho
To boost magnesium and folate for strong, healthy bones.
Blend together 1 cup water, flesh of 1 avocado, 1 chopped cucumber, 1 chopped green bell pepper, 1/3 cup basil, 1 chopped/seeded jalapeño, 1 chopped scallion, 1 minced garlic glove, 1 tablespoon white wine vinegar and ½ teaspoon salt. Chill 2 hours.
5. Exchange for cucumber in pickles
To add in vitamin K for healthy blood clotting.
Simmer ¾ cup apple cider vinegar, ½ cup water, 1 tablespoon kosher salt, 1 tablespoon mustard seeds, 1 teaspoon sugar, ½ teaspoon whole black peppercorns and ½ teaspoon red chili flakes until salt and sugar are dissolved. Cool to room temperature. Place slices from 2 underripe avocados in a jar, add brine, seal and chill.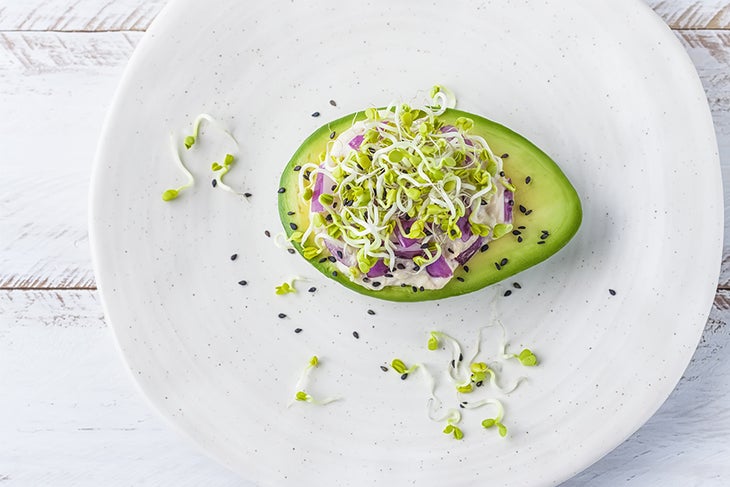 Avocado Boat Tuna Melt
Makes: 2 Servings
Hold the bread! Avocado makes a great sandwich base.
INGREDIENTS
2 avocados, sliced lengthwise and pitted
1 can albacore tuna, drained
¼ cup plain Greek yogurt
2 tbsp chopped parsley
1 tbsp fresh lemon juice
½ tsp paprika
¼ tsp salt
¼ tsp black pepper
¼ cup grated Havarti cheese
DIRECTIONS
Preheat oven broiler. Scoop 1/3 of the flesh from the middle of each avocado half and dice. Flake tuna into a bowl and mix with diced avocado, yogurt, parsley, lemon juice, paprika, salt and pepper. Scoop mixture into avocado halves and place on baking sheet. Broil 2 minutes, top with cheese and broil again until cheese is melted, about 20 seconds.
Tip: To hasten ripening, place a rock-hard avocado in a paper bag with an apple or a banana; their ethylene gas accelerates the process.
Nutrition Facts (per serving): calories 344, fat 22 g, carbs 10 g, fiber 7 g, sugar 2 g, protein 29 g, sodium 479 mg