8 Oxygen Staff-Favorite Recipes
Editor-in-Chief Lara McGlashan plied the Oxygen staff for their favorite go-to recipes that are tasty and clean. Here's what they came up with. Enjoy!
Heading out the door? Read this article on the new Outside+ app available now on iOS devices for members! Download the app.
I plied our staff for their favorite, go-to recipes that are tasty and clean. Here's what they came up with. Enjoy!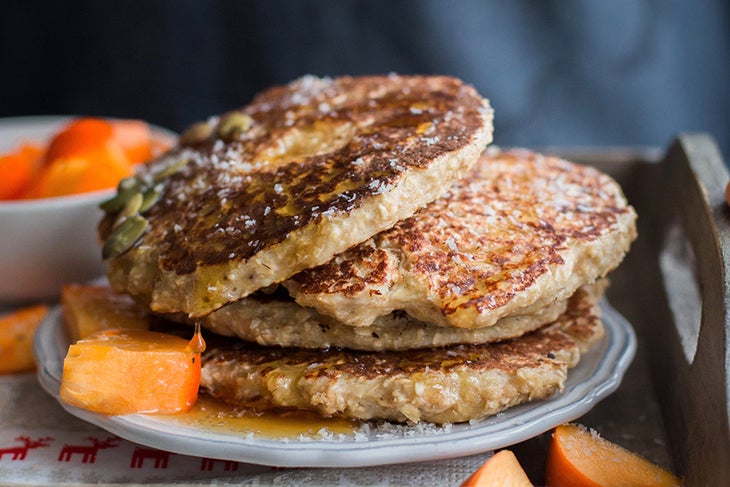 Pumpkin Pancakes
Lara McGlashan, Editor-in-Chief
I literally eat these pancakes every single day, and have for like the last ten years! I change the flavor up all the time, though, sometimes adding cinnamon and applesauce, or a little hot chocolate mix if I am feeling decadent. This version is my fav: It's made with pureed canned pumpkin which adds some great fiber, vitamins and minerals to the recipe.
Makes: 1 serving
Ingredients
5 large egg whites
1 whole egg
1/3 cup quick oats
1 heaping tbsp each chia seeds, oat bran and ground flax meal
¼ cup pureed pumpkin
cinnamon, to taste
Directions
Mix all ingredients together in bowl and cook as pancakes. Eat with maple syrup. (I do!)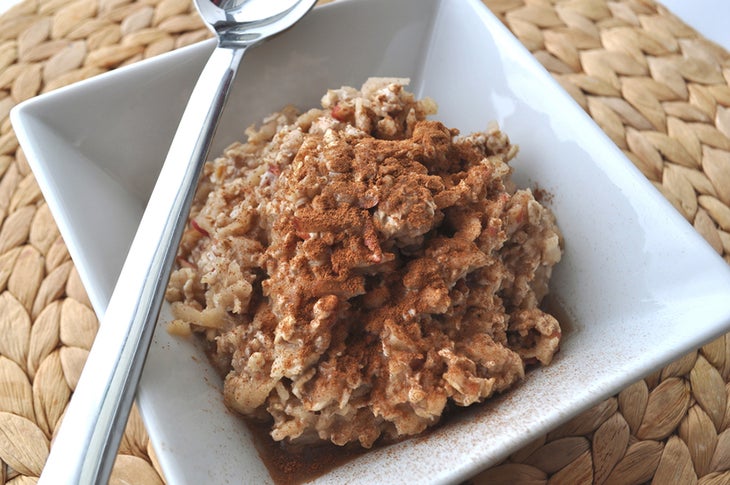 Officer's Oatmeal
Eric Velazquez, Writer
In my line of work as a police officer, I'm not always sure when I'm going to get to eat my next meal. Now it's more important than ever to eat a filling breakfast that doesn't make me feel like Jabba the Cop. Oatmeal is a fiber-filled, craving-crushing day-starter. I add some milk, cinnamon and sweetener, and I eat it with a protein shake and a banana for all-morning fuel.
Ingredients
1 cup steel-cut oats
1 packet Splenda, or sweetener of choice
¾ cup 2% milk
cinnamon, to taste
Directions
Pour oats and milk into bowl and microwave for one minute. Add cinnamon and sweetener (to taste).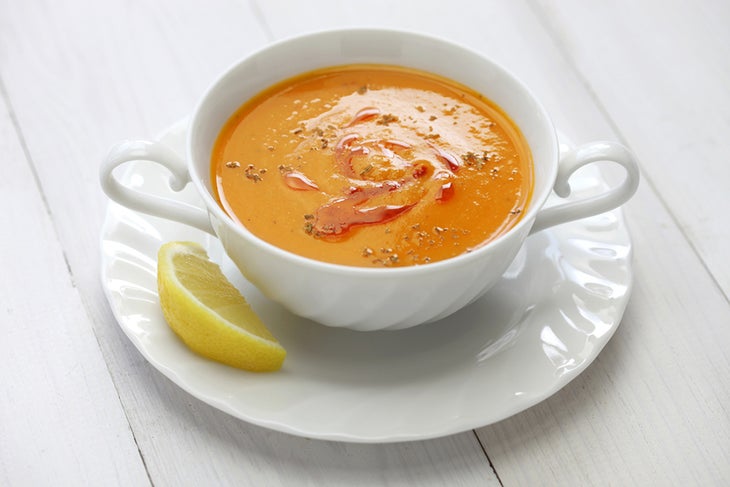 Coconut and Red Lentil Soup
Jenessa Connor, Writer
I make this recipe all the time from Kris Carr's Crazy Sexy Kitchen cookbook.
Ingredients
1½ tbsp cumin seeds
1 tbsp coriander seeds
2 tbsp olive oil
½ red serrano or cayenne pepper
1 small white onion, finely diced
1½ cups red lentils
4-5 cups vegetable stock (or water)
1 (12-oz) can coconut milk
2 tbsp minced or grated fresh ginger
½ tbsp black pepper
½ tbsp sea salt
2 tbsp lemon zest
2 lemons, juiced (5 tbsp bottled)
½ bunch fresh cilantro, chopped
1 avocado, diced (optional)
Directions
Toast cumin and coriander seeds in dry soup pot on medium heat for two minutes. Add olive oil, cayenne pepper and onions and cook until onions are translucent, stirring consistently. Add lentils, stock, coconut milk, ginger, black pepper and sea salt and reduce heat to low. Stir well and cover. Cook 30 to 35 minutes, stirring occasionally, until lentils have melted (i.e., they have lost their round shape and have softened). Add lemon zest, lemon juice and cilantro and stir. Remove from heat and serve with diced avocado (if desired) and extra cilantro for garnish.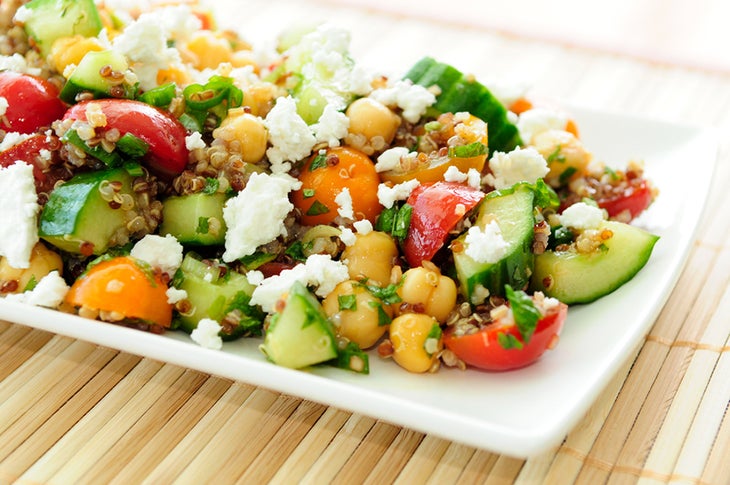 Mediterranean Quinoa Salad
Erin Calderone, Writer
Add grilled chicken to this recipe for some extra protein, or swap the feta cheese for avocado if you are allergic to dairy.
Makes: 3-4 servings
Ingredients
1 cup quinoa
1 (15-oz) can garbanzo beans
2 tbsp avocado or olive oil
1-2 handfuls spinach
½ red onion, chopped
1 cucumber, chopped
2 tomatoes, chopped
6-8 pitted Kalamata olives, chopped
1-2 tbsp balsamic vinegar
¼ cup feta cheese (optional)
salt and pepper, to taste
Directions
Bring quinoa and 2 cups water to a boil, then simmer 20 minutes, or until liquid is gone. Meanwhile, toss garbanzo beans with oil, salt and pepper and roast in oven at 400 degrees until they are golden brown, about 15 to 20 minutes. Let quinoa and garbanzos cool completely, then place in large bowl. Add onions, cucumbers, tomatoes, olives, spinach and balsamic vinegar and toss gently. Sprinkle crumbled feta cheese on top and serve.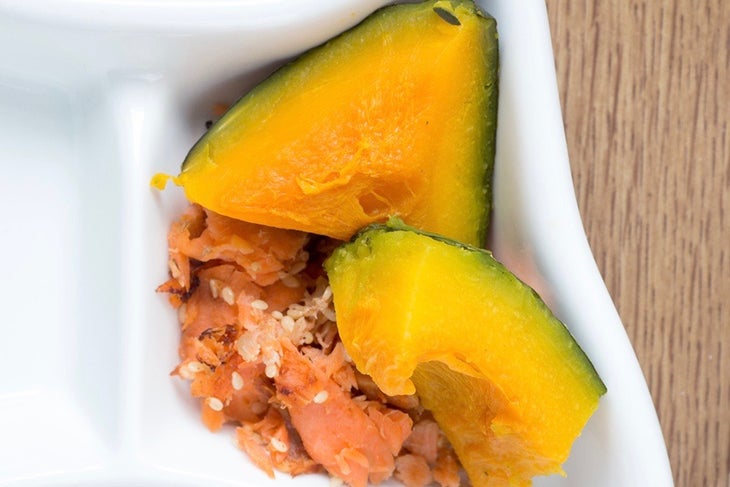 Simmered Kobacha Squash
Virginia Pelley, Writer
Makes: 4-6 servings (as an appetizer)
Ingredients
½ medium/large kabocha squash (about 1½ lb)
2 tbsp raw brown sugar
3 tbsp plus 1 tsp mirin
3 tbsp plus 1 tsp white tamari or light-color soy sauce
½ cup plus 2 tbsp dashi or water
Directions
Scoop out kabocha seeds and cut flesh into large cubes. Trim (bevel) edges of skin. In a Miso-shiru Nabe (special soup slow cooker), place kabocha skin-side down, starting with large pieces on bottom and layering smaller ones on top. Add sugar, mirin, soy sauce and dashi (or water) until liquid covers about 2/3 of kabocha. Place otoshibuta (drop lid) or piece of foil on top of kabocha and cover with lid. Set over medium-high heat. When broth starts to boil, reduce heat and simmer 15 to 20 minutes, or until kabocha is tender and broth is reduced. Remove from heat and let rest (with lid on) five to 10 minutes. Serve warm or at room temperature.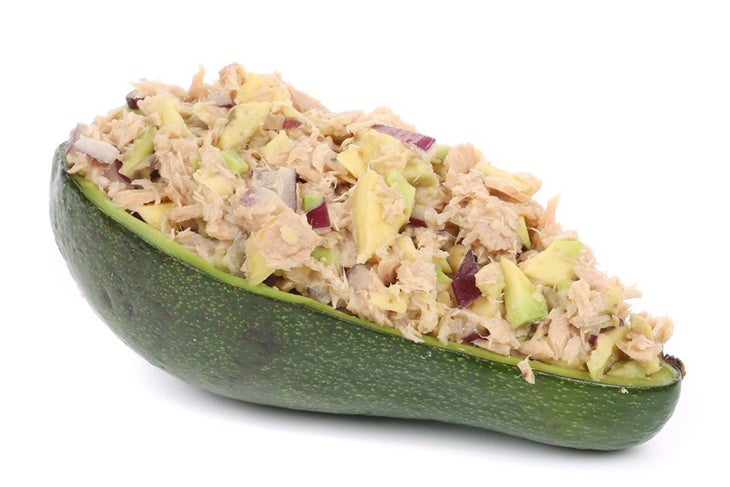 Curried Salmon Salad
Anne L'Heureux, Writer
With this first recipe, you can easily swap out the salmon for hard-boiled eggs, chicken or beans and it is still awesome. And the second one is a dessert that uses avocado for added fiber and healthy fats, as well as potassium.
Makes: 1 serving
Ingredients
½ medium ripe avocado, cut into chunks
3-4 oz cooked salmon, flaked
½ small onion, diced
2 tbsp plain Greek yogurt
1 tbsp Dijon mustard
curry Powder, to taste (~1 tsp)
Directions
Combine yogurt, mustard and onions in bowl. Add salmon and avocado. Add curry powder to desired taste. Serve over romaine lettuce, or eat as is.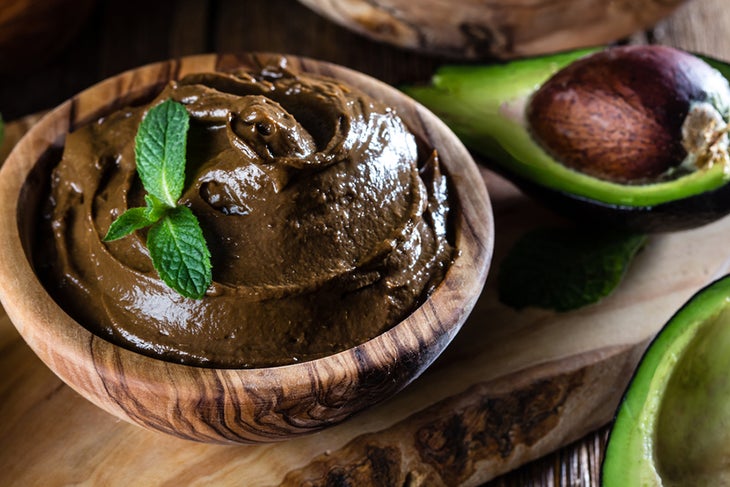 Chocolate Avocado Mousse
Anne L'Heureux, Writer
This dessert uses avocado for added fiber and healthy fats, as well as potassium.
Makes: 4 servings (½ cup)
Ingredients
1 medium avocado, cut into chunks
½ cup pumpkin puree
4 oz nonfat plain or vanilla Greek yogurt
¼ unsweetened cocoa
½ tsp vanilla extract
¼ tsp cinnamon (optional)
Honey, to taste (optional)
Directions
Combine all ingredients in blender or food processor and blend until smooth. Enjoy immediately or chilled.
Pro tip: Look for stevia-sweetened yogurts to keep the sugar content low.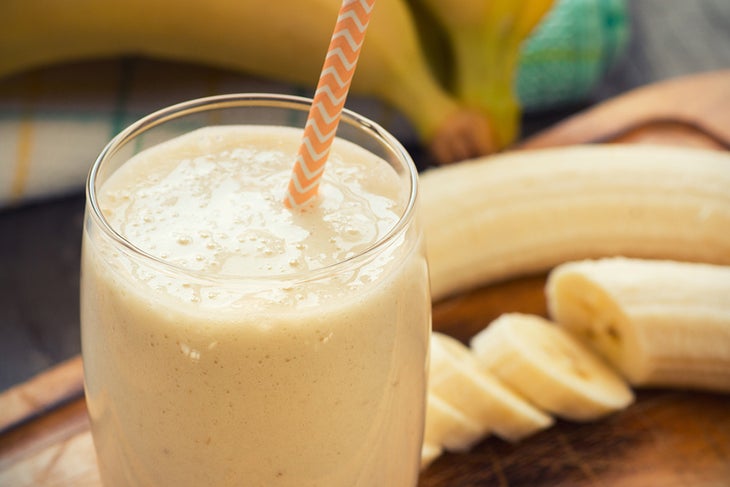 Craving Crusher
Tara Thompson, Art Director
This is great when you really want dessert after dinner. Add oats and protein powder to make it more substantial, and eat earlier in the day.
Ingredients
½ frozen banana
¾ cup milk of choice
a few drops of vanilla
Directions
Blend everything together until smooth and enjoy.