Amino Acids: You Need All Nine
Find out why these essential amino acids should be on every fit gal's shopping list.
Heading out the door? Read this article on the new Outside+ app available now on iOS devices for members! Download the app.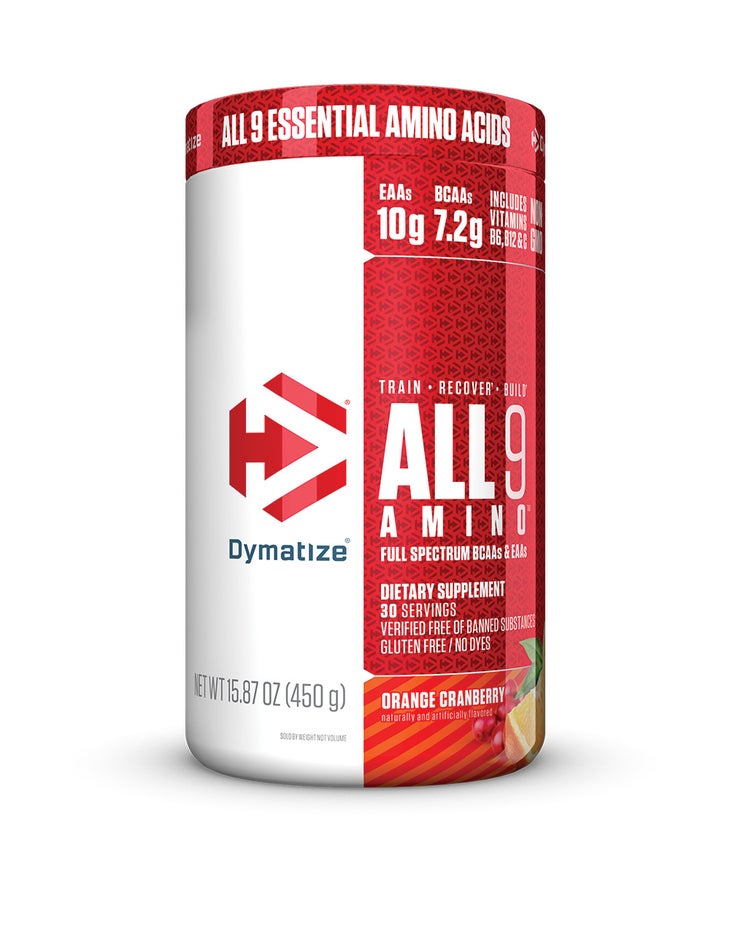 Human beings require about 20 or so amino acids to perform various bodily functions. Many of these are so critical to health and survival that the body can actually construct them internally when necessary. Ironically, these aminos have been termed "nonessential," but really all this means is that you do not need to consume them directly because your body can create them on its own.
Outside these "nonessentials," there are nine essential amino acids (EAAs). Your body cannot manufacture these, so you need to ingest them in either food or supplement form, or both. While not as critical to survival, EAAs are often the components that active, physique-conscious women need to achieve their goals.
Check out what each of these nine EAAs delivers and how they may benefit your body and further your results.
LEUCINE, ISOLEUCINE and VALINE
This trio has a commercial name you're probably familiar with — branched-chain amino acids, or BCAAs. These are the rock stars of EAAs because they help facilitate the building of lean mass and the burning of stored body fat. Your muscles are made up in large part of BCAAs, which are readily released during exercise, leading to a decrease in lean tissue just as you're trying to build it. Therefore, supplementing with BCAAs before and/or after a workout protects the muscle you already have while increasing the potential for lean tissue gain.
PHENYLALANINE
This EAA is a precursor to tyrosine, which is necessary for the production of brain chemicals such as dopamine and norepinephrine. These compounds boost mood and energy, help ameliorate depression and increase the release of insulin to support better workouts.
Note: Though it is part of the aspartame molecule, phenylalanine is not the same as the artificial sweetener found in drinks and foods. It's simply an amino acid that is found in virtually every form of protein — from egg whites to soy to beef — not a chemical.
LYSINE and METHIONINE
These two amino acids are crucial for the formation of carnitine, which increases energy production by moving fat from storage into your mitochondria to be burned as fuel. Carnitine also supports the effectiveness of the receptors on your muscle cells that facilitate muscle growth.
HISTIDINE
When combined with beta-alanine, this EAA creates carnosine. Carnosine has been shown to support exercise performance and improve endurance and recovery by buffering the acidity — and resultant fatigue — that occurs during prolonged training sessions because of compounds such as lactic acid.
THREONINE
This EAA supports connective tissue, improves bone health and boosts immune function. In addition, threonine reduces the unhealthy fat stores around your liver, improving its function and improving long-term health.
TRYPTOPHAN
You probably recognize this one from chats around the Thanksgiving table, and yes this EAA can help you hit snooze by encouraging the production of serotonin — the brain chemical that promotes sleep. Since healthier sleep patterns support faster recovery, tryptophan can get you back into the gym sooner after a tough workout.
ALL9 IN ONE
All9 Amino from Dymatize provides the full spectrum of amino acids necessary to support your training efforts, including 7.2 grams of instantly soluble branched-chain amino acids and 2.8 grams of additional essential amino acids. All9 Amino also contains several vitamins and minerals responsible for driving the EAAs into your muscles to improve their effectiveness. For best results, take one scoop with 10 to 12 ounces of water before, during or after workouts.