A Beginner's Guide to Meal Planning
Easy tips to set yourself up for success in the gym and the kitchen.
Heading out the door? Read this article on the new Outside+ app available now on iOS devices for members! Download the app.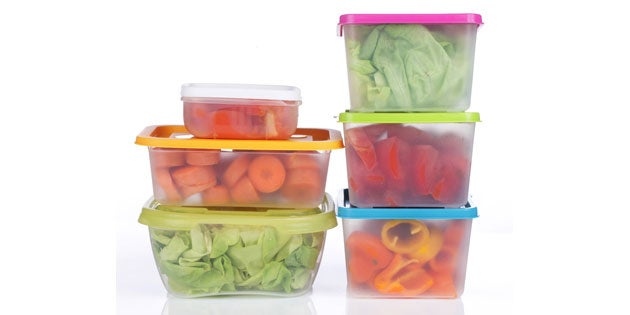 Are you having issues with meal management? Once upon a time I had the same struggles: What to eat and when, or what foods can I cook in large quantities that will stay fresh and tastes yummy?
Here are the tips I have picked up over the years.
Planning to Succeed
My fitness journey began in 2012. I was getting over a bad break-up. Up until that point I had always considered myself a healthy, active, independent woman, but I felt broken. The break-up shook my world. I was belittled on so many levels it was unfathomable—I was depressed, I didn't realize that I wasn't eating (or aware of how much crap I was eating) until a friend mentioned how much weight I'd lost.
I knew I had to make a change. I had to better myself. How could I let a man make me feel this way after what he did? I've learned a lot since then. The most important being this:
Health and wellness is 80 percent nutrition and 20 percent fitness.
As an Oxygen reader, you know that protein supplementation, clean eating and great results go hand in hand. We all know that if someone is training for results and they aren't hitting their nutrition, they might as well be banging their head against a dumbbell. Nothing will change if your diet doesn't change. Since beginning your fitness journey have you changed your eating lifestyle? You've made the commitment to change your activity level but are you seeing the results you feel you should be? Rest assured the results will come—if you clean up your eating.
I've found batch cooking to be extremely helpful. As a fit and active woman I'm swamped. I simply don't have the time to cook every darn night. We all suffer from a chronic lack of time. There's never enough time to work out, relax or cook. This means we're always pressed to find the fastest meal solution, eating out too often and regularly settling for fast food. The bad news is we're also loading up on salt and fat by doing so, which can contribute to diabetes and high blood pressure not to mention obesity.
For a good batch-cooking recipe, you want something that's easy to make in large quantities, keeps well for several days, and ideally tasty with a variety of different sides so you can mix it up.
So what's the beauty of batching?
You can control your time while improving your health!
Flexibility: Pick a day of the week that works best for you.
Plan your week: What are you doing this week? Calculate how many meals you need for each meal time. Don't forget snacks!
Map Out Your Meals
But how much food should you cook for the week and how long will it last?
At first, you may feel a tad overwhelmed with all the foods you want to make for an entire week, so I suggest starting with one meal that you find you're most pressed for time or poses the most challenge.
For example, most people find it to be dinner or breakfast, especially if you're getting the kids and yourself ready for the day. Therefore, the first step is to ask yourself, "What meal time is really difficult for me to cook?" or "What time of day am I most in a time crunch to eat something healthy?"
Start with that meal you've identified and build from there. Here's a list of foods you can cook ahead and how to prepare them.
Protein
If you only prep one thing ahead, make it your protein. Cooking a big batch of meat or eggs at the beginning of the week can save you tremendous amounts of meal prep time.
Eggs: hard-boiled eggs or mini frittatas.
Meat: chicken breast, chili, meatballs or meatloaf.
Vegetables
Prep salads for the beginning of the week and prep hardier vegetables for the end of the week.
Vegetables that keep for 1–3 days: fresh vegetable salad, fruity coleslaw, most steamed or roasted vegetables (e.g. broccoli, cauliflower, squash, etc.), most leafy salads if you keep the dressing separate.
Vegetables that keep until the end of the week: roasted squash, cooked beets, chopped carrots or bell peppers.
Starchy Vegetables
Mashed or roasted sweet potatoes
Sweet potato salads
Boredom
As you can imagine, boredom can occur with batching. So what's a girl to do? Keep it interesting my loves! Boredom is self-sabotage, plain and simple. I recommend the following:
Batch cook two main proteins and freeze half of each. Freeze half of each dish for next week. That way you'll be able to rotate between them and you won't feel like you're eating the same thing every day.
Use the protein as a base, not the final product. Put your batch-cooked protein in salads, stews, curries or stuffed potatoes. Dress it up with different spices and seasonings. Chop it up and stir-fry it. Put an interesting sauce on it to add a new flavor. Make soups to put a different twist on leftover meat.
Rotate different proteins and side dishes together so you can get some variety on your plate even if you're eating the same meat.
Finally, how do you keep all those meals organized on the go? Head over to my site, www.modavateme.com, to see what I use.