Brave New Produce
Cross-breeding vegetables to improve flavor and boost nutrients? Yes! Here are five options you have to try.
Heading out the door? Read this article on the new Outside+ app available now on iOS devices for members! Download the app.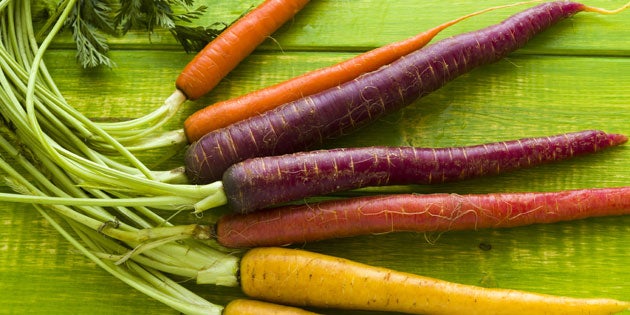 It's often said that variety is the spice of life. So why settle for the same old lettuce and mealy tomatoes when produce departments and farmers markets are increasingly stocking exciting new varieties of vegetables. These hybrid and heirloom — not genetically modified — options are sure to wake-up your palate and infuse your diet with a nutritional windfall.
BroccoLeaf
There is a new leafy green ready to jump into your crisper. Sold under the name BroccoLeaf, this up-and-coming denizen of the produce aisle is essentially the broccoli plant leaf, which most often gets tossed into the compost heap by farmers, which is a shame considering that it's jam-packed with nutrients, including hefty amounts of vitamin A and vitamin C. Recent research published in the European Journal of Nutrition suggests that inadequate intakes of vitamin C can hinder exercise performance.
Use it: The verdant leafs have a subtle sweetness reminiscent of sugar snap peas. You can chop them and add to salads or use as a low-carb replacement for tortillas when making tacos or sandwich wraps. BroccoLeaf is also great sautéed and used in stir-frys.
Orange Cauliflower
Many nutrition pundits have called cauliflower the "it" vegetable of 2015. But why settle for ho-hum ghostly cauliflower when you can spruce up your meals with a splash of orange. The striking hue of this hybrid veggie comes from the extra shot of naturally occurring beta-carotene stored in its florets. On the bright side, a Harvard study found that people with higher levels of carotenoids in their blood were more likely to have optimistic attitudes.
Use it: Compared to white cauliflower, the orange version has a creamier texture and sweeter flavor. Try slightly charring florets in a hot skillet or pulse the raw florets in a food processor to produce low-carb "rice." Orange cauliflower is also excellent when simmered and pureed into a soup.
Kalettes
What would happen if the superfoods kale and Brussels sprouts had a love child? Boom…you end up with kalettes. Although they look like badminton birdies, whimsical kalettes come to us courtesy of ye-old seed hybridization rather than genetic modification. Like all members of the Brassica family, this up-and-coming vegetable hybrid likely packs a powerful anti-cancer punch owing to hefty doses of potent antioxidants.
Use it: Each small leafy head has a slightly nutty flavor and is less bitter tasting than full-blown kale. You can steam or sauté kalettes, but perhaps the best way to prepare them is to blast them in the oven, which results in crispy leaves and tender, sweet stalks. Simply toss a bunch of kalettes with some oil and roast in a 425°F oven for about 12 minutes. Finish by tossing with your favorite dressing.
Opal
An Opal a day will keep the bored taste buds away. This newfangled apple from Washington is a cross between a Golden Delicious and Topaz with a crunchy texture and swoon-worthy tangy flavor. But what sets the Opal apart is that it resists browning once sliced, making it as good to look at as it is to eat. It's also the first apple grown in the U.S. to obtain the Non-GMO Project Verified label. As with most apples, Opals deliver dietary fiber to help quell hunger-induced cravings and kickstart fat loss.
Use it: Since it does not brown, sliced Opal is a stellar addition to salads, salsas and slaws. Or chop and use as an inspiring topping for your morning oatmeal.
Rainbow Carrots
Here are carrots that Bugs Bunny would truly crave. These kaleidoscopic tubers are born from heirloom yellow, purple and red seeds. Generally, heirloom vegetables such as these are a variety that is at least 50 years old and grown from seeds passed down through several generations of growers. For the most part, rainbow carrots are sweeter than their orange brethren. Yellow carrots pony up lutein to safeguard your vision. The red ones deliver the cancer-fighting compound lycopene, whereas purple carrots contain the same disease-thwarting antioxidants found in dark berries like blueberries.
Use them:Rainbow carrots can add a splash of color to salads and soups. For a dish with serious eye-appeal, shave the raw carrots thinly with a vegetable peeler and toss the colorful ribbons with lemon vinaigrette and toasted walnuts.