Breadless Meatball Sub Recipe
Craving a meatball sub but don't want the carbs? Look no further than this easy-to-make recipe.
Heading out the door? Read this article on the new Outside+ app available now on iOS devices for members! Download the app.
Many people, including myself, are trying to eat smart by finding ways to limit bad carbs and increase the nutritious value of a meal. A meatball sub is a delicious meal that screams to be eaten, but it is loaded with unhealthy carbs, fats and calories. The idea for a breadless meatball sub came from my love for zucchini pasta and meatballs. When a zucchini is hollowed out, it becomes a perfect fit for this recipe.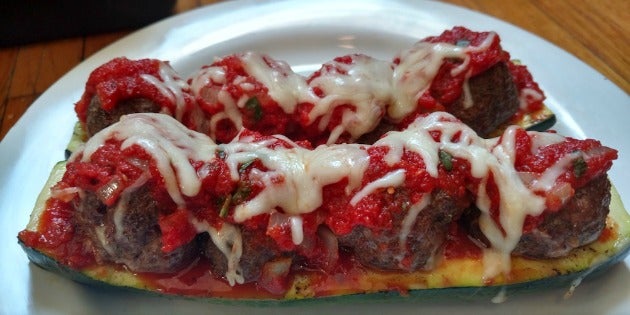 I took the breadless meal one step further by using ground flaxseed instead of breadcrumbs in the meatballs. The flaxseed not only adds a nice layer of flavor but also provides omega-3 fatty acids (which are good for your heart) to the meal. Although the recipe provides instructions for a simple tomato sauce, it is fine to use store-bought sauce.
By adjusting a few key ingredients, you now have a delicious, healthy meal without sacrificing flavors. Remember, healthy cooking is the backbone of a healthy lifestyle. Without being good in the kitchen, you sabotage all the hard work at the gym.
Breadless Meatball Sub
Ingredients
Yields two breadless meatball subs
Meatball Ingredients:
½ pound ground sirloin
⅓ cup ground flaxseed
½ tsp crushed red pepper
½ tsp garlic powder
½ tsp onion powder
½ tsp Italian seasoning
salt and pepper, to taste
Sauce Ingredients:
1 tbsp olive oil
1 small onion, finely chopped
1 crushed tomato
1 garlic clove, minced
1 tbsp fresh chopped basil
½ tsp crushed red pepper
salt and pepper, to taste
Other Ingredients:
1 zucchini
shredded mozzarella
1 tsp olive oil
Directions
Preheat oven to 350
Cut zucchini lengthwise and scoop out seeded center to make a well. Brush zucchini boats with 1 tablespoon olive oil and sprinkle with salt and pepper, to taste. Place on baking sheet.
In bowl, add ground sirloin, ground flaxseed, crushed red pepper, garlic powder, onion powder, Italian seasoning, and salt and pepper, to taste. Mix all ingredients until blended. Take about 1 ounce of the mixture, form into meatball and place on baking sheet (same one zucchini is placed on). The mixture yields eight meatballs. Bake zucchini and meatballs for 25 to 30 minutes.
Heat 1 tablespoon olive oil in sauce pan. Add chopped onion and minced garlic. Cook for two to three minutes, or until onions are translucent. Add crushed tomatoes, chopped basil and crushed red pepper. Simmer for 10 to 15 minutes.
Remove cooked zucchini and meatballs from oven. Place four meatballs into zucchini boat and spoon tomato sauce onto meatballs. Sprinkle with a little shredded mozzarella. Place back into oven and bake for another five to 10 minutes to melt cheese. Remove and serve warm.
Coleen Hannan is a health-conscious home cook and TeamChristmas participant from The Oxygen Challenge 2.