Chai Tea Recharger
Get a lean body even faster by spicing up your postworkout protein shake with chai tea.
Heading out the door? Read this article on the new Outside+ app available now on iOS devices for members! Download the app.
Don't underestimate the post-workout power of chai. You can minimize muscle pain and soreness with this blend of antioxidant-rich black tea and earthy spices (ginger, cloves, cinnamon, cardamom and black pepper), which collectively deliver metabolism-revving and anti-inflammatory effects. Research found that black tea may help curb delayed-onset muscle soreness (DOMS). Plus, Cinnamon has been shown to control blood sugar levels and is a kind of repair-kit of nutrients, which fend off free-radical damage and promote healthy cell growth.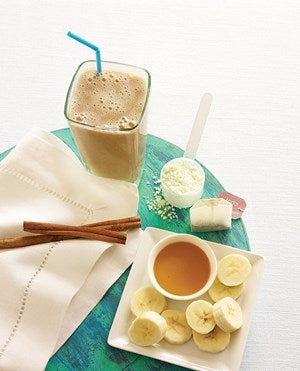 Whey protein is the perfect post-pump supplement because it has the ideal mix of amino acids to quickly jumpstart muscle growth and repair. And the potassium in bananas replenishes electrolytes, which helps prevent muscle cramps. Plus the carbs restore your muscles' glycogen stores to give you energy and enhance protein absorption.
Chai Tea Recharger
Ready in 5 minutes • Makes 1 serving
Ingredients
1 1/2 cups chilled, brewed chai tea
½ cup low-fat milk (or unsweetened soy or almond milk)
1 scoop vanilla protein powder
1 small banana
1 tsp. honey
1/2–1 tsp. cinnamon
Ice cubes
Directions
Toss all ingredients in a blender and mix until smooth. Serve immediately.
Nutrients per serving: Calories: 260, Total Fats: 2 g, Saturated Fat: 1 g, Trans Fat: 0 g, Cholesterol: 10 g, Sodium: 135 mg, Carbohydrates: 38 g, Dietary Fiber: 3 g, Sugars: 24 g, Protein: 28 g, Iron: 4 g