Chocolate Banana Mocha Shake
Blending up a DIY pre- or postworkout coffee drink is quick and easy.
Heading out the door? Read this article on the new Outside+ app available now on iOS devices for members! Download the app.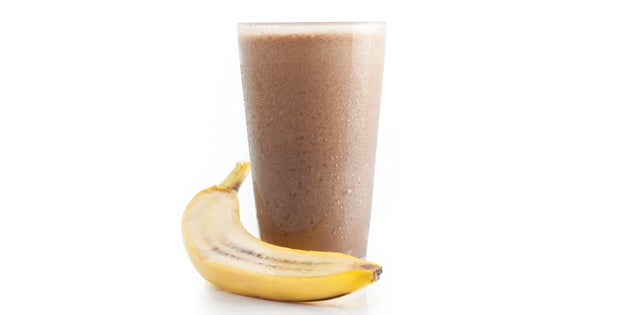 Chocolate-Banana Mocha Shake
Makes 1 serving
You should drink this shake at least 60 to 120 minutes before or after your workout, as its higher fat content delays digestion (slowing down the delivery of protein to recovering muscles).
6 ounces brewed coffee, chilled
¼ cup vanilla or plain unsweetened almond milk
½ frozen banana
1 scoop chocolate whey protein powder
1 tablespoon chia seeds
1 tablespoon raw almond butter
5 or more ice cubes
Place all ingredients except ice into a blender and blend until smooth. Add four to five ice cubes and blend. Continue to add ice cubes to desired thickness.
Nutrition facts (per serving): 332 calories, 27 g carbohydrates, 26 g protein, 16 g fat, 8 g fiber
Seeds of Health: Chia seeds are edible seeds that contain healthy omega-3 fatty acids, protein, carbohydrates, fiber, antioxidants and calcium.
A Powerful Punch: Bananas are great before and after your workouts — they're loaded with carbohydrates to help sustain energy levels throughout your workout and potassium, which aids in maintaining nerve and muscle function.
Nut Sense: Raw almond butter delivers key nutrients — protein, fiber and healthy fat — that are digested slowly, helping you feel full longer.
Get a Buzz: The caffeine in coffee is a safe ergogenic aid that will boost your workout, enhance fat utilization and increase time to exhaustion in endurance activities.