How to Eat Before You Compete
Whether you are running a 5k or doing a competition at your local box, what you eat before can affect your performance. Here's how to eat to perform at your peak.
Heading out the door? Read this article on the new Outside+ app available now on iOS devices for members! Download the app.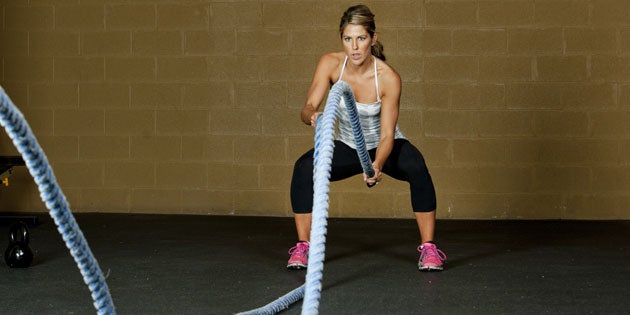 Anyone who has competed in sports knows that uh-oh feeling down below — when your nerves get the best of you and your gut reacts … unfavorably. "Anticipatory stress pre-event can wreak havoc with the gut, either speeding things up and creating urgency at the wrong time or shutting things down," says Desiree Nielsen, RDN, author of Un-Junk Your Diet (Skyhorse Publishing, 2014). "Either outcome can greatly hinder performance."
How you eat in the weeks leading up to your event, as well as the night before and the day of, can dictate your gut reaction during competition while also improving performance. Here are some tips from Nielsen to make nice with your insides and perform at your peak every time.
A month before …
Eat a regular diet rich in anti-inflammatory foods, such as fruit, vegetables, beans, nuts and seeds. "Chronic inflammation impairs immunity and hinders recovery while causing bloating, gas, loose stools and discomfort that can impact performance," Nielsen says. These foods, as well as omega-3 rich things like salmon, also help replenish vitamins and minerals that may be depleted in times of stress and heavy training, including vitamins C and B complexes, as well as magnesium and calcium.
Start using probiotics, if you aren't already. "Clinically tested probiotics help reduce inflammation, improve digestion and support the immune system," Nielsen says. All good things when trying to improve performance.
A week before …
Taper off your fiber. Yes, fiber is fabulous, but having to make a pit stop midrace or right before stage time is a bummer. As you get closer to your event, gradually swap high-fiber items for lower-fiber ones.
Avoid sugar alcohols, which are found in many sugar-free foods, gums and treats. These alcohols are often not tolerated well and can cause gastric distress (or worse) in just about anyone, especially when you're already nervous. A few common baddies are maltitol, sorbitol and erythritol.
The night before …
Don't do new. Even if your friend has this great pre-event recipe that she guarantees will power you through to the end with flying colors, just say no. "Your gut is a creature of habit, and you need to train your nutrition in the same way you train for an [event]," Nielsen says. If you want to test-run a recipe or meal, do it weeks in advance of the actual event and keep things regular to stay (ahem) regular come event time.
Be bland. If you've ever had a heavy meal and then tried to run a 5K the next morning, then you know the feeling: the instant regret as your shrimp pad Thai comes to haunt you before you even finish the first mile. Spicy foods, fried foods and acidic foods can irritate your stomach or slow down your digestion, so avoid these sorts of meals pre-competition.
The day of …
Avoid high-fiber, high-fat and high-protein foods for breakfast. These will slow down stomach emptying, according to Nielsen, so trade that Moons Over My Hammy for some fruit and yogurt instead.
Eat, then compete? Maybe not. If you don't normally eat right before a training session, then don't eat before your event. "The body diverts flow to peripheral muscles for performance and away from the digestive tract," Nielsen says. "Foods that take too long to clear the stomach, such as high-fiber, high-fat or high-protein foods, will mal-digest, leading to potential trouble."
The take-away: Don't do anything out of the ordinary leading up to your event or on competition day. Treat it like any other training session and you — and your insides — will be just fine!