How To Eat Your Vitamins
As an active woman, you ask a lot of your body in your workouts, so you should reward it with the nutrients it needs. These six key vitamins and minerals help you perform at your best.
Heading out the door? Read this article on the new Outside+ app available now on iOS devices for members! Download the app.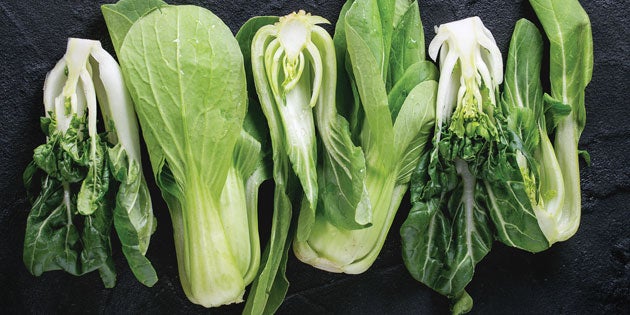 You probably keep an eye on your consumption of protein, carbs and fat, but what about vitamins? While a well-balanced diet is key to athletic performance and physique transformations, you could be missing out on some important vitamins and minerals that may give you the fitness edge you've been looking for. Vitamins and minerals are important for various body and cellular functions in and out of the gym. A deficiency in any one compound could put you off your game. Incorporating more of these nutrients in your daily routine could improve your body's ability to use nutrients and gain from tough workouts.
Not sure where you're lacking? Simply asking your doctor for a prescription for routine bloodwork is a great place to start. In the meantime, cover your bases with a quality multivitamin and mineral geared toward active women.
1. The Building Block: Calcium
What it does for you: Not only is calcium important for building and maintaining strong bones, but it's also required for energy metabolism and muscle contraction. Because your body doesn't produce calcium on its own, getting enough calcium from the foods you eat or via supplementation is important. If your diet is lacking calcium and you're physically active, your body will leach calcium from your bones, which can lead to osteoporosis.
Though dietary calcium is not considered a performance-enhancing mineral, it does make sense that lacking calcium in your diet could leave you more prone to injury.
How much you need daily: Aim for a total of 1,000 milligrams of calcium per day for women 50 and younger and 1,200 milligrams for women older than 51.
Best food sources: Other than milk, good sources of calcium include collard greens, kale, bok choy and sardines.
2. The Power Player: Zinc
What it does for you: Zinc is involved in cellular metabolism, energy production, hormonal production and balance, protein synthesis, body composition and enhanced physical performance. A zinc deficiency could directly affect strength and fitness by causing an excessive loss in bodyweight, fatigue and reduced endurance.
How much you need daily: Adequate levels of zinc for active women 18 years or older is 18 milligrams per day.
Best food sources: Zinc is found in large concentrations in meat, seafood and dairy, putting those following a vegetarian or vegan diet at a greater risk of deficiency.
3. The Energy Remedy: Iron
Feeling overly tired or exhausted? Can't foster the energy even for a workout? You might be deficient in iron. Iron deficiency anemia is common in women, especially those who are physically active, but most don't know they're deficient.
What it does for you: Iron is an essential mineral found in red blood cells that helps transport oxygen throughout the body. If you're lacking iron, your body will have a hard time making enough red blood cells, and if there are not enough of those, you'll end up fatigued because of a lack of oxygen in the body.
For female athletes, an iron deficiency could mean poor performance, tiring out too quickly and an impaired immune system.
How much you need daily: 18 milligrams for women 18 and older; pregnant 27 milligrams; lactating 10 milligrams
Best food sources: Even if your diet is high in iron-rich foods (including beef, turkey, beans and spinach), it's a good idea to consider a low-dose ferrous-form iron supplement. For better absorption, take vitamin C, as well.
4. The Transporter: Chromium
While the essential mineral chromium has not been shown to boost performance or fat loss, it is often deficient in athletes due to a lack of chromium-rich foods in the diet. Because of this, supplementing with chromium is not a bad idea.
What it does for you: Chromium is an insulin cofactor that helps transport branched-chain amino acids into the muscle. Without it, you could be at risk for uncontrolled blood sugar and insulin resistance. A chromium deficiency will leave you feeling sluggish, fatigued, weak, moody and anxious.
How much you need daily: 25 micrograms for women between ages 19 and 50; pregnant 30 micrograms; lactating 45 micrograms
Best food sources: Broccoli, potatoes, green beans and whole grains (among others) are great sources of chromium.
5. The All-Around Booster: B Vitamins
What they do for you: Thiamin, riboflavin and vitamin B6 are required for energy production, while folate and B12 are required for red blood cell production and repair. Though B vitamins are not considered an ergogenic aid (performance enhancer), there is research suggesting that dieting and exercising may increase the requirements for thiamin, riboflavin and vitamin B6 specifically.
How much you need daily: Thiamin — 1.2 milligrams; riboflavin — 1.3 milligrams; B6 — 1.3 milligrams; B12 — 2.4 micrograms, pregnant 2.6 micrograms, lactating 2.8 micrograms; folate — 400 micrograms, pregnant 600 micrograms, lactating 500 micrograms
Best food sources: To boost B vitamins, opt for more leafy green veggies and animal proteins (for B12) in your diet.
6. The Missing Link: Vitamin D
What it does for you: Vitamin D is a fat-soluble vitamin that has its hand in a number of physiological functions in the body, including strengthening bones by helping the body absorb calcium, improving immune function, and reducing and controlling blood pressure. It also can possibly even help you lose weight. While the jury is still out on the research surrounding vitamin D and exercise performance, there is promising evidence that vitamin D can boost muscular recovery postworkout, improve muscle weakness and reduce risk of injury.
How much you need daily: 600 IUs
Vitamin D deficiency is more common than you think. In fact, there's a good chance you're deficient in vitamin D. This will affect your overall health, athletic performance and recovery. If you feel you may be deficient or have been diagnosed as vitamin-D deficient, taking 1,000 IUs per day is a great starting point to increase D levels without risk of taking in too much. Getting exact numbers from routine bloodwork will show whether you have a deficiency, and then your health-care professional can advise you on how much vitamin D you should be taking per day. If you are not deficient in vitamin D, 600 IUs daily is sufficient to maintain healthy vitamin-D levels.
Best food sources: The best way to get vitamin D is exposure to sunlight and vitamin-D-rich foods, including fish, eggs, fish oil, vitamin-D-fortified dairy and fortified cereals.