Farm-Fresh Fuel
Find out the fitness benefits of shopping at the farmer's market straight from a dietitian!
Heading out the door? Read this article on the new Outside+ app available now on iOS devices for members! Download the app.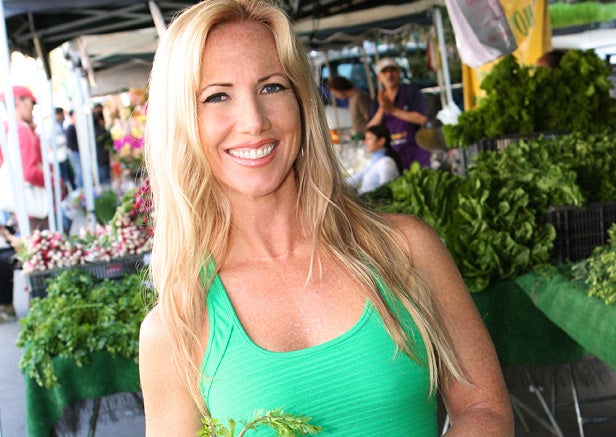 his spring and summer, swap your trip to the grocery store for a visit to your local farmer's market. Your body – and your taste buds – will thank you! Find out why shopping at the farmer's market is a good bet for fit gals from dietitian (and former fitness competitor!) Elizabeth Brown!
Q:Why should active women shop at the farmer's market versus their traditional supermarket this summer?
A: The fresher the food, the more potent the vitamins, minerals and antioxidants. Foods grown without pesticides have more antioxidants because they have to develop their own defenses, and they also taste better because these antioxidant nutrients are what gives produce its unique flavors. Think of the fragrance of rosemary, one of the most powerful, antioxidant-rich herbs around, or the smell of a farm-fresh peach. That natural aroma connotes power.
When you go to the farmer's market, you get to know the people who grow your food. There is an inherent vibration in everything, a type of energy that can be passed on from the love of the farmer who grows the food to the consumer who loves to eat it. You can pass this same energy on when you make food with love and serve it to your loved ones.
Q:Can you get everything you need for training-friendly meals at a farmer's market?
A: Absolutely! Of course you get the freshest of the fruits, vegetables and leafy greens, as well as starchy, energy-rich potatoes, carrots and beets. Most markets also offer free-range chicken and eggs, and grass-fed beef.
I find legumes/beans at some markets, as well as dried fruit and nuts. And there is definitely a difference in taste between dried fruit and nuts from your own community versus the same products shipped from somewhere else. Do a taste test of anything bought at the farmer's market versus your conventional grocery store, and you will go out of your way to get to the farmer's market.
Q:Any top tips for scoring the best foods from vendors?
A: Ask questions and get to know your farmers by name, and you'll be sure to get the best service and produce.
A great way to use up the fresh herbs you purchase at the farmer's market is by making pesto! Try this clean version of walnut pesto to add to your leafy greens or favorite protein.