Why You Need Fat In Your Diet
Learn how making healthy oils a part of your Oxygen lifestyle can benefit your overall health, boost your brain power, and get you closer to your goals.
Heading out the door? Read this article on the new Outside+ app available now on iOS devices for members! Download the app.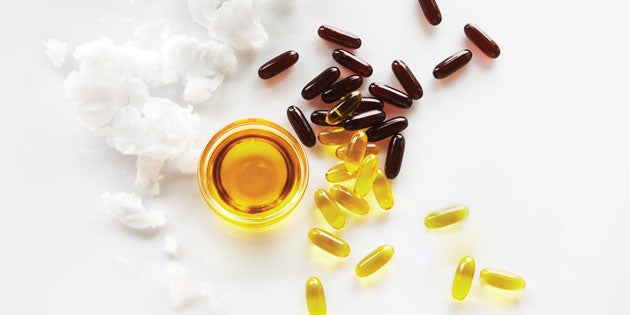 It wasn't too long ago that we thought the right thing to do was to ditch fat altogether. "Fat-free" and "nonfat" became the buzzwords of the low-fat diet craze that spread like wildfire in the 1980s and 90s across food aisles and "bestseller" book lists. Fast-forward to today, and it seems the fat-banning fad is finally on its way out. Not only are we no longer afraid of fats, we're embracing them — the healthy ones anyway — for their staggering heart-health benefits and potential fat-burning properties.
It's not just foods rich in healthy fats — like avocado, walnuts and salmon — that we're reaching for to get a daily dose. Now that fish oils, coconut oils and CLA (conjugated linoleic acid) have become widely available in supplement and oil form in almost every major grocery store, we're popping capsules and making them staples in our daily meal plans. So, are these fatty oils just another fad, like the grapefruit and cabbage soup diets? Not likely. Research shows (and experts agree) that this nutritional phenomenon has merit. Whether or not these oils promote fat loss is still up for debate, but with an impressive array of health-boosting benefits – from reducing your risk of heart disease and stroke to anti-inflammatory properties – they're here to stay.
Can You Really Burn Fat With Fat?
There's plenty of research that supports the claim that healthy fats can help promote fat loss. In one Harvard study, active participants whose caloric intake consisted of 35 percent fats dropped 11 pounds over an 18-month period, while a group that consumed a low-fat diet only lost six. But some experts say that healthy fats, whether in their natural state or in supplement form, don't single-handedly possess fat-burning abilities. "Any kind of nutrient, if you're eating less than you need and burning more calories than you take in, might be part of a weight-loss and fat-loss plan," says Douglas Kalman, PhD, RD, FISSN, a sports nutritionist for Florida International University. "Inherently, however, none of these oils on their own increase the body's fat burn."
Before you pour your fish oil caps down the drain, remember that taking them regularly as part of your Oxygen lifestyle can still benefit your overall health and fitness. "Oils rich in omega-3s, and monounsaturated fatty acids (MUFAs) overall are the ones that are better in terms of eating for heart health and fitness," says Kalman. So stick with your favorite food sources, like salmon, olive oil, avocado, nuts and seeds, and round out your diet with any of the following supplements to help you perform, function and feel your absolute best.
Fish Oil
Omega-3 fatty acids eicosapentaenoic acid (EPA) and docosahexaenoic acid (DHA) in fish oil may turn your body into a metabolic furnace. One study found that people who combined a daily fish oil supplement with regular aerobic exercise reduced their body fat and improved their cardiovascular and metabolic health, compared to those who only supplemented with sunflower oil.
How to use it: Aim for two grams of fish oil, not exceeding five, per day by eating more fatty fish or supplementing with an over-the-counter soft-gel cap or oil in liquid form.
Whole food sources: Oily fish, including salmon, snapper, tuna and mackerel.
CLA
Conjugated linoleic acid (CLA) has been around for years, claiming to help speed up weight loss. Unlike our other "fat-burning" oils, CLA has been studied greatly over the past decade with positive results. A study from the Journal of Nutrition was conducted on obese women to determine the effects of CLA on body composition. The researchers found that supplementing with just 1.8 grams of CLA per day for eight weeks can reduce body weight and trim inches from around the waist.
How to use it: Supplement with three to six grams daily.
Whole food sources: Meat and dairy from grass-fed animals, such as cheese, yogurt, milk and ground beef.
Flaxseed Oil
It seems that everyone, from fitness buffs to holistic healers, has fallen for flaxseed for its healthy fats, anti-inflammatory properties and potential to fight cancer. But did you know it's available in easy-to-take capsules, too? Flax is also commonly used to help lower cholesterol, as well as boost digestive and heart health. What's more, the omega-3 content in flax oil comes in the form of ALA (alpha-linolenic acid), which the body converts into the fat-blasting fatty acids EPA and DHA – that's fuel for your metabolic furnace.
How to use it: Take 15 grams of flax oil per day in capsule or liquid form, or one tablespoon per one hundred pounds of body weight (one tablespoon is about 130 calories). Drizzle flax oil over salads, use flax meal in baking, or take capsules with a meal.
Tip: Store whole or ground flaxseed in the fridge or freezer for optimal freshness.
Whole food sources: Whole flaxseed, ground flaxseed.
Coconut Oil
Despite its high fat and calorie count, coconut oil has fought through the low-fat fad and come out on top. Coconut oil's high quantity of medium-chain triglycerides (MCTs) is the driving force behind claims that it can fight disease and help burn fat. A study review from the Journal of Nutrition concluded that a diet rich in MCTs over other fatty acids suppresses appetite and promotes fat loss.
How to use it: It's best used in baking or sautéing over low-medium heat, or added to oatmeal and shakes. Or, try it in soft-gel form, taking three grams twice per day.
Get Oiled Up!
You've no doubt heard of these oils, but you might not know how to use them. Here's what they can do for you:
Wheat Germ: Derived from the embryo of a wheat kernel, meaning it nourishes new plants and is therefore extremely rich in vitamins and minerals, wheat germ oil is known to improve overall health and well-being due to its high content of vitamins K and E. Pour some into your smoothie or take it as a daily supplement.
Macadamia Nut: High in monounsaturated fatty acids, this oil is ideal for cooking thanks to its high smoke point. It's also tasty when used raw in dressings or shakes. Try: Use it externally as a moisturizer for dry skin!
Hempseed: Hempseed oil is primarily made up of omega-6 and omega-3 fatty acids in a 3:1 ratio that boosts heart health and can reduce your risk of other chronic diseases. Use it for cooking, baking and as a daily supplement to reap anti-inflammatory benefits, as well as healthy skin.