Fish Tacos with Zucchini-Radish Slaw
High in protein, low in fat and full of south-of-the-border flavor, these clean and healthy fish tacos are a crowd-pleaser.
Heading out the door? Read this article on the new Outside+ app available now on iOS devices for members! Download the app.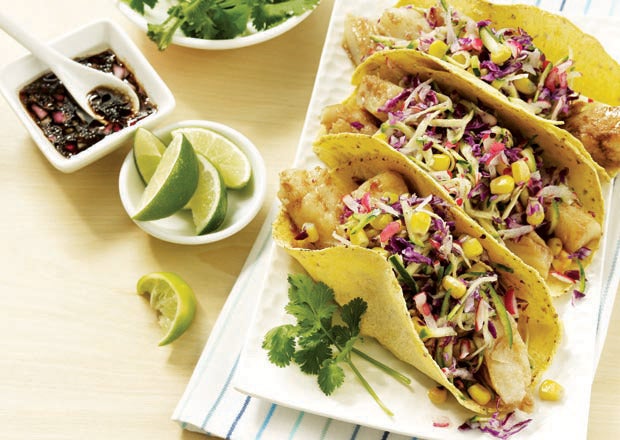 Ready in 20 minutes | Makes 2 servings
Ingredients
Fish Tacos
6 oz white fish (halibut, cod, tilapia)
4 corn tortillas
1/2 zucchini
3 radishes
1 small head of red cabbage
1/2 cup corn, cooked and cooled
Dressing
Juice of 1 lime
1/4 cup balsamic vinegar
1 tbsp olive oil
1 tsp honey
1 tbsp minced red onion
1/4 cup chopped cilantro
Instructions
Preheat oven to 300 F. Set fish and tortillas aside. Shred the zucchini, radishes and cabbage with a food processor or hand grater.
Combine dressing ingredients in a bowl. Divide in half into two separate bowls. Use one bowl to marinate the fish; coat both sides evenly. Toss the rest of the dressing with the shredded zucchini, radishes, cabbage and corn.
Heat a skillet on medium-high heat. Drizzle some water on the skillet; when the water sizzles, place the fish in the skillet and cover with the marinade. Cook about 3 minutes. Flip the fish and cook 2 more minutes, or until the fish flakes when cut with a fork.
While fish is cooking, place tortillas on a baking tray and bake for 3 minutes until crispy. You can also heat tortillas in a dry skillet to get the same effect. Divide the slaw amongst the tortillas and top with grilled fish. Serve.
Nutrients per serving: Calories: 358, Total Fats: 10 g, Saturated Fat: 1 g, Trans Fat: 0 g, Cholesterol: 27 mg, Sodium: 145 mg, Total Carbohydrates: 44 g, Dietary Fiber: 5 g, Sugars: 11 g, Protein: 23 g, Iron: 2 mg