Flank Steak Lettuce Wraps
Filled with lean flank steak, cilantro and mango, these healthy and refreshing lettuce wraps are savory and delicious.
Heading out the door? Read this article on the new Outside+ app available now on iOS devices for members! Download the app.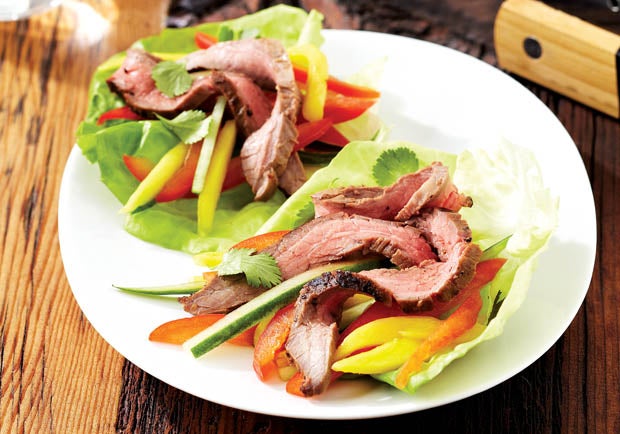 Ready in 20 minutes • Makes 4 servings
Fit tip: Grass-fed beef is three to five times higher than grain-fed beef in conjugated linoleic acid (CLA), which reduces body fat while preserving lean muscle mass.
Ingredients
1 lb flank steak
Zest of 1 lime
Juice of 3 limes
2 tbsp olive oil
1 tbsp honey or agave nectar
2 tbsp balsamic vinegar
1 tsp ground cumin
1 tsp chili powder
Fresh cracked black pepper, to taste
8 butter lettuce or romaine lettuce leaves
1 each cucumber, red bell pepper, mango, julienned
Fresh cilantro leaves, to garnish
Instructions
Score the flank steak by slicing 1/4″ deep gashes against the grain about 3/4″ apart. This will help tenderize the beef and allow the marinade to penetrate more deeply.
Combine lime zest, lime juice, oil, honey or agave, cumin, chili powder and balsamic vinegar in a large zip-top plastic bag. Place steak in the bag with marinade. Let sit for 10 minutes.
Heat grill or grill pan over high heat. Remove steak from bag and cover with black pepper. Place steak on grill and let cook about 4 minutes per side.
Remove steak and let rest 5 to 10 minutes before slicing. Then, slice against the grain into strips. Divide evenly onto lettuce leaves, along with the cucumber, bell pepper and mango; top with cilantro leaves.
Nutrients per serving: Calories: 276, Total Fats: 13 g, Saturated Fat: 3 g, Trans Fat: 0 g, Cholesterol: 31 mg, Sodium: 292 mg, Total Carbohydrates: 20 g, Dietary Fiber: 2 g, Sugars: 15 g, Protein: 21 g, Iron: 2 mg