Fueling Up With Freekeh
Sub freekeh for rice and get an extra dose of fiber, protein, glutamine and prebiotics.
Heading out the door? Read this article on the new Outside+ app available now on iOS devices for members! Download the app.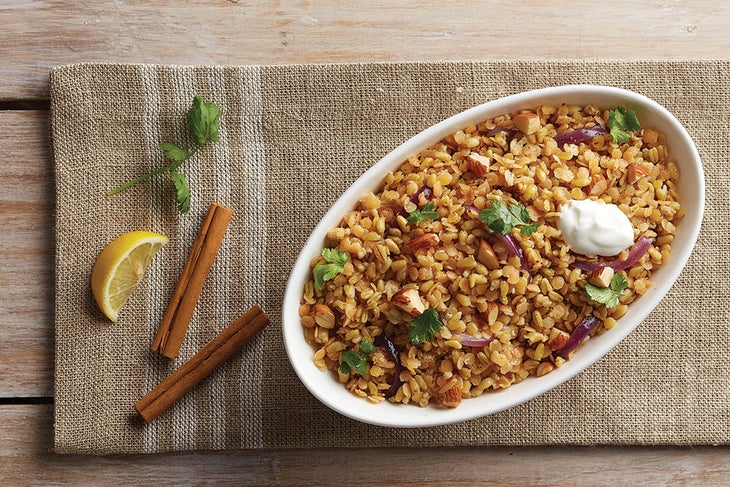 Freekeh (pronounced free-kah) has been around for a while. This wheat variety is harvested while still green, then it's toasted and rubbed to reveal the young grains. As a result, it has an earthy, nutty and slightly smoky flavor that can breathe new life into your humdrum recipes. Here are five ways to use this supergrain to supercharge your meal plan.
1. As a high-fiber rice substitute
Freekeh has three times the amount of fiber as brown rice, and according to research published in the Journal of the American College of Nutrition, increased fiber consumption helped people lose more weight over the course of a year. Swap white or brown rice for freekeh in casseroles, burritos, soups and pilafs.
2. As a gut-friendly salad
Freekeh contains resistant starch, which is the prebiotic nosh of choice for your healthy gut bacteria. Prebiotics also help treat leaky gut syndrome, candida and irritable bowel syndrome. Freekeh Salmon Salad: To a large bowl, add 2 cups cooked freekeh, 8 cups spinach, 1 large avocado (diced) and 1 large tomato (chopped). Top with 8 ounces cooked salmon fillets and drizzle with olive oil and vinegar (to taste).
3. As a high-pro vegan bowl
Step aside quinoa — freekeh has twice the protein per serving, making it the ideal choice for plant-based athletes. Freekeh-shly Good Breakfast Bowl: Cook 1 cup freekeh according to package directions. Split into 2 bowls and top with fresh fruit, pumpkin seeds, nut butter and cinnamon.
4. As an endurance-boosting side
Freekeh is high in glutamic acid, which helps synthesize glutamine, enhancing endurance and strength. Righteous Rosemary Freekeh:* Add 1 cup cooked freekeh to a bowl with ¼ cup chopped pecans, 1/8 cup chopped dried apricots, 1 tablespoon macadamia nut or avocado oil, 1 teaspoon finely chopped fresh rosemary and 1/8 teaspoon salt. Mix well to combine.
5. As a nutrient-boosted baked good
Freekeh is available commercially as a flour and can be used in recipes in place of refined flour products for added fiber, protein, antioxidants, calcium and iron.
Chocolate Freekeh Muffins
1 cup cooked freekeh
½ cup freekeh or coconut flour
3 tsp baking powder
2 cups unsweetened almond milk
2 eggs
1 tsp cinnamon
4 tbsp cocoa
3 tbsp brown sugar
pinch salt
handful dark chocolate chips
Preheat oven to 375 F. Mix all ingredients in a bowl and pour into a greased muffin pan. Bake 20 to 22 minutes. Allow to cool.
*Recipe provided by Now Foods. For more great recipes like this, go to nowfoods.com.