Ginger Apple Crisp
The crumbly topping on this clean and comforting apple crisp is butter-free, and made with abs-friendly flaxseed, oats and whole-wheat flour.
Heading out the door? Read this article on the new Outside+ app available now on iOS devices for members! Download the app.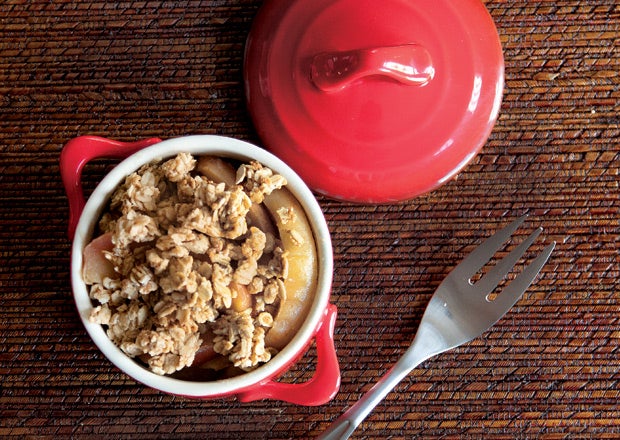 Ready in 40 minutes • Makes 6 servings
Ingredients
Apple Crisp
1 lb apples (about 3 medium), thinly sliced
Juice of 1/2 lemon (2 tbsp)
1/4 tsp cinnamon 1/8 tsp nutmeg
Toppings
6 tbsp ground flaxseed
1/4 cup water 1″ ginger, finely minced or pressed
1 1/2 cups old-fashioned oats
1 tbsp Sucanat 1 tbsp whole wheat pastry flour
1/4 tsp. cinnamon
1/8 tsp nutmeg
1/4 cup Greek yogurt
Instructions
Preheat oven to 400 degrees F.
Toss apples with lemon juice, cinnamon and nutmeg. Lightly coat an 8″x 8″ baking dish with oil or cooking spray. Spread apple slices evenly in the dish.
Mix flaxseed with water in a small bowl, and let set to form a gel.
Combine ginger, flaxseed and dry ingredients in a medium mixing bowl. Add yogurt gradually and crumble the mixture in your fingers so it clumps together. Add more yogurt or water to achieve the desired consistency.
Drop "crumbles" onto the apples. (It's okay if some of the fruit is not covered.) Bake 20 to 25 minutes.
Nutrients per serving: Calories: 161, Total Fats: 3 g, Saturated Fat: 0 g, Trans Fat: 0 g, Cholesterol: 0 mg, Sodium: 4 mg, Total Carbohydrates: 30 g, Dietary Fiber: 6 g, Sugars: 11 g, Protein: 5 g, Iron: 2 mg