Go Greek
Greek yogurt is creamy and tasty, endlessly versatile and positively overflowing with protein, perfect for a clean diet. Here are five delicious ways to eat it.
Heading out the door? Read this article on the new Outside+ app available now on iOS devices for members! Download the app.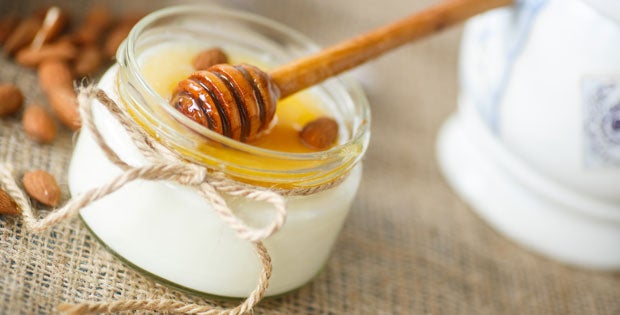 People who are new to eating clean often complain about deprivation — they miss burgers and fries and macaroni and cheese and ice cream, or just the freedom of eating whatever they want whenever they want. But what they fail to realize (and it can take months of eating this way before they do) is just how rich a clean diet can be.
One of our favorite foods illustrates that concept perfectly. With 20 grams of protein per cup, Greek yogurt is indulgent and flavorful — everything clean food isn't supposed to be. And the best part is that it can be used in a multitude of ways, sweet or savory, as a substitute for sour cream (which is definitely less likely to feature in a clean diet) or in one of the recipes here.
1. Go Greek
Finish your souvlakiat any taverna in Greece, and we can almost guarantee you'll be presented with a dessert menu that features Greek yogurt topped with honey and walnuts. It's the perfect combo of protein, slower-digesting carbs and healthy fats, and it doesn't need to be relegated to dessert. Try it as a midmorning snack or before bed to keep muscles well-fueled overnight.
Drizzle 1 tablespoon honey over 1 cup reduced-fat Greek yogurt, then top with ¼ cup walnuts.
399 calories, 23 grams protein, 30 grams carbs, 23 grams fat
2. Protein Packed
Our protein policy can pretty much be summed up as: Some is good; more is better. The protein in Greek yogurt is almost entirely casein, which is slow to digest. But mix your favorite flavor of whey protein powder into your yogurt, and suddenly you've got a perfect blend of fast- and slow-digesting proteins.
Mix one scoop of your favorite whey protein powder into 1 cup reduced-fat Greek yogurt.
235 calories, 39 grams protein, 10 grams carbs, 5 grams fat
3. Be Fruitful
It's probably the most obvious way of eating yogurt — top it with fruit. Go with mixed berries for the antioxidant benefit, or get creative and place thinly sliced oranges or grapefruits on top. Or, if you want to get really fancy, make a yogurt parfait.
Layer 1 cup reduced-fat Greek yogurt and 1 cup mixed berries (1/3cup blueberries, 1/3 cup raspberries and 1/3 cup sliced strawberries) in a tall glass. Top with ¼ toasted oats for a bit of crunch.
254 calories, 21 grams protein, 31 grams carbs, 5 grams fat
4. Veggie Style
Greek yogurt's tang and creaminess cry out for some crunch. Add it in the form of a variety of veggies for a low-carb treat. One option is to stir a quarter packet of ranch-dressing mix into a cup of yogurt, then use your favorite veggies (try carrot sticks, broccoli florets, celery, radishes, cherry tomatoes, you name it) to dip. Or chop up a veggie medley and stir it into the yogurt for a more on-the-go version.
Mix ¼ cup each of diced carrot, cucumber, tomato and red onion into 1 cup reduced-fat Greek yogurt.
150 calories, 19 grams protein, 14 grams carbs, 5 grams fat
5. Full of Fat
If we could somehow ensure that the word "fat" was never again considered a bad word, we would. But there are only so many times we can say that fat is critical to normal functioning of the body and there aren't even any truly bad kinds (except trans fats). To prove our point, whip up this fat-filled delight, complete with all the healthiest of healthy fats — omega-3s from flaxseeds, medium-chain triglycerides from coconut and monounsaturated fats from peanut butter.
Mix 1/8cup unsweetened dried coconut flakes, 2 tablespoons peanut butter and 2 tablespoons roasted flaxseeds into 1 cup reduced-fat Greek yogurt.
521 calories, 28 grams protein, 23 grams carbs, 38 grams fat