The Heart-Smart Smoothie
This triple-threat smoothie is so delicious you'd never know it's good for your heart.
Heading out the door? Read this article on the new Outside+ app available now on iOS devices for members! Download the app.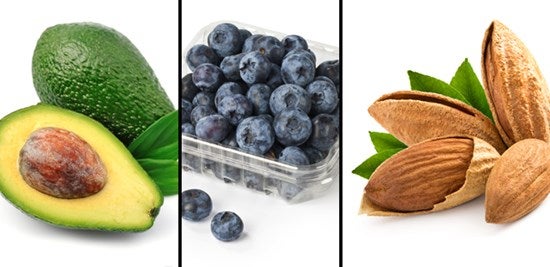 Happy day. Science has recently given some of our favorite fitness foods—almonds, avocadoes and blueberries—the heart healthy cred that they have always had but now it is more so. Specifically…
When compared with eating a muffin, a daily snack of 1.5 ounces of almondslowered numerous cardiovascular risk factors, including belly fat, according to a Journal of the American Heart Association study.
Eating a moderate fat diet, which includes one avocado a day, lowered cholesterol more than eating a low-fat diet or a moderate-fat diet without the creamy green orb, according to a study published in the Journal of the American Heart Association. Why? Researchers think that it's the combination of vitamins, minerals, fiber, phytosterols, monounsaturated fat and other dietary bioactives that are the fruit's cholesterol-lowering prowess.
Consuming a cup of blueberries daily for eight weeks may lower your blood pressure suggests Florida State University researchers in their report published in the Journal of the Academy of Nutrition and Dietetics. Blueberries are a rich source of phenolic compounds, such as flavonoids, phenolic acids and stilbenes, which have high antioxidant capacity.
These three delicious foods that fit women love have big health benefits so Oxygen decided to put them in one easy meal—the smoothie. Use this recipe as a meal replacement since it contains 32 grams of unsaturated fat and 18 grams of fiber (which is 70% of the recommended intake daily), and it will keep you satiated for hours. Enjoy!
Heart-Smart Smoothie
1 cup of almond milk, unsweetened
1 avocado, sliced
1 cup frozen blueberries
1 Tbsp. almond butter, raw and unsalted
2 basil leaves
Place all ingredients in order into a blender. Blend until smooth and serve.
Nutrition Info: 502 calories, 39 g carbohydrates, 40 g fat, 7 g protein, 0 mg cholesterol, 17 mg sodium, 18 g fiber, 14 g sugars.