Iron-Rich Farro Salad With Beans
Keep high-protein food easily at hand with this muscle-building grain salad.
Heading out the door? Read this article on the new Outside+ app available now on iOS devices for members! Download the app.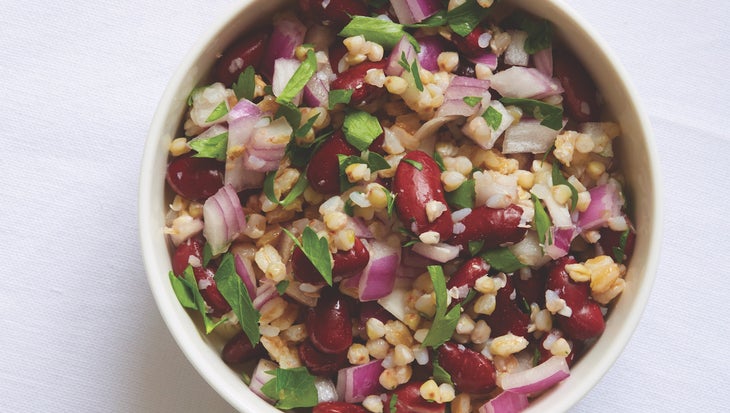 Iron-Rich Farro Salad With Beans
Makes 4 servings
Ready in 30 minutes
1¼ cups uncooked farro, rinsed and drained
¼ cup chopped fresh parsley
¼ cup chopped red onion
3 tablespoons fresh lemon juice
2 tablespoons olive oil
1 (15-ounce) can kidney beans, rinsed and drained
salt and pepper to taste
Directions
1. Combine farro* with 2½ cups water in a medium saucepan. Bring to a boil. Cover, reduce heat and simmer 30 minutes or until liquid is absorbed.
2. Place cooked farro in bowl with parsley, onion, lemon juice, olive oil and beans; combine well. Add salt and pepper to taste.
3. Cover and refrigerate until serving.
*Quick-cooking farro is available in some stores.
Nutrition Facts (per serving): calories 340, total fat 9 g, saturated fat 1 g , trans fat 0 g, sodium 318 mg, carbs 58 g, fiber 12 g, sugar 6 g, protein 14 g, iron 3.9 mg
More Information:
1. Although spelt contains small amounts of gluten, it's more easily tolerated by many people with gluten sensitivities, making it a tasty wheat alternative.
2. Kidney beans are high in molybdenum, a trace mineral needed for many of the body's enzyme-dependent processes, including iron metabolism.
3. Although it's often used as a garnish, parsley performs many health benefits such as possessing anti-cancer properties and improving calcium absorption for better bone health.