Lean Legumes
5 ways to eat beans, lentils and peas to fuel your active days.
Heading out the door? Read this article on the new Outside+ app available now on iOS devices for members! Download the app.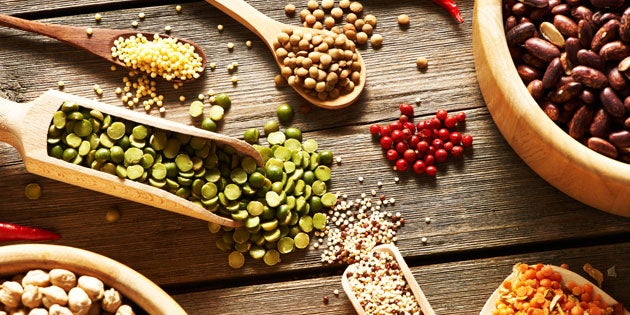 Legumes are like the Khloé and Kourtney of the protein world: overshadowed by their thunder-stealing sibling — chicken. Stats show that only about eight percent of Americans are meeting dietary guidelines for legumes, while in other countries they are a major source of protein. But beans, lentils and peas should be getting as much red carpet exposure as the most famous Kardashian. Here's why.
Slimming Fiber
Legumes have something that meat doesn't offer. "They are rich in soluble fiber, the kind that is nourishing for intestinal health and which helps soak up fat in your diet," says Marla Heller, MS, RD, author of The DASH Diet Action Plan (Dietary Approaches to Stop Hypertension) (Grand Central Life & Style, 2011), a plant-based approach to healthful eating. In fact, research shows that bean eaters weigh an average of seven pounds less and have smaller waists than those who pass on beans. "Legumes are more satiating than meat and most other foods since they have both protein and fiber, and are thus more likely to satisfy your hunger and help you avoid overeating, making it easier to reach and maintain a healthy weight," explains Heller.
Heart Helpers
Studies show that eating legumes at least four times a week can decrease the risk of cardiovascular disease by 22 percent and heart attacks by 38 percent. "Choosing plant proteins can reduce dietary cholesterol and saturated fat intake, and ultimately reduce the risk of heart disease. Additionally, research shows that, as part of a diet that emphasizes whole foods over processed foods, plant proteins can actually help reverse heart disease," says Heller.
So powerful are these low-cost, nutrient-rich powerhouses, that they are categorized as both a vegetable and a protein. Legumes are balanced with low-glycemic carbs, protein, minerals, vitamins and fiber that naturally work together to keep you satisfied longer and provide the nutrition you need for energy and exercise recovery. A half cup of cooked beans, peas or lentils provides about 100 calories, seven grams of fiber, seven grams of protein, plus iron, zinc, magnesium, potassium, folate, phosphorus and disease-fighting antioxidants. Boost your fat-loss and health goals by eating a modest half cup of legumes per day. With so many options available, there are plenty of ways to fit them into your diet.
Here, a few easy 10-minute meal ideas (shown from top).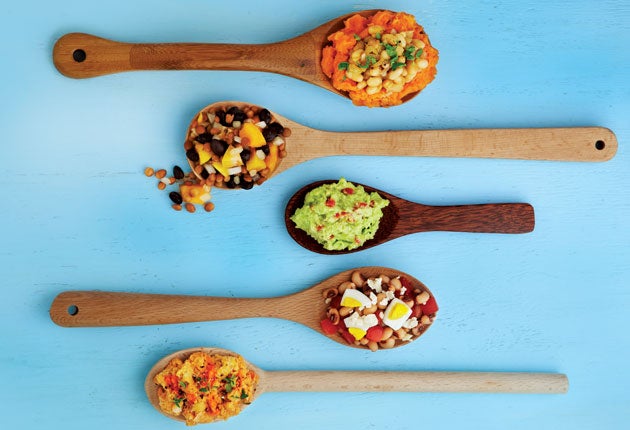 Postworkout Bean Spud
Makes 1 serving
Place in a pan 1 cup cooked navy beans + 1/2 cup water + 1/2 tbsp. molasses + 1 tsp. dark brown sugar + 1/4 cup chopped yellow onion; boil for 1 minute, then simmer for 10 minutes. Meanwhile, use a fork to poke holes in a medium-sized sweet potato and microwave for 10 minutes. Top spud with 1/2 cup navy bean mixture. Reserve the rest of the beans for later.
Preworkout Bean Plantain Salad
Makes 2 servings
Combine in a bowl 1/2 cup cooked black beans + 1/4 cup cooked lentils + 1/2 cup chopped cooked plantain + 1/2 cup chopped frozen mango chunks + 1/4 cup finely chopped yellow onion + 2 tbsp. red wine vinegar + sea salt, to taste.
Edamame Avocado Dip
Makes 8 servings
Using a food processor or handheld blender, purée together 11/2 cups shelled edamame (frozen) + 1/4 avocado + 1 tsp. pimentos + 1 clove garlic + 2 tsp. lemon juice + 3 tbsp. water + 1/8 tsp. sea salt.
Black-Eyed Pea Egg Salad Lunch
Makes 1 serving
Combine in a bowl 1/2 cup cooked black-eyed peas + 1/2 cup diced tomatoes + 1 chopped hard-boiled egg + 2 tbsp. balsamic vinegar + 1 tbsp. reduced-fat feta cheese.
Sundried Tomato Hummus
Makes 8 servings
Using a food processor or handheld blender, purée together 1 cup cooked chickpeas + 2 sundried tomatoes + 1 tsp. lemon juice + 1 tbsp. olive oil + 1 tbsp. rice vinegar + 2 tbsp. water + sea salt, to taste.