Lori Harder's Easy Kale Salad
Here's what Oxygen found when we dropped into Lori Harder's kitchen.
Heading out the door? Read this article on the new Outside+ app available now on iOS devices for members! Download the app.
When it comes to messing about in the kitchen, Lori Harder admits she always tries to make it simple: no complicated gourmet meals here — just good, clean food that can be whipped up in minutes.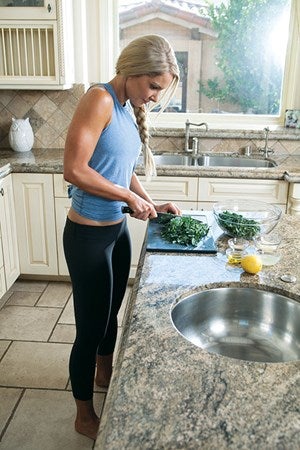 Take her easy kale salad she makes several times a week. At the time she invited us into her Southern California home, she had gathered all the fixings and, as she promised, it took her only minutes to prepare it. Nutritious and delicious, the salad was in her bowl seemingly seconds after she had pulled all the ingredients out of her fridge.
What's key to this engaging, personable, busy gal is her adherence to a positive approach in life, including how she fuels her body. "Food is a part of experiencing life and being social, so it's important to learn what works for you so you don't feel limited in your experiences," she says, speaking about how altering the approach to food can ultimately alter the approach to life. "My life changed when I changed how I treated myself. You have to treat yourself like the woman you want to show up in the world even if you don't feel like her yet. We can't get that body without treating ourselves like we already have it."
"For me, eating clean is not optional," she says, adding she's noticed her mood is elevated when she eats healthy, nutrient-rich foods. "I know firsthand that when I eat healthy, I feel better and have more energy to go after my goals and create a life I love."
Easy Kale Salad Recipe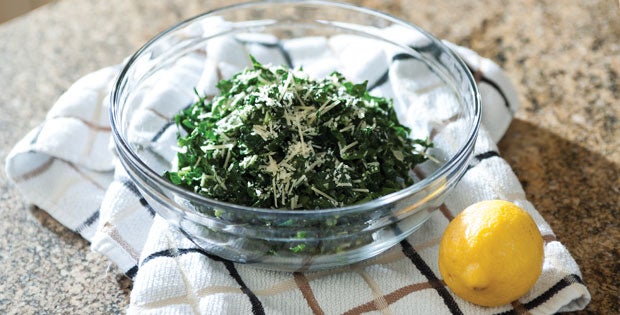 Yields 2 servings
1 large bundle of kale, rinsed and finely chopped
¼ cup fresh grated Parmesan cheese
2 tablespoons olive oil
1 teaspoon garlic powder
juice of one whole lemon, squeezed
salt to taste
For a complete meal, top with 4 to 6 ounces of grilled chicken or salmon.
Nutrition info: for one serving: Calories 272 (with chicken breast: 409 calories), carbs 26 g (with chicken breast: 26 g), fat 19 g (with chicken breast: 21 g), protein 11 g (with chicken breast: 37 g)