Study Finds Nordic Diet Improves Cholesterol and Blood Sugar
Get the lowdown on the Nordic diet and how it might improve overall health.
Heading out the door? Read this article on the new Outside+ app available now on iOS devices for members! Download the app.
What is a Nordic diet and why has it been shown to reduce the risk of cardiovascular disease, type 2 diabetes, high blood pressure and high cholesterol?
In short, it's a lifestyle that focuses on locally-sourced foods in the Nordic countries — Norway, Denmark, Sweden, Finland and Iceland. Some of the main ingredients within a Nordic diet include fish, vegetables, berries, whole grains and rapeseed oil.
A new study from the University of Copenhagen found evidence that this type of diet not only helps with weight loss, but can be beneficial for blood sugar and cholesterol levels even without weight loss.
"It's surprising because most people believe that positive effects on blood sugar and cholesterol are solely due to weight loss. Here, we have found this not to be the the case. Other mechanisms are also at play," Lars Ove Dragsted, a researcher and head of section at the University of Copenhagen's Department of Nutrition, Exercise and Sports, explained in a press release.
Dragsted and his team conducted a study among a group of 200 people over the age of 50. The participants were divided into two groups: one that would follow the Nordic diet and one that would not. The group that followed the Nordic diet for six months became significantly healthier with lower blood pressure, lower cholesterol and lower levels of saturated and unsaturated fat in the blood.
Researchers have found that the Nordic diet contains healthy fats that can be accredited for all these health benefits. These fats come from foods like fish, flaxseeds, sunflower and rapeseed.
Nordic Diet Food Choices
Vegetables: Peas, cabbage, onions and root vegetables.
Fruits: Apples, pears, plums, blueberries, strawberries, raspberries, or the traditional lingonberries.
Fats and Proteins: Rapeseed, sunflower seed, flaxseed. Salmon, herring, mackerel, sardines.
Whole Grains: Rye, barley, oats, brown rice, whole grain pasta.
The Nordic diet suggests small amounts of lean meat like chicken and turkey.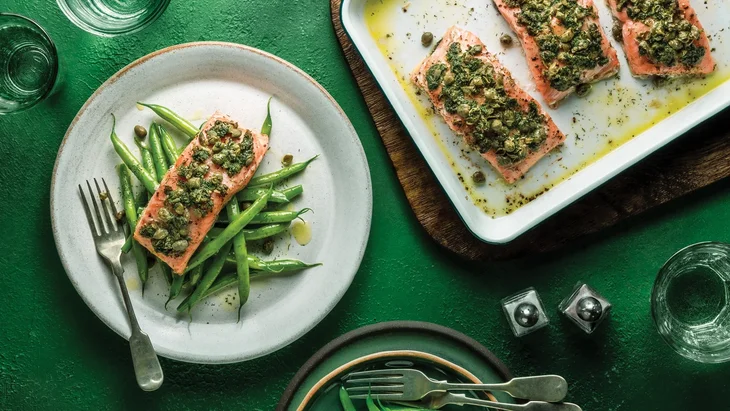 Serves: 4
Prep time: 5 minutes
Total time: Less than 20 minutes
Ingredients
4 6-oz wild, skin-on salmon fillets
¼ tsp ground black pepper
2 tbsp organic unsalted butter, softened
2 tbsp drained and roughly chopped capers
1 clove garlic, minced
2 tsp dried dill
Preparation
Preheat the oven to 450°F. Mist an oven safe dish with cooking spray.
Place salmon in a prepared dish, skin side down, and season with pepper.
In a small bowl, mix together, butter, capers, garlic and dill. Spread over top of salmon.
Bake for 8 to 10 minutes, until the salmon is opaque and flakes when touched.
Recipe courtesy of Clean Eating.