Healthy On-The-Go Snacks to Keep Your Energy Up
Amelia Ricci has some recommendations for those 'betweener' meals you might forget about.
Heading out the door? Read this article on the new Outside+ app available now on iOS devices for members! Download the app.
Oxygen Ambassador Amelia Ricci has her hands — and her plate — full most of the time, and the holidays only add to her busy schedule. As a certified fitness expert, Pilates and yoga trainer, IFBB bikini competitor and mother of two, Ricci is alway moving. Therefore, she knows the importance of staying fed and fueled between bigger meals with snacks.
"Life gets super busy during the holiday season," she says, "and sometimes, our nutrition is the first thing we neglect."
It's important to fuel yourself enough for mall runs, chilly workouts, carpooling kids and family get-togethers. With everything going on, it's easy to forget to eat throughout the day, which can lead to over-eating later on or simply crashing.
"Why not choose a day or two each week to plan your meals, grocery shop and have healthy snacks on deck in handy 'grab and go' portions?" Ricci says.
Here are a few of her favorites:
Low-fat dip and raw veggies (carrots, cucumbers, snow peas)
Pre-prepped salads with dressings stored separately in a jar
Protein muffins
Wraps with chicken, veggies and sweet chili sauce
Don't overcompensate with double (or triple — yikes girl, you okay?) Starbucks runs when you're feeling low on energy. Eat properly so you can tackle each and every day with the same tenacity you crush your workouts with.
"Always remember to hydrate, eat plenty of fruits and fresh veggies for fiber," Ricci says. "By having good nutrition habits, you'll stay fit and healthy this holiday season."
Oxygen's Protein Wrap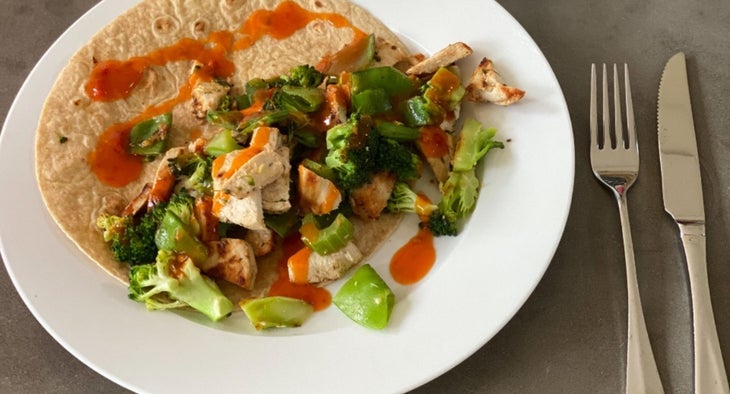 Ingredients
1 100% whole-grain wrap (minimum 9 grams of protein per serving)
1 tbsp hummus
3 oz low-sodium turkey breast
½ oz reduced-fat cheddar cheese
2 tbsp shredded carrots
3 slices cucumber
⅓ cup spinach
Preparation
Spread 1 tablespoon hummus across center of wrap.
Add turkey, cheese and top with shredded carrots, cucumber slices and spinach.
Fold outer ends of wrap in, then roll wrap vertically until folded like a burrito.
Store in plastic wrap or aluminum foil and toss in lunch bag fitted with ice pack and banana for your postworkout fuel.
Nutrition Facts (per serving): calories 260, total fat 6 g, saturated fat 2 g, protein 33 g, carbs 23 g, fiber 8 g, sodium 820 mg, sugar 4 g