Nutrition Tips For A Healthy Halloween
Keep your weight loss on track during the Halloween season with these simple strategies to enjoy the holidays without sacrificing your diet.
Heading out the door? Read this article on the new Outside+ app available now on iOS devices for members! Download the app.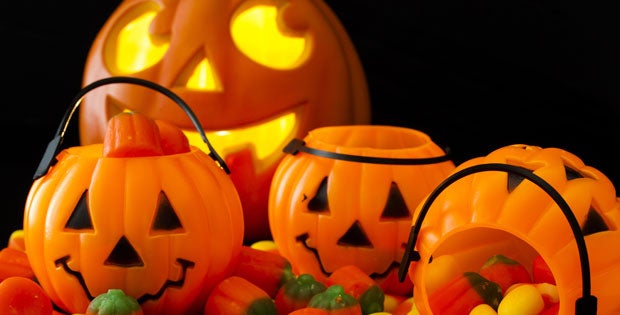 What's the scariest thing about Halloween? We'd argue that the piles of mini Snickers, rolls of Smarties and mounds of Mounds are way more terrifying than any haunted house. Avoid a candy-coma and stay the course of your healthy Oxygen lifestyle with these tips from Dr. Susan Albers, a food psychologist at the Cleveland Clinic and author of 50 More Ways to Soothe Yourself Without Food, (New Harbinger Publications, December 2015).
Watch Your Words
Words shape our behavior so using the word "treat" can help you see a food as something special to be eaten mindfully, rather than just an ordinary piece of candy you could get at Walgreens any day of the week. Case in point: a recent study in Appetite found that children of a lower BMI associated holidays with specific foods. Researchers hypothesize that the parents of the leaner children taught them that certain foods were special to specific holidays, meaning they were not a regular occurrence in the household.
Eat Yogurt
Packed with protein and calcium, yogurt can help control your appetite. Participants in one study had a snack of yogurt, chocolate or crackers. Those who ate the yogurt were less hungry in the afternoon, and stayed satisfied 20 to 30 minutes longer than the other two groups after eating. Moreover, at their next meal, the yogurt-snackers ate 100 calories less than those who ate the chocolate or the crackers.
Choco-noculate Yourself
Trying to ward off a candy binge? Then eat some candy now. Taking a "dose" of candy each day the week before Halloween is like a vaccination, since psychological theory indicates that restraining your chocolate and candy intake before Halloween may lead to a binge. In one study, participants given 10 doses of chocolate experienced reduced cravings in comparison to a control group who didn't.
Treat Yourself Sitting Down
Sitting and enjoying a treat is healthier than standing and having that same treat. People eat five times more chocolate when standing and noshing than they do when seated, according to a recent study in the Journal of Health Psychology. Standing is distracting and inhibits your ability to truly think through food decisions.
Go Slow and Be Present
Often you're thinking about the next piece of candy before finishing the one you have, especially with the one-bite wonders that are the mini-candy bar. Try eating with your non-dominate hand to prevent mindless chocolate-popping, and which research shows can cut down on how much you eat by up to 30 percent!
Be a Switch Witch
If you've got kids then you know about the dreaded "Halloween hoard." Keep them from overindulging (and yourself from raiding their stash) by implementing a Switch Witch or Halloween Fairy. This goblin appears at night after every holiday and takes the candy, leaving behind coins or small toys. Research shows that kids are just as happy to receive pencils, erasers, or stickers as they are to have candy.
Eat The Guts
Of the pumpin that is. Clean and roast those pumpkin seeds and pop them when you're feeling snacky. They are high in zinc and tryptophan and will raise serotonin, your happy, calming brain chemical.