Nuts and Beets Super-Detox Smoothie
This springtime shake bolsters your mood and immune system and can even help keep you lean.
Heading out the door? Read this article on the new Outside+ app available now on iOS devices for members! Download the app.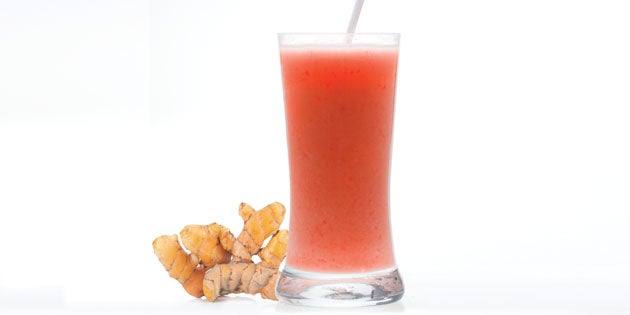 Nuts & Beets Super-Detox Smoothie Recipe
Makes 1 serving
Ingredients
¼ cup raw cashews
1¼ cup water
1 cup frozen mango pieces
½ beet, peeled and chopped
1 scoop vanilla whey protein
1 teaspoon turmeric
1 tablespoon lime juice
Directions
Put cashews and water in blender and whirl on high until smooth. Add remaining ingredients and blend for desired consistency.
Nutrition facts (per serving): calories 361, total fat 14 g, saturated fat 3 g, trans fat 0 g, protein 18 g, sodium 27.5 mg, carbs 44 g, fiber 5.5 g, sugar 30.5 g
Body Benefits
Go nuts: Cashews get props as mood enhancers and waist cinchers. A report published in The American Journal of Clinical Nutrition found that people who upped their nut consumption and replaced other foods with nuts shrunk their waist by half an inch and dropped 1.4 pounds. Plus, cashews contain tryptophan, magnesium and vitamin B6, a triple threat of mood boosters.
Beet it: Deliciously sweet beets can give you a competitive edge. Loaded with nitrates, which open up blood vessels and boost oxygen efficiency, beetroot juice led to faster running and cycling times in scientific studies. The nutrient-packed red veg is also a super source of betalains, powerful antioxidants that give your liver a detox boost.
Plenty of C: One cup of mango has just 100 calories, plus fiber, folate and a whopping 80 percent of your Recommended Daily Allowance for vitamin C!
Turmeric: The potent spice is chock-full of health benefits. A powerful antioxidant and anti-inflammatory, turmeric can lower your risk of chronic diseases like cancer and heart disease.
Bye-Bye Bloat! Curcumin, turmeric's active compound, increases the activity of digestive enzymes in the gut and can keep your tummy from tenting up.