Perk Up Your Diet
Get your caffeine fix without blowing your diet with these four coffee-infused recipes.
Heading out the door? Read this article on the new Outside+ app available now on iOS devices for members! Download the app.
Americans love our morning cup of Joe. In fact, it's the second most popular drink after water. But there's a lot percolating with coffee beyond giving you that morning pick-me-up. Studies show that caffeine can improve memory, boost metabolism and even increase performance. A 2014 study at Johns Hopkins University found that it may even prevent the onset of Alzheimer's Disease. And coffee is also loaded with antioxidants.
In honor of National Coffee Day, here are four sweet and savory dishes that showcase coffee's versatility.
Pumpkin Spice Latte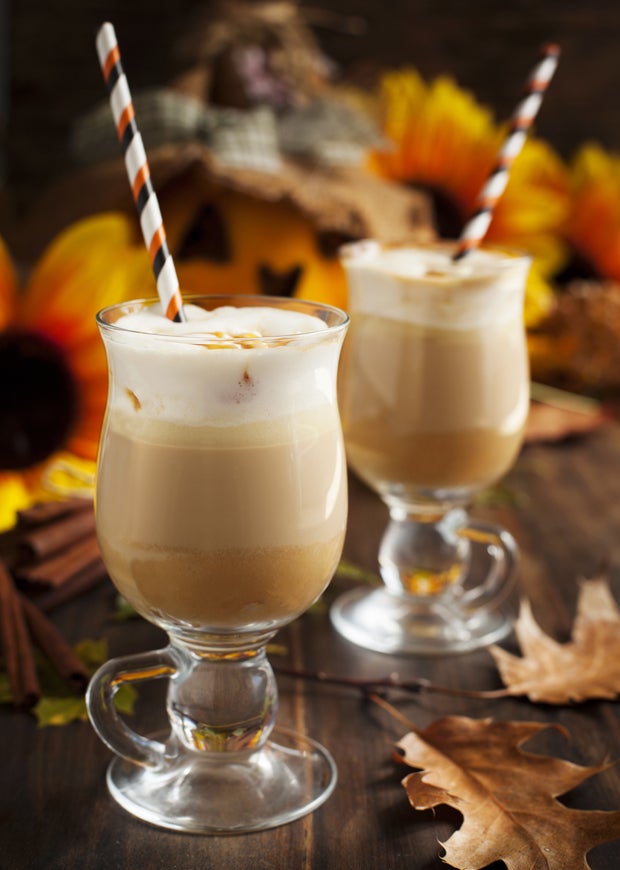 Serves 4
Hands-on time: 5 minutes |Total time: 15 minutes
This latte is made with real pumpkin and spices instead of the artificial syrups used in most coffee shops. You can enjoy this drink sugar free or add your own natural sweeteners.
Ingredients
4 cups of non-fat milk (or non-dairy alternative)
¼ cup canned pumpkin
1½ Tbsp. vanilla extract
¾ cup espresso or 1 cup of strong coffee
2 Tbsp. real maple syrup (optional)
¾ tsp. pumpkin pie spice *
*You can make your own pumpkin pie spice by combining 2 Tbsp. ground cinnamon, 1, Tbsp. ground ginger, 2 tsp. ground nutmeg, ½ tsp. allspice and ½ tsp. ground cloves.
Directions
Prepare coffee or espresso.
Pour pumpkin, vanilla extract, pumpkin pie spice into a blender. Add the coffee or espresso and blend until uniformly mixed.
In a medium saucepan, heat milk and maple syrup (if desired) over a medium flame. Once the milk is simmering, add it to the ingredients in the blender and whip until frothy.
Serve immediately and top with a pinch of pumpkin pie spice.
Vegetarian Espresso Mole Chili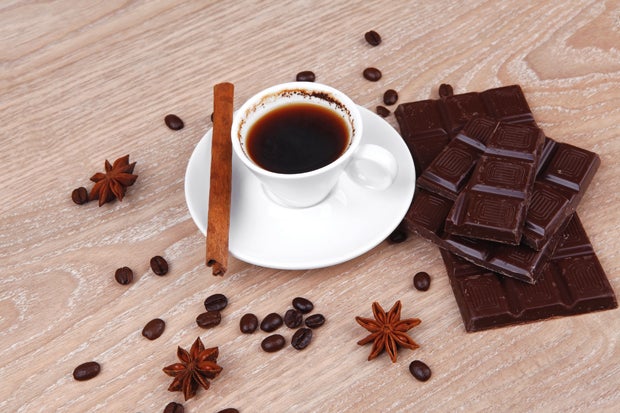 Serves 8
Hands-on time: 15 minutes |Total time: 1 hour and 5 minutes
Try serving this dish topped with an avocado slice or non-fat plain yogurt to balance out the spicy and sweet flavors.
Ingredients
2 Tbsp. olive oil
2 large yellow onions, peeled and thinly sliced
2 celery stalks, diced
2 large carrots, peeled, and diced
4 cloves garlic, minced
1 Tbsp. instant espresso powder
2 tsp. ground cumin
2 tsp. paprika
½ tsp. ground cinnamon
1 chipotle chili
1 Tbsp. adobo
½ cup white wine
2 oz. bittersweet chocolate, chopped
2 large poblano peppers, seeded, peeled and diced
1 can (28 oz.) crushed tomatoes
1 can (15 oz.) black beans, with liquid
1 can (15 oz.) pinto beans, with liquid
1 Tbsp. soy sauce
1 tsp. vinegar
2 cups canned corn, drained
½ cup green onions, washed and thinly sliced
½ cup fresh cilantro, washed and minced
Directions
In a large pot, heat oil over a medium-high flame. Add onions and sauté for about 10 minutes or until soft. Add celery, garlic, and carrots. Sauté for an additional three minutes.
Add espresso powder, cumin, paprika, cinnamon, chipotle chili, and adobo and cook for about 2 minutes. Add the white wine and scrape the bottom of the pot to keep ingredients from sticking.
Add the chocolate, tomatoes, poblano peppers, black and pinto beans, water, vinegar and soy sauce. Bring mixture to a boil and then reduce heat to a simmer. Simmer for 20 minutes and then add the corn. Cook for an additional 15 minutes and then remove from heat. Season to taste with salt and black pepper.
Top with green onions and cilantro.
Vegan Espresso Fudgesicles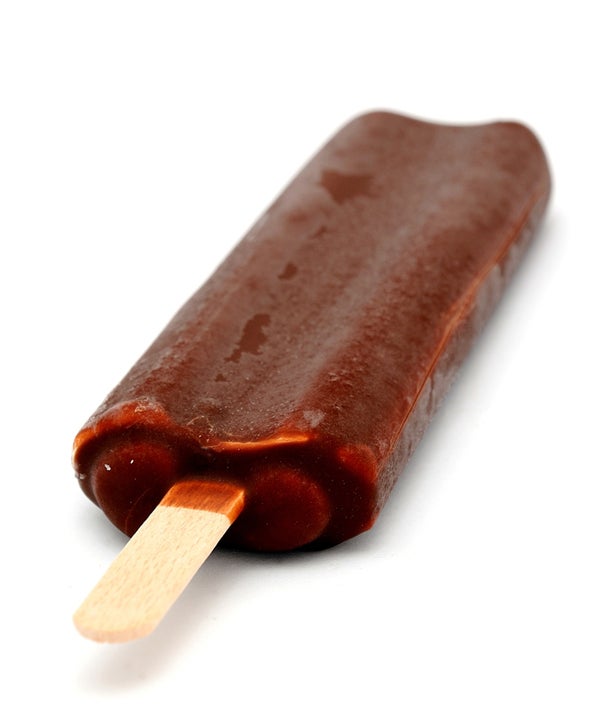 Made with coconut milk, these creamy, frozen treats are low in cholesterol and provide a source of healthy fat. Recipe adapted from Take A Megabite
Ingredients
1 can (14 oz.) full-fat coconut milk
¼ cup cocoa powder, unsweetened
1 tsp. ground espresso
1 tsp. sugar
1 tsp. vanilla extract
¼ tsp. sea salt
Directions
Place the coconut milk, chocolate and espresso in a medium saucepan over a medium-low flame. Heat until the chocolate has melted, then set aside for five minutes while the coffee brews.
Filter the mixture through a fine mesh strainer and throw out the grounds. Add the vanilla, sugar and salt. Whisk together.
Pour into popsicle mold and freeze overnight.
Green Almond-Coffee Smoothie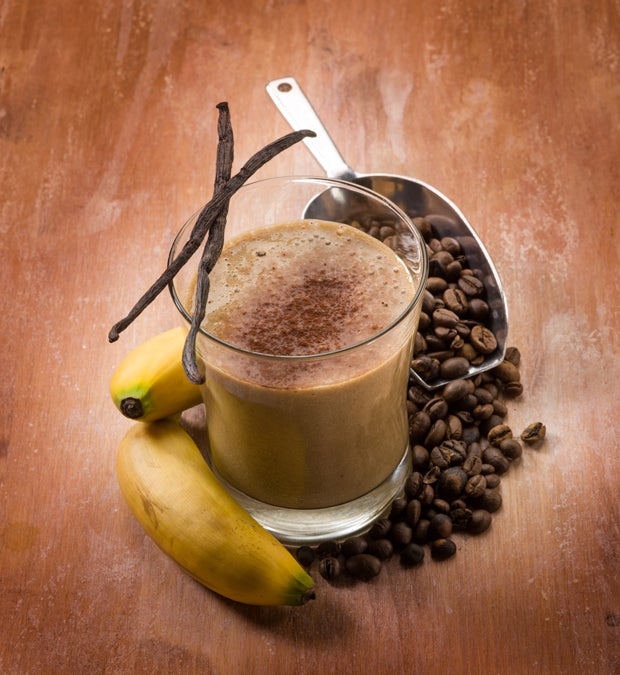 Serves 1 – 2
Hands-on time: 5 minutes |Total time: 5 minutes
If you're not a fan of instant espresso, use ice cubes made of frozen brewed coffee instead.
Ingredients
5 ice cubes
2/3 cups unsweetened non-dairy milk
1 Tbsp. almond butter (optional)
½ cup baby spinach
½ cup kale
1½ Tbsp. instant espresso (or instant coffee)
⅓ cup frozen blueberries
½ banana
Directions
Put all ingredients in a blender and combine until smooth.