Pigs in a Blanket
Bring these appetizers to your next party to share with other guests and keep you from hitting the cheese tray.
Heading out the door? Read this article on the new Outside+ app available now on iOS devices for members! Download the app.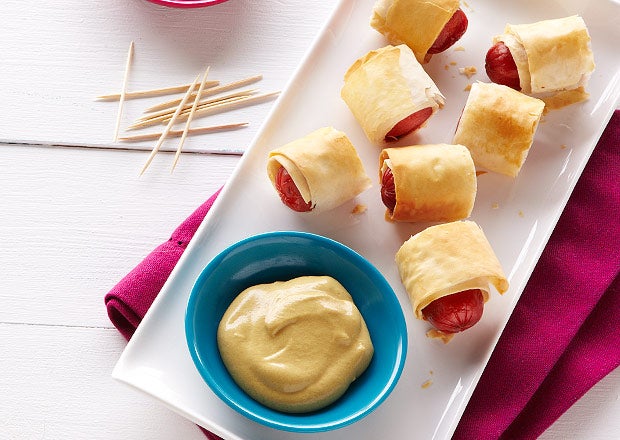 Makes 4 servings (3 pcs per serving) • Ready in 30 minutes
Serve these clean crowd-pleasers with mustard dips! Mustard seeds, which are ground up to make the condiment we know and love, are rich in selenium, magnesium and omega-3 fats.
Ingredients
2 sheets phyllo dough
Olive or canola oil cooking spray
4 nitrate-free turkey hot dogs (Try: Applegate brand)
3 tbsp grainy mustard
3 tbsp Dijon mustard
1 tsp horseradish (white)
1 tbsp honey
Instructions
Preheat oven to 350 F. Meanwhile, lay 1 sheet of phyllo on a work surface and cover the remaining phyllo dough with a slightly damp kitchen towel to keep it from drying out. Spray the phyllo sheet generously with cooking spray and fold it into quarters to make 4 layers (the strip should measure approximately 4″x13″).
Cut in half, leaving 2 strips (measuring approximately 4″x6″). Place 1 hot dog lengthwise at the end of the strip and roll it up tightly (three times) to encase it in phyllo.
Cut the wrapped hot dog into thirds and place seam-side down on a baking sheet. Repeat the process with the remaining hot dogs and dough. Spray the wrapped dogs lightly with cooking spray, and bake until they are golden brown and crispy, about 20 minutes.
Meanwhile, combine the grainy mustard with horseradish in a small bowl and set aside. In another small serving bowl, combine the Dijon mustard with honey. Set aside.
Place the cooked pigs in a blanket on a serving tray and serve with the dips.
Nutrients per serving: Calories:119, Total Fats: 3 g, Saturated Fat: 1 g, Trans Fat: 0 g, Cholesterol: 25 mg, Sodium: 847 mg, Total Carbohydrates: 12 g, Dietary Fiber: 0.5 g, Sugars: 5 g, Protein: 8 g, Iron: 1.5 mg