Polynesian Stir-Fry
Coconut oil is an easy way to add a taste of the tropics to your meals.
Heading out the door? Read this article on the new Outside+ app available now on iOS devices for members! Download the app.
When it comes to cooking and baking oils, canola and extra virgin olive oil get all the love. But there's something very unique about coconut oil (virgin or extra virgin coconut oil, to be exact), despite it being made up of 90 percent saturated fat.
Health Benefits
Coconut oil got a bad rap years ago because the partially hydrogenated form (refined coconut oil) was being used to make commercial foods like movie-theater popcorn. Hydrogenating any oil creates trans fats, which raise bad cholesterol and the risk of heart disease. Because of this, coconut oil was sent to fat purgatory — lumped together with butter, margarine and lard.
But recent research suggests that not all saturated fats are the same. The two most common types of saturated fats are long-chain triglycerides (LCTs) and medium-chain triglycerides (MCTs). The fatty acids in coconut oil are primarily MCTs, which, unlike LCTs, tend to be quickly used by the body as fuel rather than being stored as fat. It's because MCTs are rapidly converted to energy for the body that they are put into infant formula and are given to severely ill patients in the hospital. Virgin coconut oil also contains fatty acids that help boost the immune system.
Fat Fighter
While not conclusive, some studies have shown that diets that included MCTs promoted greater weight loss and increased metabolism than diets containing LCTs. A study published in the journal Lipids divided women with abdominal obesity into two groups – those consuming coconut oil and those consuming soybean oil. The results: after 12 weeks on similar low-calorie diets,the coconut oil eaters had a smaller waist circumference and higher HDL cholesterol levels. The theory is that the MCTs in coconut oil are less likely to cause obesity because they are used immediately as an energy source, rather than being stored in fat cells. They are also more heart healthy, as studies have shown MCTs to raise good cholesterol (HDL) and lower the bad kind (LDL).
Is It All Hype?
Tons of websites tout coconut oil as the weight-loss secret of the people of the Pacific Islands (Melanesia, Micronesia and Polynesia). These populations were long praised for having low levels of heart disease and obesity. While they eat a lot of coconut oil, they also eat a mostly plant-based diet and maintain high activity levels. But Western influence could be creeping in: recent stats from the World Health Organization show that in at least 10 Pacific Island countries, more than 50 percent of the population is now overweight. The prime culprit: imported foods. Lastly, remember that coconut oil (like all oils) is still a high-calorie, high-fat food at 120 calories and 14 grams of fat per tablespoon. So portion control is still crucial!
Red bell pepper adds vitamin C and slimming fiber.
Pineapple helps your body digest protein, plus reduce swelling caused by post-training inflammation.
White fish is a lean protein and a good source of omega-3s.
Hot sauce has appetite-suppressing power, helping you eat less and feel satisfied faster.
Polynesian Stir-Fry Recipe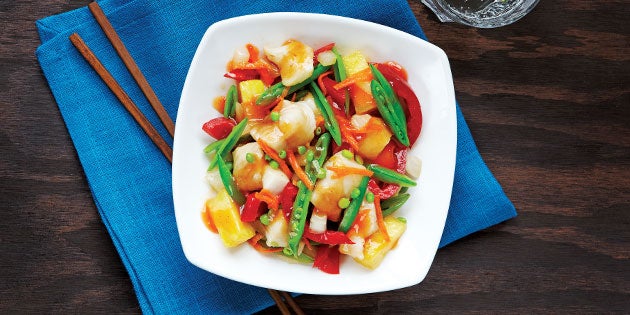 Ready in 15 minutes • Makes 2 servings
Ingredients
1 Tbsp. coconut oil
¼ onion, chopped
1 red bell pepper, chopped
½ cup shredded carrots
8 Chinese pea pods, trimmed and sliced into thin strips
1 clove garlic, minced
1 can pineapple chunks, in juice
8 oz. wild Pacific halibut or true cod, cut into 1″ chunks
Sauce:
2 Tbsp. pineapple juice (from can listed above)
1 Tbsp. cornstarch
1 tsp. hot sauce (try: Sriracha)
Directions
1. Sauté oil, onion, pepper, carrot and pea pods for 3 minutes in a skillet over high heat. Add garlic, ½ cup pineapple and sauté 3 minutes.
2. Remove vegetable and pineapple mixture from pan. Add the fish and cook 2 minutes per side. Add vegetable mixture back to the pan.
3. Combine sauce ingredients: whisk 2 tablespoons pineapple juice, hot sauce and cornstarch, and continue until no lumps remain.
4. Make a well in the center of the pan and pour in the sauce. When it starts to boil, immediately toss with fish and vegetables to coat. Serve.
Nutrients per serving: Calories: 252, Total Fats: 8 g, Saturated Fat: 6 g, Trans Fat: 0 g, Cholesterol: 26 mg, Sodium: 156 mg, Total Carbohydrates: 24 g, Dietary Fiber: 3 g, Sugars: 11 g, Protein: 21 g, Iron: 1 mg