Protein As a Superfood
Bioactive peptides in hydrolyzed whey protein can make you healthier, fitter and even leaner.
Heading out the door? Read this article on the new Outside+ app available now on iOS devices for members! Download the app.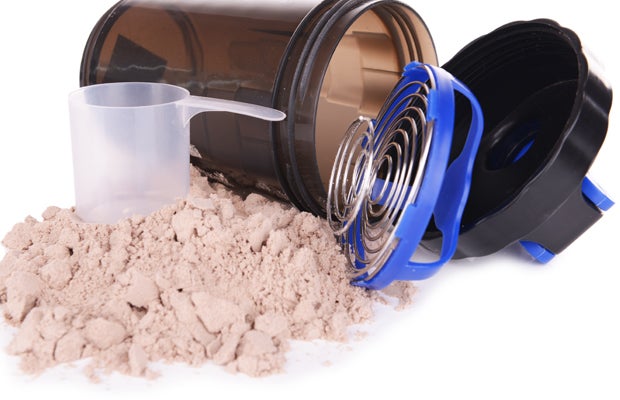 New types of protein powders hit the supplement shelves so often we don't even blink when we hear about a new protein source no matter how outlandish it sounds. (Are you ready for cricket protein? Seriously.) What often gets drowned out amidst all the marketing hype for the new goji-cocoa-mushroom product is the fact that scientists are continuing to discover new and surprising benefits to whey protein, specifically, hydrolyzed whey protein.
Hydrolyzed whey is finely processed protein that has been chopped up into smaller and smaller chains called dipeptides and tripeptides. Some experts refer to hydrolyzed whey as being "predigested." When it hits your gut, it passes through quickly since it has already been broken down into a more easily assimilated form.
Hydrolyzed whey is astonishingly pure. The average whey concentrate powder is 80 percent protein, the rest of which is fat, carbs, ash, lactose and flavoring agents. Hydrolyzed whey is over 90 percent protein with almost zero fat, few carbs and so little lactose that people with an intolerance to milk products can usually ingest it with with no ill effects. (If you have a serious milk allergy, however, consult your doctor first.)
Whey to Go
Whey protein — any whey protein — provides a multitude of benefits. It's known to be more anabolic than other forms of protein, it has a satiating effect so it keeps you full longer and it stimulates production of glutathione, a natural antioxidant and your immune system's MVP when it come to fighting disease. One recent study even found that whey protein improves endurance. Not bad for a muscle-building supplement.
Hydrolyzed whey exerts these same benevolent effects, and researchers are finding that the di- and tripeptides in hydrolyzed whey are biologically active and when they cross the gut they stimulate receptor sites in many different cells. Studies have shown that these peptides can decrease cholesterol levels and even lower blood pressure in hypertensive patients. A study in the Journal of Dairy Science found that these peptides boost the immune system through antiviral and antimicrobial properties in the gut. Another study even found that hydrolyzed whey protein protected cells against certain forms of cancer.
One aspect of hydrolyzed whey that active women may find intriguing is the way they appear to enhance recovery after a tough workout. Several studies show that subjects who ingest hydrolyzed whey protein return to optimal strength levels more quickly after a workout than those who took other forms of protein. It was initially surmised that the speed in which hydrolyzed whey is absorbed, because it is "predigested," was the source of the expedited recovery, but recent findings show that while it is assimilated more rapidly than whey concentrate, the difference is marginal. Researchers now believe that the peptides are responsible, possibly because they enhance post-exercise muscle glycogen resynthesis.
Shed More Fat
For Oxygen readers, one of the most exciting things about whey peptides, though, is their effect on fat loss. In a study published earlier this year in The FASEB Journal, researchers noted that body-fat levels in trained subjects who took hydrolyzed whey protein went down compared to those who took whey concentrate.
"By chopping up globular whey protein, we are creating these bioactive peptides that initiate a state of lipolysis response," says Michael Roberts, Ph.D., an assistant professor at Auburn University in Auburn, Alabama, and one of the lead researchers in the study. "We don't think it is necessarily better in regards to anabolism, because that is not what we saw in our study, but we definitely saw a lipolysis response and an improvement in body composition."
Roberts feels that hydrolyzed whey protein offers potential benefits for athletes looking to shed fat. It's a relatively young field of study, with only one human study and two animal studies completed so far, but it's an area that he thinks will be emphasized more and more when it comes to marketing hydrolyzed whey.
"I would say that over 20 weeks with exercise you might see an extra pound or two of fat loss," Roberts says. "That is speculation, but I think in terms of shifting body comp, it seems to be a pretty good strategy to abide by."
Cost Benefit Whey-nalysis
The downside of hydrolyzed whey protein is the cost. A jug of the stuff will cost you about 30 percent more than the same amount of whey protein concentrate. If your monthly supplement bill already includes a multivitamin, fish oil, a preworkout formula and a joint support or creatine product, then the cost of hydrolyzed whey might make it a prohibitive purchase for you.
If protein powder is just an easy way to get an extra dose of aminos into your busy day, then there is nothing wrong with a quality whey protein concentrate. Some people may want to spend the extra cash, though. Since hydrolyzed whey is lactose-free, it is a smart choice for anyone with a milk allergy. Finally, hydrolyzed whey protein may also be a good choice for anyone who demands optimal results in their body composition, no matter how fine a hair is split.
"It is a good choice for anyone who is in that cutting phase close to competition," says protein researcher Michael Roberts, Ph.D. "Beyond the lipolysis, there may be a satiety effect in that it might help curb hunger. That is a nice double-edged sword to have when dieting."