Raspberry Lemonade Protein Smoothie
Cool off after a hot workout with this refreshing blend of protein and nutritious summer flavors.
Heading out the door? Read this article on the new Outside+ app available now on iOS devices for members! Download the app.
Raspberry Lemonade Protein Smoothie Recipe
Makes 1 serving
Ingredients
1 scoop vanilla whey protein powder
½ cup nonfat milk
1 cup fresh or frozen raspberries
2 tablespoons lemon juice
¼ cup sugar-free pink lemonade or water
ice (if desired)
Directions
Add whey protein and milk to blender. Pulse until combined. Then add raspberries, lemon juice and pink lemonade (or water). Blend until well-combined. Enjoy!
Nutrition facts (per serving): calories 227, total fat 1 g, saturated fat 0 g, trans fat 0 g, protein 31 g, sodium 177 mg, carbs 25 g, fiber 8 g, sugar 13 g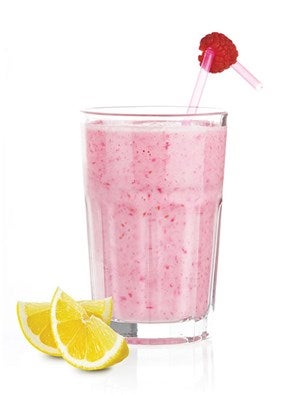 Fit & Flavorful
Radical Raspberries: This tiny pink punch of flavor is known for its wealth of antioxidant vitamins and minerals, including quercetin, a flavonoid with powerful heart health benefits. In a recent study published in the journal International Society of Sports Nutrition, scientists determined that with or without exercise, quercetin has the ability to reduce plaque formation and help shuttle bad cholesterol out of the body.
Flavor Boost: Blending some lemon juice into a smoothie helps bring out the flavors of other ingredients while adding a host of health benefits. In 1747, sailors discovered that lemons could heal scurvy because of the vitamin C content. Today, we know that vitamin C not only prevents scurvy but also boosts immune function and is important for the absorption of ferrous iron to help prevent anemia.
Why Whey Is So Good
Protein is the building block of muscle and helps promote recovery. And the latest research shows that when it comes to fat loss, whey protein is coming out on top. A recent study out of the journal International Society of Sports Nutrition wanted to better understand whey protein combined with long-term resistance exercise. What the study found was that those taking whey protein post-exercise had a greater increase in muscle mass. In addition, postworkout whey protein connoisseurs lost belly fat, too!