The New Rules of Cheating
Cheat meals can benefit your weight-loss and fitness goals if they're planned and structured. Here's how to cheat without blowing your diet.
Heading out the door? Read this article on the new Outside+ app available now on iOS devices for members! Download the app.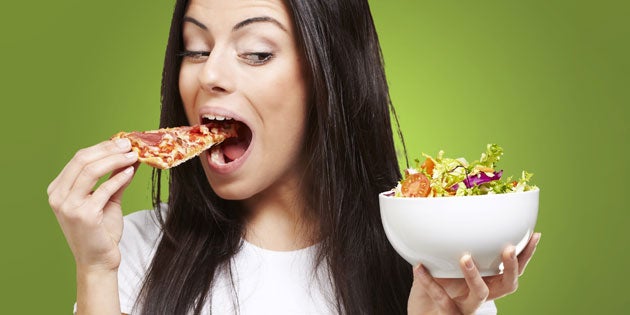 These days in our nutrition-obsessed world, it's an all-too-common scenario: A fitness-minded person concerned about staying lean takes the pledge to eat clean — a buzzword associated with eating mostly minimally processed, close-to-nature foods and plenty of social media hash-tagging. All of a sudden, many of your most cherished foods like ice cream and pizza are no longer allowed on the table. At first, everything goes well and you feel more energized and you look better than ever as your body soaks up the whole-food nutrition bonanza.
But soon the cravings for those blacklisted foods hit, and before you can say "General Tso," you're doubling down on combo #6 and #7 from the local Chinese food joint.
For this reason, many nutrition experts recommend that you incorporate some cheating into an otherwise healthy eating plan. Done right, sneaking around on your clean-eating diet can be just what the doctor ordered to stay on track. Here's why getting caught embracing the cookie jar is a fling you need not be ashamed of.
Stay Motivated
Opening the door to some cheating in your diet can provide a much-needed mental break from the repetitive meal plans that many clean eaters follow. In fact, studies suggest that adherence to restrictive diet programs among people is poor over the long haul when there is little allowance for dietary wiggle room. In fact, overly zealous pristine eating can set you up for a complete dietary meltdown. Cheat meals can be something to look forward to on the horizon, helping you to actually glean more enjoyment from your clean-eating meals. There is room for cheesecake and a flat tummy, too.
Sidestep Disordered Eating
With all the buzz surrounding clean eating and restrictive diets such as gluten-free, there has been a rise in the incidences of what is known as orthorexia — an unhealthy obsession of only eating what the sufferer deems to be perfectly healthy foods. Let a slice of pizza slip through your lips and it can lead to an unhealthy obsession about how "unclean" it was. For some, healthy eating can take on a quality similar to religious fervor that can take a toll on mental and physical health. Those with orthorexia are more prone to depression, and if this condition eliminates certain food groups, some serious nutritional deficiencies can transpire. An eating program that allows for some cheating can give you the healthier outlook that there is nothing wrong with a less-than-perfect diet.
Ignite the Fire

Many clean-eating programs — be it low-carb, low-fat or low-chocolate — involve some degree of calorie control. After a period of time, your brain can be tricked into thinking you're living in the years of hunter-gathers and in a period of semi-starvation. In turn, your brain may send out signals telling your body to put the brakes on calorie-burning metabolism and to hold on to its fat reserves in case of an emergency.
However, you're not a starving person on the hunt for a woolly mammoth, just someone trying to stay clean and lean. So this sluggish metabolism is not to your advantage. A small respite from extra healthy eating can work to toss your body a metabolic curveball by needing to deal with a different dose of calories and macronutrients. And this shock to the system can rev up your metabolism.
Gain More Friends
Being dedicated to a program of healthy eating is crucial to overall health and a glance-stealing physique, but if your commitment means you're home alone on Saturday night eating bland chicken breast and steamed broccoli while your gal pals are digging into duck confit and chocolate lava cake at a much-hyped restaurant, you should think about loosening up a bit. Allowed dietary cheating can give you much more wiggle room to eat socially.
7 Ways to Cheat and Get Away With It
1.Think Meals, Not Days
Often, people think of the weekend as a perfect time to reward a week of clean eating, but if you take part in a full day of gluttony, your waistline may pay the price. A study in the journal Obesity found that people who ramped up their calorie intake for two days (think Saturday and Sunday) did not reduce their intake enough during the following four days to compensate for the extra calorie consumption. The net result was an overall calorie gain. Further, those who stuffed themselves reported increased cravings and hunger (and being in a worse mood) on subsequent days. Repeat this pattern weekend after weekend and you could see the needle on the scale going in the wrong direction. The upshot is that you are better served if you work just one or two cheat meals into your weekly diet, which will give you much-needed satisfaction without putting you into calorie overload.
2. Plan Ahead
For most people, it's a good idea to pencil in when your cheat meals or desserts are going to take place each week. Again, this structuring of your diet can give you something to look forward to and also make you less likely to beat yourself up about doing it. Research shows that associating vice foods with guilt can lead to worse eating habits overall by lessening willpower in the face of dietary temptation.
3. Stay Regular
Going too long between cheating can lead to a complete cave-in. So try letting your dietary guard down at least once every seven to 10 days. It can take some trial and error to pinpoint what works best for you.
4. Less Is More
One way to successfully work some naughty behavior into your diet is by adding a small amount of a crave-worthy food to an otherwise healthy plate of grub. In a recent Vanderbilt University study, participants felt just as satisfied with a meal when they ate a mini-portion of something not so healthy and filled the rest of their plate with nutritious grub than when they indulged solely on a meal of unhealthy fare. Just seeing what you believe to be an indulgent treat on your plate can trigger your brain into thinking that your overall meal is tastier. So go ahead and sprinkle a little full-fat cheese on that Buddha bowl.
5. Make It Count
The purpose of a cheat meal, snack or dessert is to feel like you are breaking the rules. So wrap your arms around your favorite slice of pie and kiss those protein-to-carb ratios goodbye. One of the ways to reduce your desire to cheat more often is to satisfy your joneses for foods you are generally avoiding in the first place.
6. Play the Clock
If you're fretting that dietary cheating will damage your physique progress, plan them for after particularly arduous workouts. At this time, the body is primed to make use of items like sugary calories to promote recovery instead of fat storage. After all, isn't that slice of chocolate cake so much more delicious after repeated sets of burpees?
7. Food With Benefits
Keep in mind that cheating doesn't necessarily mean you have to eat only food with a terrible nutritional track record. Let's say that you're following a low-carb diet that shuns grains but that you miss pasta night terribly. Now, a cheat meal could be a hefty pile of whole-grain spaghetti. Love chocolate so much it can't be in the house? Why not luxuriate in a few squares of antioxidant-rich dark chocolate.