Sausage-Tomato Flatbread With Apricots And Grilled Lemons
This sweet-and-savory sausage-tomato flatbread is packed with protein, carbs and plenty of antioxidants.
Heading out the door? Read this article on the new Outside+ app available now on iOS devices for members! Download the app.
Makes 4 servings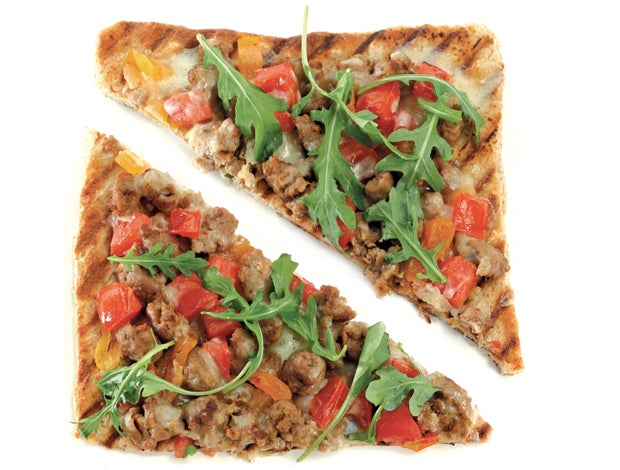 Serving Size: 2 pieces, approximately 3 by 4 inches each
Total Time: 25 minutes | Hands-On Time: 15 minutes
Ingredients
8 ounces 90% lean mild turkey breakfast sausage, such as Jennie-O brand
1 tube refrigerated whole-grain pizza crust dough (13.8 ounces), such as Pillsbury brand
2 cups arugula (packed)
2 medium tomatoes, seeded and diced (1 cup)
8 dried Mediterranean apricots, finely diced (¼ cup)
½ cup shredded part-skim mozzarella cheese (2 ounces)
1 lemon, halved
honey
Directions
Preheat a gas or charcoal grill to medium. Cook turkey sausage in a nonstick skillet over medium-high heat, breaking the sausage into small pieces as it cooks. Cook until the sausage is completely browned and there is no liquid left in the skillet.
Unroll pizza crust to a rectangle that is approximately 8 by 12 inches. Cut the dough into two portions (to make grilling easier) that are approximately 8 by 6 inches each. Brush ½ tablespoon olive oil over one side of each crust. Place crusts on preheated grill, oil side down. Grill until grill marks start to appear and the crust browns lightly, about four to five minutes. While on the grill,
Carefully brush the top sides of the dough using ½ tablespoon olive oil on each.
Remove crusts from grill and place on a flat surface, grilled side up. Top each crust with half the arugula, tomatoes, cooked sausage, dried apricots and cheese. Return flatbreads to the grill for five minutes. Grill until the bottom of the crust is browned and the cheese melts. Add lemons to the grill, cut sides down, for the last one minute of grilling.
Remove flatbreads to a cutting board and cut each flatbread into four pieces. Just before serving, squeeze the grilled lemons over the flatbread and drizzle lightly with honey.
Nutrition Facts (per serving): calories 446, total fat 14 g (saturated fat 4 g, trans fat 0 g), sodium 890 mg, carbohydrates 58 g (fiber 4 g, sugar 15 g), protein 21 g