The Best Flour Alternatives for Baking
Baking shouldn't be a grind. Use these alternative flours to take your kitchen game — and your nutrition — to the next level.
Heading out the door? Read this article on the new Outside+ app available now on iOS devices for members! Download the app.
Most baking recipes rely heavily on all-purpose flour, but this super-refined product is a nutritional dud and has about as much flavor as a bag of sand. While whole-wheat flour is a viable substitute, it isn't your only option. These days, all manner of grains, nuts, fruits, beans — even bugs! — are being ground into flours with unique tastes and elevated nutritional chops. We sifted through some current contenders and found six that rose to the top as the best of the best for baking.
The New Rules of Baking
Baking with an alternative flour is a little different from the refined white stuff. Here are a few things you need to know before lacing up your apron strings.
Follow the leader. Winging it the first time you use an alternative flour could mean an epic #kitchenfail. First, try a recipe written specifically for that flour and follow it exactly. Once you see how it reacts, you can start experimenting.
Regard the ratios. Flours without gluten such as quinoa and brown rice can't be used to replace white flour 1:1 … if you expect edible results. Begin by trading about a third of the regular flour for the alternative and skew up or down from there, depending on how things turn out.
Deep freeze. Alternative flours are typically less processed and may spoil more rapidly. Store a small amount in a cool, dark cabinet or pantry for immediate use, and freeze the rest for up to a year.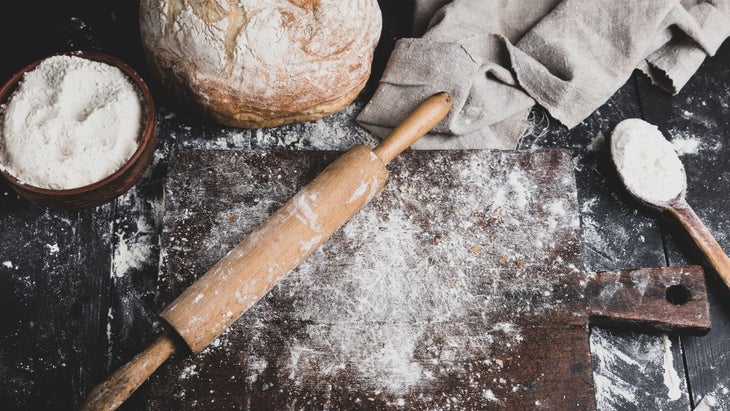 Oat Flour
Oat flour is simply a ground-up version of your morning porridge and is an easy swap for all-purpose flour, owing to its flavor neutrality. It's a solid source of beta-glucan, a form of soluble fiber that can help control blood sugar, keep cholesterol in check and promote healthy gut bacteria.
Test Kitchen: Opt for oat flour in homemade protein bars, pancakes, cakes, cookies, crumble toppings and scones.
Trading Tips: Replace 25 percent of regular flour with oat flour in a recipe. Can't find oat flour at the store? Make your own by pulverizing rolled oats into a fine powder.
Try It: Bob's Red Mill Oat Flour ($3.69, bobsredmill.com or amazon.com)
Almond Flour
This Paleo favorite produced from skinless blanched almonds has a consistency more akin to cornmeal than flour. It contains calcium for healthy bones, vitamin E to combat free radicals, magnesium to control blood sugar and dietary fiber to control weight.
Test Kitchen: Use it in flourless cakes, muffins, banana bread, pancakes and cookies, or as a breading for chicken and fish.
Trading Tips: Use an extra egg when baking with almond flour for added structure. Also, nut flours can accelerate browning, so try baking at a slightly lower temp, say, 325 F instead of 350 F.
Try It: Pamela's Almond Flour ($9, pamelasproducts.com or amazon.com)
Coconut Flour
Because this no-grain flour is produced by grinding dried, defatted coconut meat, it has less fat than coconut milk or oil but still delivers a sweet tropical flavor. About 70 percent of the carbs found in coconut flour hail from fiber — 8 grams per 2-tablespoon serving — and it's also rich in medium-chain triglycerides, which help promote weight loss, enhance brain and heart heath, and protect against infection.
Test Kitchen: Go nuts with this flour in energy bars, muffins, zucchini/banana bread, cakes and flatbreads. Try it as a coating for fish or chicken, or use instead of breadcrumbs for meatballs and meatloaf.
Trading Tip: Coconut flour absorbs a ton of water,
so add liquid in equal amounts. In other words, if you're replacing ¼ cup all-purpose flour with coconut flour, you'll need to add ¼ cup more liquid, as well.
Try It: Nutiva Organic Coconut Flour ($6, nutiva.com or amazon.com)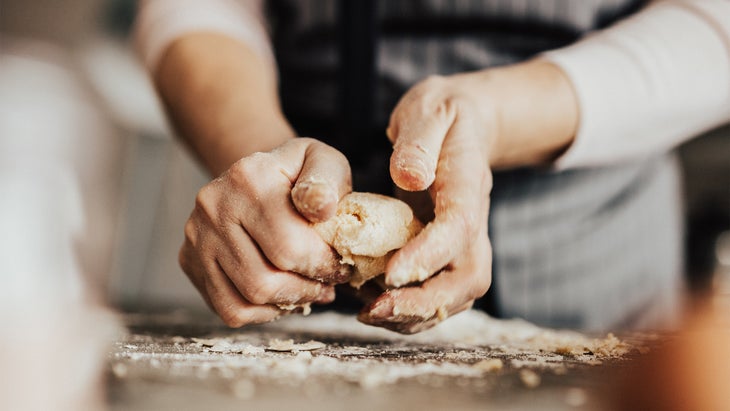 Chickpea Flour
Despite its mild beany flavor, chickpea flour packs a powerful protein punch, with 20 grams per 1-cup serving. It also contains more than a day's worth of folate and, according to the journal Foods, may decrease hunger by regulating the release of ghrelin, the hunger hormone.
Test Kitchen: Use in savory recipes like falafel, pizza crusts and breads, as a binder in fritters or meatballs, or as a thickener for stews and sauces. It's also easy to sneak into muffins, cookies and scones.
Trading Tip: Chickpea flour is on the denser side, so make sure you incorporate enough moisture to prevent recipes from parching into bricks.
Try It: Just About Foods Organic Chickpea Flour ($4, justaboutfoods.com or amazon.com)
Teff Flour
This malty gluten-free flour contains five times the amount of calcium as whole-wheat flour, provides almost 70 percent of your Recommended Daily Value of magnesium and offers up high amounts of lysine, which is essential for the production of protein, hormones, collagen and elastin.
Test Kitchen: Teff is especially nice when paired with cocoa powder in treats like cookies, brownies, breads, muffins and waffles.
Trading Tip: Substitute about 25 percent of the
flour in a recipe with teff flour to make it lighter and more tender.
Try It: Bob's Red Mill Stone Ground Teff Flour ($8, bobsredmill.com or amazon.com)
This slightly sweet whole-grain flour contains plenty of calcium, selenium, zinc and manganese, and it is a very good source of B vitamins such as niacin.
Test Kitchen: Use in crusts, crepes, scones, quiches and tarts.
Trading Tip: Spelt flour can be used as a 1:1 replacement for white flour but may be more
water-soluble, so use about 15 percent less liquid in your recipe.
Try It: King Arthur Organic Whole Spelt Flour ($10, kingarthurflour.com)
Red Velvet Pancakes
Hands-On Time: 15 Minutes
Cook Time: 15 Minutes
Makes: 4 Servings
Tip: Prepare this batter up to two days in advance and refrigerate. When ready to use, thin with additional milk, if needed.
INGREDIENTS
1 cup oat flour
½ cup almond flour
1 tsp cinnamon
1½ tsp baking powder
½ tsp baking soda
¼ tsp salt
1 cup milk or unsweetened dairy-free milk
½ cup plain Greek yogurt or dairy-free yogurt
1 cup chopped cooked beets
1 medium ripe banana, peeled
zest of 1 lemon
1 large egg
Optional Toppings
berries
Greek yogurt
maple syrup
DIRECTIONS
Stir together oat flour, almond flour, cinnamon, baking powder, baking soda and salt. Add milk, yogurt, beets, banana and lemon zest to a blender container and blend until smooth. Add egg and pulse to incorporate. Pour mixture over dry ingredients and mix gently to moisten. Let batter rest 10 minutes to absorb excess liquid. Place a greased skillet over medium heat. Pour batter in ¼-cup portions into pan and cook 2 minutes, or until the edges darken and curl inward. Flip and cook 2 minutes more. Serve with desired toppings (if using).
Nutrition Facts (per serving = 3 pancakes, no toppings): calories 303, fat 12 g, carbs 37 g, fiber 6 g, sugar 10 g, protein 15 g, sodium 216 mg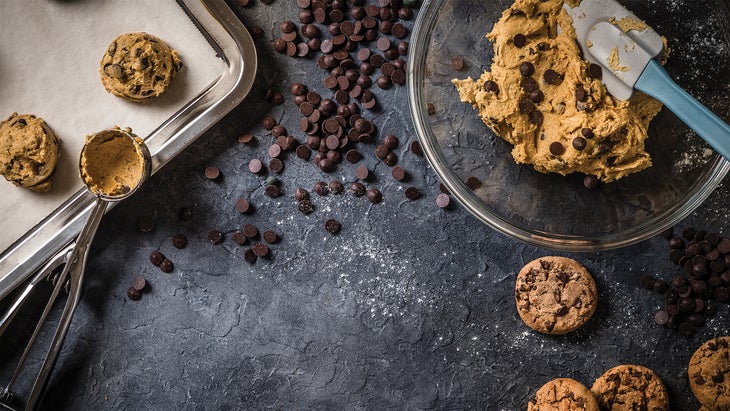 Chocolate Chunk Coconut-Tahini Cookies
Hands-On Time: 20 Minutes
Cook Time: 10 Minutes
Makes: 8 Servings
INGREDIENTS
1 egg
½ cup coconut sugar or brown sugar
¼ cup tahini
2 tbsp coconut oil, melted and cooled
1 tsp vanilla extract
¾ cup almond flour
¼ cup coconut flour
¼ tsp baking soda
¼ tsp salt
3 oz dark chocolate chunks
pinch flaky salt, optional
DIRECTIONS
Preheat oven to 350 F. Line 2 rimmed baking sheets with parchment paper. In a large bowl, whisk together egg, sugar, tahini, coconut oil and vanilla until smooth. Gently stir in almond flour, coconut flour, baking soda and salt until you achieve the consistency of cookie dough. Fold in chocolate chunks. Working in 1-tablespoon portions, roll dough into balls and place on prepared baking sheets. Flatten each slightly with your palm. Bake 10 minutes, or until the edges are slightly golden but cookies are still soft to the touch. Sprinkle with flaky salt (if using) and allow to cool 1 to 2 minutes before transferring to a metal cooling rack.
Nutrition Facts (per serving = 2 cookies; no added salt): calories 273, fat 18 g, carbs 25 g, fiber 4 g, sugar 16 g, protein 6 g, sodium 86 mg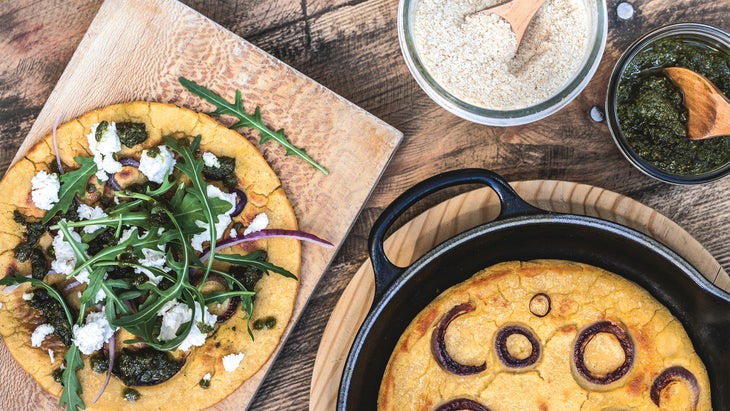 Chicken Pesto Socca Pizza
Hands-On Time: 15 Minutes
Cook Time: 25 Minutes
Makes: 4 Servings
INGREDIENTS
1 cup chickpea flour
1 cup water
1 tbsp olive oil
1 tsp Italian seasoning
½ tsp garlic powder
¼ tsp salt
¼ tsp black pepper
¼ cup pesto
¾ lb chicken, cooked and sliced
½ cup red onions, sliced
¼ cup Kalamata olives, sliced
3 oz fresh mozzarella, torn into ½-inch pieces
1 cup arugula
DIRECTIONS
Preheat oven to 425 F. Line an 8-inch-by-11-inch rimmed baking sheet with lightly greased parchment paper. Add chickpea flour, water, olive oil, Italian seasoning, garlic powder, salt and pepper to a blender cup and blend until smooth. Pour mixture onto prepared pan and spread to the edges. Bake 15 minutes, or until edges have darkened and center of crust is set. Spread pesto over crust and top with chicken, onions, olives and cheese. Bake 10 minutes more, or until cheese is melted. Scatter on arugula and slice into 4 portions.
Nutrition Facts (per serving): calories 372, fat 20 g, carbs 16 g, fiber 4 g, sugar 3 g, protein 30 g, sodium 424 mg
Teff and Spelt Quiche
Hands-On Time: 20 Minutes
Cook Time: 25 Minutes
Makes: 6 Servings
INGREDIENTS
1 cup teff flour
¾ cup spelt flour
½ tsp salt, divided
2 tbsp water
1/3 cup + 2 tbsp extra-virgin olive oil
6 large eggs
1/3 cup milk
2 oz soft goat cheese, crumbled
1 cup roasted red peppers, sliced
¾ cup marinated artichoke hearts, drained and sliced
1 tbsp fresh thyme
¼ tsp red chili flakes
DIRECTIONS
Preheat oven to 350 F. In a large bowl, combine teff flour, spelt flour and ¼ teaspoon salt. Add water and oil and stir until everything is moist. Press dough into a 9-inch greased tart pan. Bake 15 minutes, then remove and allow to cool 10 minutes. In a large bowl, whisk together eggs and milk. Stir in goat cheese, red peppers, artichoke hearts, thyme, chili flakes and remaining salt. Bake 25 minutes, or until eggs are set in the center. Allow to cool 10 minutes before slicing.
Nutrition Facts (per serving): 417 calories, fat 25 g, carbs 36 g, fiber 6 g, sugar 2 g, protein 15 g, sodium 484 mg
Tower of Flour
If a food is grindable, someone has probably made a flour out of it. Check out some of these unusual options.
Banana Flour. Made from dried, unripe green bananas, this flour is a standout source of resistant starch, an indigestible fiber that feeds your microbiome for better digestive and immune health.
Brown Rice Flour. This gluten-free grind delivers a host of B vitamins as well as phosphorus and manganese, a mineral that boosts brain and nerve function.
Buckwheat Flour. Despite its name, buckwheat doesn't contain wheat at all; it's actually related to rhubarb. This gluten-free flour contains the antioxidant rutin, which combats the signs of aging and contributes to collagen production.
Coffee Flour. This flour is made from the dehydrated fruit inside which a coffee bean grows, and while it won't give you a caffeine kick, it's a decent source of fiber, delivering 5 grams per tablespoon.
Cricket Flour. Made by milling whole, dried crickets, this chirp-worthy flour has a nutty taste that won't "bug" you, and it contains plenty of iron and a payload of protein — about 10 grams per 2 tablespoons!
Hazelnut Flour. This dessert-worthy flour tenders plenty of anti-inflammatory and heart-healthy fats as well as vitamin B6, folate, phosphorous and zinc.
Rye Flour. This tangy flour varies in color from light to dark, depending on how much of the whole grain it
contains, and offers up high concentrations of the essential amino acid proline, which is used to build protein (e.g., muscle cells).
Quinoa Flour. Boasting a slightly grassy flavor, quinoa flour contains more protein than most of its counterparts (about 4 grams per ¼ cup).
We independently source all of the products that we feature on oxygenmag.com. If you buy from the links on our site, we may receive an affiliate commission, which in turn supports our work.