Your Fit Fat
No, it's not an oxymoron. Avocados contain the right kind of healthy fats that can help you get lean, healthy and strong.
Heading out the door? Read this article on the new Outside+ app available now on iOS devices for members! Download the app.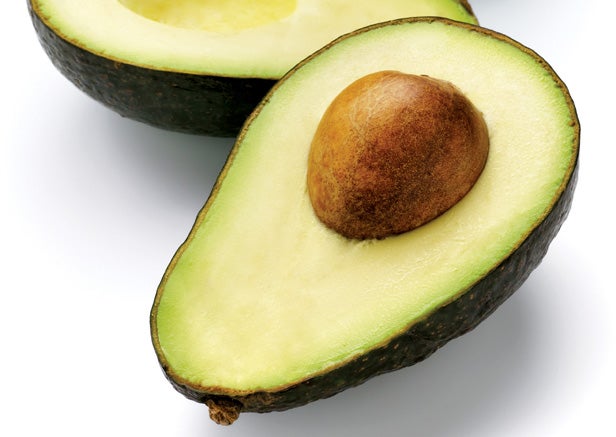 With a smooth and creamy texture, avocados have aptly earned the nickname the "butter pear." But don't let their misleading moniker fool you into thinking that avocados are too rich to be a regular part of your clean eating diet. The truth is, this nutrient-packed (though fatty) fruit works wonders for your waistline and nearly every other part of your body, too. Here, the many ways in which this fat works for you, not against you.
Builds muscle. Dietary fat performs many essential functions in your body, and one of them is the production of testosterone, a main trigger in muscle growth.
Strengthens bone. Dietary fat is needed for the production of estrogen, a bone-building hormone. One cup of avocado slices also provides 44 milligrams of magnesium, a mineral essential to bone health. Researchers at the University of Tennessee found that for every 100-milligram increase in magnesium, there was a two-percent increase in bone density. Avocados are also a good source of the bone-builder, vitamin K.
Keeps you slim. Healthy fats promote a feeling of fullness between meals and snacks. By controlling hunger, you will reach your fat-burning goal faster as you stay within the proper caloric range.
Helps your heart.
Avocados are the only fruit high in monounsaturated fat, the premier fat for cardiovascular health. Research shows that upping mono fats in a cholesterol-lowering diet lowers harmful LDL and increases beneficial HDL cholesterol. Mono fat also reduces levels of C-reactive protein, a marker of inflammation. Avocados are also high in a type of plant sterol that can lower bad cholesterol. Plus, with 136 milligrams of potassium per ounce, avocados work to reduce the risk of developing high blood pressure.
Protects your peepers.
Avocados are high in free-radical-fighting plant pigments called carotenoids. Lutein and zeaxanthin specifically protect your eyes from age-related vision diseases.
Optimizes food power. To unleash vitamins A, D, E and K from tomatoes, spinach and carrots, your body needs a bit of fat to fully absorb them. Food scientists at Ohio State University found that half an avocado consumed with a carotenoid-rich vegetable salad significantly increases absorption of these beneficial nutrients.