It's Back! The Oxygen Challenge 2017 is Here!
If you really, truly want to transform your body and your life, it's time to take the Challenge.
Heading out the door? Read this article on the new Outside+ app available now on iOS devices for members! Download the app.
The last few years we've brought you two amazing Oxygen Challenges — the first with coaches Erin Stern and Amanda Latona and the second with coaches Ashley Kaltwasser and Christmas Abbott. Each Challenge was unique and inspiring, the trainers were all radically different and the transformations of the participants — all we can say is wow. For our third Challenge — which we are affectionately calling OC3 — we added two more exceptional A-listers to our matchless roster: Kaisa Keranen and Jamie Eason Middleton.
Each coach created her own 90-day training and nutrition program exclusively for Oxygen that will change the way you look, train, eat, think and feel. Through video content accessible on AIM Fitness Network, your coach takes you step by step through each and every exercise in her workout, offering form tips and insider tricks as well as modifications for special populations and intensifiers for more advanced athletes. So no matter your current fitness level or starting point, these programs will allow you to reach your goals and be in the best shape of your life.
Your coach will also provide you with a nutritional plan that outlines her theory on food and dieting, guidelines for meal prep, grocery lists, recipes and other expert tips for fitting healthful food into your life. This helps make getting in shape easy as well as delicious and can further your physique and health results.
OC3 could be just the launching pad you need, either to get started with fitness or to take your performance and physique to the next level. Therefore, the question is not should you sign up but rather which coach should you choose? Here's a little about each trainer to help you make your decision.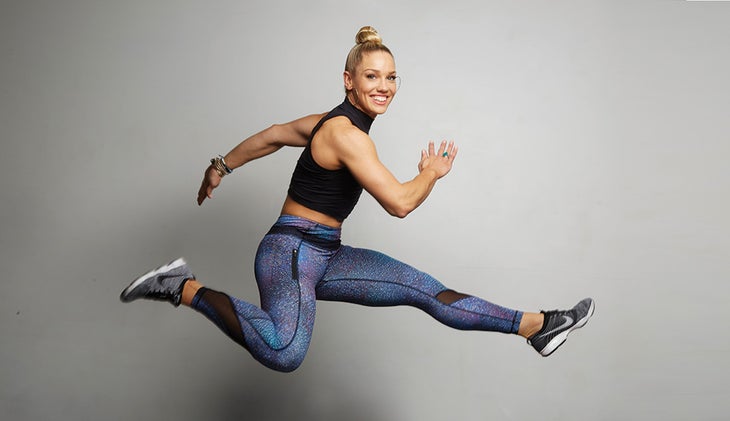 If energy took human form, it would arrive as Kaisa Keranen. With legs like springs and an infectious smile, Keranen bases her protocol on bodyweight training.
"After college, I realized that I could squat and deadlift a bunch of weight, but I had a hard time moving my own body around," says Keranen, who was a heptathlete at the University of Washington. "As I started to train clients, I realized that if you don't master the first workout tool you have at your disposal — your body — it will be hard to master any other tool after that. It's the foundation of all exercise, and once you build a strong foundation, you can do anything you want."
Keranen's goal is to get people moving every day, so for all 90 days of her program, you'll be doing something, whether it's high-intensity circuits or low-intensity recovery. Her workouts increase in intensity and duration over the course of 12 weeks, require minimal equipment, and are scalable and adaptable for all fitness levels. "Even if you've been athletic your whole life, there is a program element here that introduces a whole new way to move," she says. "You'll gain a whole new understanding of your body and take your performance to a new level."
Keranen's nutritional philosophy focuses on simple, clean eating. "Nutrition is a science, and with science comes an abundance of information," she says. "This can be very overwhelming, so when it comes to food, I tell my clients to keep things as simple as possible. This Challenge is an opportunity to connect to how good your body feels when you move and fuel it properly."
All of Keranen's recipes are gluten- and dairy-free, and she includes not only breakfast, lunch, dinner and snack options but also recipes for condiments, dressings and — yes — desserts. She strongly believes that nutrition is not about cutting everything out and depriving yourself of what tastes good. "It's simply asking you to think twice about what you choose to put into your body," she says. "Your body is an amazing machine, and if you honor and love it for all it can do, you will surely succeed."
Kaisa Keranen grew up playing a multitude of sports, from gymnastics to soccer. She took up track to keep in shape for soccer and was so adept at the discipline that she attended the University of Washington as a heptathlete. After graduating, she became a certified trainer through the National Academy of Sports Medicine, established her business KaisaFit, and then went back to school to get her MS in exercise science, sports performance and injury prevention.
Kaisa Keranen, MS, NASM-PES
Age: 31 | Height: 5'6" | Hometown: Seattle | Instagram: @kaisafit
Kaisa: Uncovered
Oxygen: What is up with all the shoes you post on social media?
Kaisa: [laughing] I have a problem! Embarrassing truth — I converted my food pantry into a shoe closet. But there is a story: Back in the day when I won my first race, I won a pair of Nike shoes, so psychologically it has been planted into my mind that shoes mean something. Then every time it was my birthday or Christmas, my grandfather would take me shoe shopping. And it went from there.
O: Do you ever not wear a top bun?
K: No! I pretty much only ever have my hair in a top bun. I can wear my hair down for like 10 minutes, then it goes up. It's pretty long and really curly, so 10 ponytail holders and a hundred bobby pins and some hair spray and it's up in a bun!
O: Do you still hit the track?
K: To be honest, I don't. There came a point when I realized that I didn't love it as much as I thought I did, so when I graduated college, I gave myself the freedom to do whatever I wanted. Everything in fitness and movement goes in cycles for me, so when I wanted to get back into competition, I tried CrossFit and triathlons, and when I wanted to be around people, I did group classes. If one day I want to go back to the track, I have the freedom and the flexibility to go back. But the track has not called to me yet.
O: What has been calling you lately?
K: I am taking dance lessons, and it's by far the hardest thing I have ever done. I am obsessed with Misty Copeland, so my teacher is having me do a combo of modern and ballet styles, and I love it because it's so hard and I am sooo not good at it!
O: Are you a girly girl or a tomboy?
K: I grew up a tomboy and was friends with all the guys, and I was out there doing sports at recess. But I am girly at heart — pink and teal are my favorite colors, and I would be suited and booted and dressed up with my hair did and full makeup all day every day if I could!
Kaisa's Super-Simple Snack Cookie
Here is a taste of the kind of amazing recipes you'll get with Coach Kaisa.
Snack cookie / Makes 18 cookies
2 ripe bananas, mashed
1 cup unsweetened shredded coconut
½ cup almond butter
¼ cup dried fruit of choice(raisins, Craisins, dried apple bits)
1 egg
2 tsp cinnamon
1 tsp vanilla
½ tsp baking soda
¼ tsp salt
Instructions:
Preheat oven to 350 degrees. Mix all ingredients together in large bowl. Line baking sheet with parchment paper and place tablespoon-size drops of "dough" onto sheet. Bake for 10 to 12 minutes, or until golden brown. Makes about 18 cookies. Store in refrigerator for up to a week.
Kaisa's Killer Core Workout
Get a sense of what it's like to train with Coach Kaisa with her quickie core workout.
Grab two small towels for hardwood floors or paper plates for carpet.
Perform each move for 30 seconds and rest 15 seconds.
Do three rounds, and rest one to two minutes between rounds.
Knee Tuck to Pike: Get into a full push-up/plank position with a towel/plate under each foot. Keeping your hips low, slowly pull your knees in toward your elbows, then extend back out. Lift your hips skyward into a pike, pause, then return to the start. Continue, alternating moves.
Lateral-Moving Mountain Climber: Get into a full push-up/plank position with a towel/plate under each foot. Keeping your hips low, alternately bring your knees toward your chest quickly while simultaneously shuffling your hands laterally to the side. Do four to six shuffles one way, then switch.
Kneeling Slide-Out: Kneel on the floor and place a towel/plate under both hands in front of you. Slowly slide the plates forward until your chest hits the floor, or as close as you can get. Pull your hands under your shoulders into a push-up position, then push yourself up and back to the start.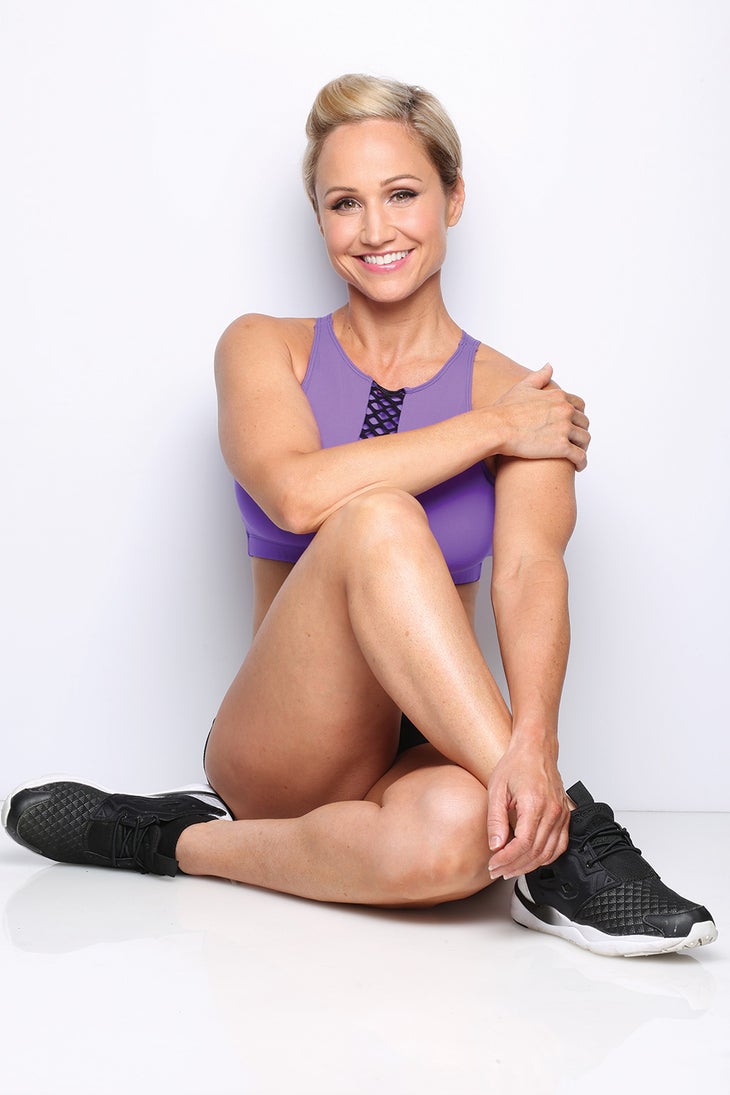 Most longtime Oxygen readers will recognize the name Jamie Eason Middleton — a former pro dancer and two-time breast cancer survivor turned figure competitor/model and trainer — whose incredible physique landed her on the cover of this very magazine numerous times.
Today, Middleton is the mom of two young boys (August, 3, and Beau, 1) and knows what it is to be short on time and energy. "I really care more about quality over quantity, and I like to design time-efficient workouts that use a combination of bodyweight moves, free weights and bands to get you the highest return in the shortest amount of time," she says. "And though you can't beat the atmosphere and motivation of a gym, you can get fit and be in great shape at home!"
Middleton splits the 12 weeks of her Challenge program into two halves, with the first focused on building muscle and the second dedicated to leaning out. She incorporates high-intensity interval training, metcons, straight sets, supersets and other advanced techniques to boost the intensity and the burn. Because they are scalable, her workouts will suit anyone at any level of fitness: Beginners will love the at-home aspect, while advanced athletes are guaranteed a challenge with her exercise intensifiers and advanced techniques.
Middleton does not drive a stake in any one camp when it comes to nutrition. "All diets have one thing in common — to raise awareness of what you're eating and help you be more mindful," she says. "Paleo, vegan, counting macros — they all focus on eating quality food and unprocessed things. And the more good stuff you eat, the less room you have for the bad stuff."
Middleton loves to cook and shares her favorite family recipes with her Challenge participants. "I do provide the nutrient profile for the meals because I know some people live and die by the numbers, but I don't wholly advocate calorie counting," she says. "I got a little neurotic about weighing and measuring my food in the past, and both myself and my family were miserable. I really want you to pay attention to what you're eating and focus instead on eating whole, clean foods in the proper portions."
Motivationally, Middleton is the personification of a transformation story. "I did not get started in fitness until I was almost 30 years old; I was really flabby — with 30-plus-percent body fat — and no muscle to speak of," she says. "But I made the commitment to get healthy and fit after my second cancer surgery, and within six months, I was onstage winning a figure competition. This is doable. If I can do it, so can you."
Jamie Eason Middleton is a former professional ballroom dancer and NFL Cheerleader from Houston. She survived breast cancer twice, and in 2005, she entered a figure competition as a motivational goal and ended up winning her pro card. Since then, Middleton has appeared on numerous magazine covers and became a sought-after online coach and instructor around the world. She is the co-owner of the Lean Body for Her supplement line, a Gold's Gym Fitness Institute instructor and a Reebok athlete.
Jamie Eason Middleton
Age: 41 | Height: 5'2" | Hometown: Houston | Social Media: @jamieeasonmiddleton
Jamie: Uncovered
Oxygen: Truth: How hard is it to stay on track now that you have kids?
Jamie: It's sooo much harder! Before I had kids, I was that coach who was like, If fitness is important to you, you'll find time to exercise. Then I had one kid and I wanted to punch myself in the face. Then I had two, and I really knew I was an a-hole!
O: How hard is it to resist all that kid food?
J: Oh, my gosh, one of the hardest things is staying out of their food. I was addicted to sugar and junk growing up because my mom gave me food as love, and I find I am doing that now, as well. My kids love treats and there are treats everywhere — school, parties, you name it. That inspired me to try to make these things they love in a healthful way so they don't feel deprived — and so I can have some of it, too!
O: You have a background in dance. Would you ever want to be on Dancing With the Stars?
J: I would love to! I was on the Texas A&M Couples Dance Team, and my grandmother owned a dance school with Patrick Swayze's mother, so I grew up with a strong love of dance. I think I would do well except for when they lift a leg up in the air. Sadly, I am not that flexible anymore.
O: Wait, rewind: Patrick Swayze? Did you get to dance with him?
J: I was really little, so no I didn't dance with him, but he would come into the studio once in a while, and I have very good memories of him being extremely sweet and kind and encouraging to the little ones.
O: What is your dream vacation?
J: I feel like I already had it on my honeymoon — we went to Lake Como in Italy. It was so romantic and only five minutes from the Alps. You could hop on a train and be in Switzerland before you knew it. I would love to go back, though.
Eason's Eats
This recipe is a Jamie Eason Middleton family favorite. Try it for yourself!
Chipotle Shrimp Tacos / Makes 8 servings
2 (16-oz) bags of large shrimp, peeled and deveined
1 clove garlic, minced
1 (12-oz) can chipotle peppers in adobo sauce
2 tsp ground cumin
½ tsp salt
¼ small head red cabbage, shredded
1 small yellow onion, chopped
1 small bundle fresh cilantro, chopped
1 avocado, sliced and diced
4 limes, sliced
1 jar salsa verde
8 (6-inch) corn tortillas
Instructions:
Place cabbage, onions, cilantro, salsa verde and limes into small, individual bowls for serving and set aside. Mince 2 teaspoons of chipotle peppers and add to large mixing bowl. Place garlic in large skillet sprayed with nonstick spray and saute for a minute over medium-high heat. Add shrimp and cook for about three minutes, or until pink. Once cooked, add shrimp to bowl with peppers, then add cumin and salt and stir until shrimp is fully coated. Cover with foil and set aside. Place another large nonstick skillet over medium-high heat. Wet each tortilla in large bowl of water, then place it into hot pan. Warm until lightly browned. Assemble tacos by filling warm tortilla with toppings of your choice.
Short Circuit
Try one of Jamie's timesaving circuits for yourself!
Do each move for 10 reps with no rest in between.
Go through the workout for three rounds.
Rest one minute between rounds.
Pike Push-Up
Get into a push-up position with your hands under your shoulders. Lift your hips toward the ceiling, keeping your back straight, and hold them there as you perform your push-ups at an angle, lowering your forehead toward the floor rather than your chest.
Pop Squat With Heel Click
Take a shoulder-width stance with your feet angled out slightly. Lower into a squat, then extend your legs explosively so you leave the ground. While in the air, click your heels together, then quickly return your feet to their original position and go immediately into the next rep.
Alternating V-Up Toe Touch
Lie on the floor with your legs together, arms overhead. Lift your feet off the floor about a foot, then alternately lift one leg toward your head as you reach both hands for your toes, then lower yourself back down.
Could YOU be on the cover of Oxygen?
One of the driving factors for many who sign up for The Oxygen Challenge is the rare opportunity to be on the cover. Any woman from any walk of life is eligible and has a chance at winning. See for yourself: Here is a little about our two previous cover winners.
Now it's your turn: Opt in for The Oxygen Challenge Cover Girl Competition when you sign up and follow the instructions along the way. Who knows — you could be the 2017 winner and end up on the cover of Oxygen magazine! For more details, visit oxygenmag.com/oc3.